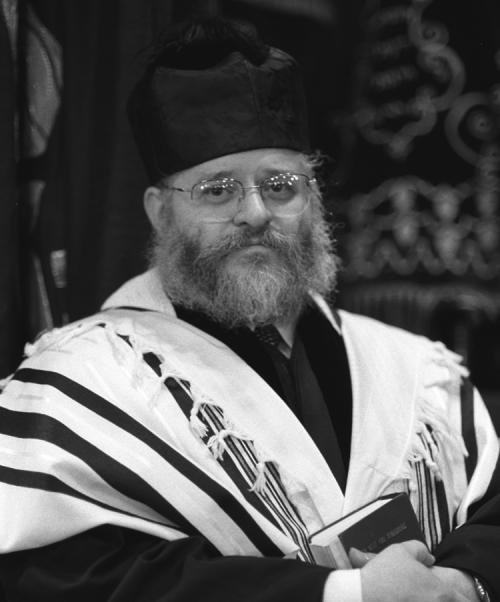 Cantor Benzion Miller is one of a few Orthodox cantors dedicated to perpetuating the great virtuoso cantorial styles and tradition of the 19th and early 20th centuries. Through his father (Cantor Aaron Miller) he is a direct descendant of Bobover Hassidim, the followers of Rabbi Shlomo Halberstam of the town of Bobov, Galicia (near present-day Nowy Sącz, Poland, southeast of Kraków), who was the founder of the Bobover "dynasty" in the mid-19th century. Cantor Miller's father—who was born in prewar Poland in the town of Oświęcim (Auschwitz)—his grandfather, and his great-grandfather were all cantors at the courts of the Bobover rebbes (Hassidic rabbinical leaders). Benzion Miller was born in Germany shortly after the end of the Second World War in a displaced persons camp near Munich. It was there that his father, Cantor Aaron Miller, who had lost his entire family in the Holocaust (his wife and children were murdered in German concentration camps), met and married Benzion's mother—a survivor from the Belzer Hassidic sect (another Galician "dynasty")—while both were awaiting patriation. They eventually went to Brooklyn to join a group of fellow Bobover Hassidim who had been living there since before the war.
Cantor Miller studied at Bobover yeshivot (talmudic academies), first in Brooklyn and then in Israel, where he began to display his cantorial gifts and came under the tutelage of the well-known cantor Shmuel Taube. He also benefited from the influence of other accomplished hazzanim who had come from Europe to Palestine—later Israel—as refugees; and it was there that his cantorial art began to blossom. His first full position was as cantor of the Hillside Jewish Center in Hillside, New Jersey, where his co-officiating rabbi was the twin brother of Shlomo Carlebach (later famous as the Singing Rabbi). He subsequently held positions in the Bronx, Montreal, and Toronto, and since 1981 he has been cantor of Temple Beth El of Boro Park in Brooklyn (now known as the Young Israel Beth-El of Boro Park), a pulpit previously served by such illustrious cantors as Mordechai Hershman, Berele Chagy, and Moshe Koussevitzky.
Cantor Miller's exceptionally busy concert schedule includes a number of performances each year at Israel's major venues, and at concerts, festivals, and conferences throughout Europe as well as in Great Britain, Australia, and North America. He has been a cantorial soloist at concerts in such disparate places as Johannesburg and Cape Town, Mombasa, Alaska, and Brazil; and he officiates as a guest cantor at synagogues throughout the world. He has sung with the Israel Philharmonic, the Jerusalem Symphony, the Haifa Symphony, the Barcelona Symphony, and the Budapest State Opera orchestras as well as with the English Players, and he was part of the first group of cantors to perform in the Soviet-bloc countries before the fall of the Iron Curtain. He made his Royal Festival Hall (London) debut in 1990 in the premiere of Neil Levin's production Voice of Jewish Russia, and he sang with the City of Oxford Symphony at the Barbican Centre in 1998.
Cantor Miller has made more than a dozen recordings of Hassidic and other Hebrew liturgical/cantorial and Yiddish music, in some of these preserving much of the authentic Bobover musical tradition. He also is continually expanding the Bobover repertoire with new tunes of his own in the same vein and through his recordings of songs created in America by the third Bobover rebbe.