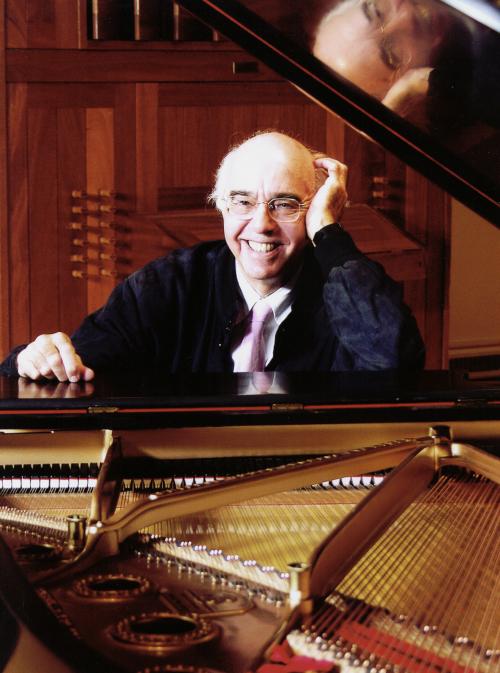 For nearly a half century Yehudi Wyner has been recognized as one of America's most gifted composers. Although born in Calgary, Alberta, Canada, he grew up in New York City. His father, Lazar Weiner (1897–1982), was a leading exponent of Yiddish high musical culture, both as a choral conductor and as a composer, and is now the acknowledged avatar of the Yiddish art song medium. Throughout his youth, Wyner was exposed to his parents' Yiddishist intellectual milieu, and their home was frequented by literati and artists from the Yiddish cultural orbit. (His father had the spelling of his children's surname changed—though not his own—to preclude a common mispronunciation.)
By the age of four or five, no doubt inspired by the music he heard in that environment, Wyner began improvising short pieces that had an eastern European Jewish folk or Hassidic character. He started his formal musical life as a pianist, although he never studied with his father—who was himself a brilliant pianist. While a piano student of Loni Epstein at The Juilliard School, Wyner became increasingly attracted to composition, which he then studied at Yale with Richard Donovan and Paul Hindemith, and at Harvard with Randall Thompson and Walter Piston. After completing his undergraduate work, he spent a summer in residence at the Brandeis Arts Institute in Santa Susana, California, a division of the Brandeis Camp, where the music director was Max Helfman (1901–1963), one of the seminal figures in Jewish music in America. That program brought together college-age students as well as established Jewish—and especially Israeli—composers, in an effort to broaden the Jewish artistic horizons of young musicians. There, Wyner came into contact with some of the most creative and accomplished Israeli composers and other artists of that period, and he was introduced to new artistic possibilities inherent in modern Jewish cultural consciousness.
During his student years, Wyner did not develop any particular interest in Jewish or Judaically related music—sacred or secular—in terms of his own composing. Indeed, he was admittedly a bit rebellious vis-à-vis any personal Jewish involvement. But as it did for so many participants and students during its brief five-year existence, the Brandeis experience had a lasting impact that would later emerge in many of his works. And he was profoundly affected by the founder and director of the institute, Shlomo Bardin, whom he credits with instilling in him and his fellow students a fresh appreciation for Jewish cultural identity.
In 1953 Wyner won the Rome Prize in composition, and he spent three years at the American Academy in Rome—composing, performing, and traveling. Since then he has garnered many other honors—including two Guggenheim Fellowships as well as commissions from the Koussevitsky and Ford Foundations, the National Endowment for the Arts, the Santa Fe Chamber Music Festival, and numerous chamber ensembles and other performing organizations and universities. In 1998 he received the Elise Stoeger Award from the Chamber Music Society of Lincoln Center for his lifetime contributions to chamber music, and he has been elected to the American Academy of Arts and Letters.
Wyner joined the faculty of Brandeis University in 1986, and he has held the Naumburg Chair in Composition there since 1990. Previously he taught for fourteen years at Yale University, where he was head of the composition faculty, and he was also dean of music at the Purchase campus of the State University of New York. He was on the chamber music faculty of the Berkshire Music Festival at Tanglewood from 1975 to 1997, and he has been a visiting professor at Cornell and Harvard universities.
Although his public persona rests primarily on his contributions as a composer, Wyner has also enjoyed an enviable reputation as a pianist and conductor. He has been both a member (keyboard artist) and conductor of the Bach Aria Group since 1968, in which capacity he has directed many Bach cantatas, concertos, and motets. He has also directed two opera companies and many chamber ensembles in a wide range of repertoire. In addition, he is the leading pianistic interpreter of his father's vast body of Yiddish lieder.
Wyner's opera include a diverse array of orchestral chamber, choral, incidental theatrical, and solo vocal and instrumental music. His early works, such as his Partita for piano (1952), have been described as betraying a neoclassical influence that soon gave way to freer forms, more varied styles, and a more chromatic harmonic language—as exemplified by his Concert Duo for violin and piano (1955–57). A number of his more mature vocal works were written expressly for his wife, Susan Davenny-Wyner. Among these are Intermedio (1976), a lyric ballet for soprano and string orchestra; Fragments from Antiquity (1978–81) for soprano and orchestra; and On This Most Voluptuous Night (1982) for soprano and chamber ensemble. Orchestral works include Prologue and Narrative for Cello and Orchestra (1994), commissioned by the BBC Philharmonic for the Manchester International Cello Festival; Lyric Harmony (1995), commissioned by Carnegie Hall for the American Composers Orchestra; and Epilogue for orchestra (1996), commissioned by the Yale School of Music. In 2002 he was commissioned by the Boston Symphony Orchestra to write a piano concerto. Works for ensembles in various combinations include a string quartet (1985); Sweet Consort for flute and piano (1988); Trapunto Junction for three brass instruments and percussion (1991), commissioned by the Boston Symphony Chamber Players; Madrigal for String Quartet (1999); Oboe Quartet (1999); and Horntrio (1997), commissioned for forty ensembles in the United States and abroad.
"Mr. Wyner's music, although reflecting Jewish subject matter, is of a highly dissonant idiom," wrote New York Times critic Peter G. Davies following a concert of three of his Jewish works in 1980. "Despite their generally severe style, these scores show a sophisticated ear for unusual sonorities and an unerring instinct for what constitutes effective instrumental virtuosity."
By: Neil W. Levin