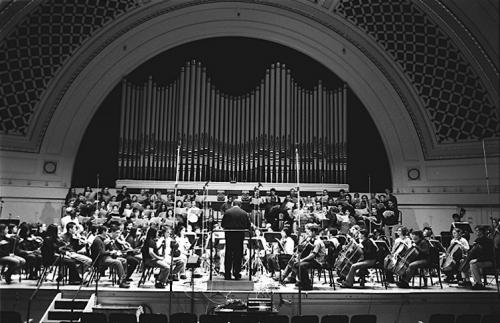 Part of the University of Michigan School of Music, one of the leading performing arts educational institutions in the United States, the University of Michigan Opera Theater has produced a vast array of operas. It is featured on four performances in the Milken Archive's Jewish Operas project (Volume 16), recorded between 2001 and 2003 and conducted by Kenneth Kiesler. Several of the composers, David Amram, David Schiff, and Paul Schoenfield, attended the recording sessions. A number of the soloists have sinced embarked on major professional careers.
The featured soloists on David Amram's The Final Ingredient (excerpts)are: Deborah Selig, soprano; Pei Yi Wang, mezzo-soprano; Sarah Elizabeth Williams, mezzo-soprano; Thomas Glenn, tenor; Brian Pfaltzgraf, tenor; Nicholas Phan, tenor; Jesse Blumberg, baritone; Tyler Oliphant, baritone; and Mark Kent, bass.
The featured soloists on Abraham Ellstein's The Golem (excerpt) are: Lauren Allardyce, soprano; Michael Gallant, tenor; Chistopher Meerdink, tenor; and Tyler Oliphant, baritone.
The featured soloists on David Schiff's Gimpel the Fool (excerpts) are: Gary Moss, baritone; Megan Besley, soprano Alissa Mercurio, soprano; Michael Gallant, tenor; Nicholas Phan, tenor; Theodore Bikel, narrator; and Issaiah Sheffer, speaker.
The featured soloists on Paul Schoenfield's The Merchant and the Pauper (excerpts) are: Jennifer Larson, soprano; Pei Yi Wang, mezzo-soprano; Chistopher Meerdink, tenor; and Tyler Oliphant, baritone.
All of the recordings feature the University of Michigan School of Music Opera Chorus:
Soprano: Donna Bareket; Marla Beider; Melissa Clairmont; Rachael Crim; Kathryn Drake; Katherine Fitzgibbon; Kara Haan; Katherine Kilburn; Caitlin Lynch; Alissa Mercurio; Elizabeth Mihalo; Juliet Petrus; Annie Radcliffe; Patricia Rhiew; Deborah Selig; Virginia Thorne. Alto: Julie Berra; Jean Broekhuizen; Leah Dexter; Carla Dirlikov; Jennifer Johnson; Dorothea Mead; Suzanne Pekow; Lindsay Pettitt; Kindra Scharich; Lindsay Shipps; Sara Taetle; Amanda Thomas; Kimberly Walton; Betsey Williams. Tenor: Ryan Banar; Brandon Brack; Joshua Breitzer; Hugh Floyd; David Fryling; Michael Gallant; Brent Hegwood; Jeremy Nabors; Eugene Rogers Jr.; Eric Stinson. Bass: Jesse Blumberg; Ian Eisendrath; Scott Hanoian; Dana Haynes; Aaron Kandel; Mark Kent; Phillip Kitchell; Adrian Leskiw; David Neely; Jon Ophoff; Marco Santos; Andrew Steck; Aaron Theno; James Turner II; Stephen Warner.
And the University of Michigan Symphony Orchestra:
Violin: Grace Oh, concertmistress;* Juliana Athayde, principal;* Benjamin Peled;* Jeremy Black;* Joanna Bello; Madeline Cavalieri; Timothy Christie; Michelle Davis; Joel Fuller; Spring Gao; Mary Golden; Lara Hall; Sherry Hong; Adrienne Jacobs; Catherine Jang; Elizabeth Lamb; David Lamse; Lydia Lui; Kate Massagli; Bethany Mennemeyer; Emilia Mettenbrink; Stephen Miahky; Martha Walvoord; Cece Weinkauff; Sarah Whitney. Viola: I-Chun Chiang, principal;* Joseph Kam;* Emily Watkins;* Youming Chen; Kyung- Hwan Lee; Devorah Matthews; Ty McDonald; Tam Tran. Cello: Avi Friedlander, principal;* Barney Culver;* Andrew Barnhart; Ann Brandon; Eileen Brownell; Jill Collier; Andrew Deogracias; Leah Hagel; Tara Hanish; Alisa Horn; Heather Truesdall; Elizabeth Weamer. Double Bass: Andrew Anderson, principal;* Li Xu;* Daniel Dault; Molly Doernberg; Rital Laurance; Maren Reck; Kevin Sylves. Flute: Dawn Kulak; Koren McCaffrey; Adrienne Miller; Lori Newman; Jee Hye Shim. Oboe: Aaron Hill; Charles Huang; Adrienne Malley. Clarinet: Andre Dyachenko; Reis McCullough; A. J. Stancil; Serguei Vassiliev; Michael Wayne. Bassoon: Jason Artz; P. J. Woolston; Nathaniel Zeisler. Horn: Eric Kuper; Rachel Parker; Joel Wealer; Yuri Zuvanov. Trumpet: Dara Chapman; Saphra Mikal; Sarah Schneider; Jesse Tubb. Trombone: Drew Leslie; Alexandra Zacharella. Bass Trombone: Garrett Mendez. Tuba: Kevin Wass. Timpani: Ako Toma-Bennett; Percussion: David Endahl; Larry Ferguson; Jason Markzon. Harp: Alison Perkins; Katryna Tan. Keyboard: Joseph Cullen; Matthew Mazzoni.
*Concertmasters and principal string players rotate positions during the season. Wind players rotated principal positions during these recording sessions.
By: Neil W. Levin