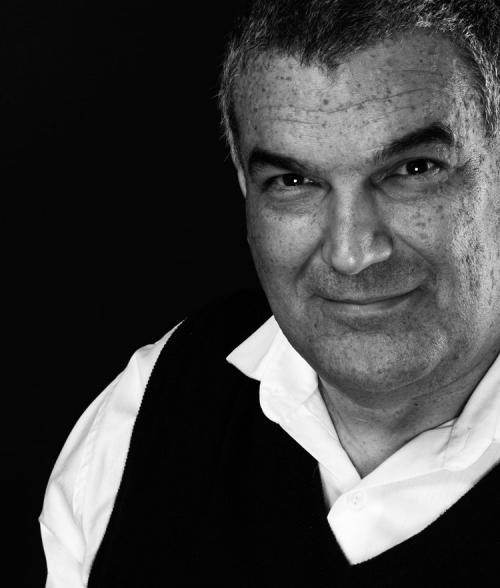 Ofer Ben-Amots, who was born in Haifa, Israel, gave his first piano concert at age nine, and at sixteen he was awarded first prize in the Chet Piano Competition. Later, following composition studies with Joseph Dorfman at Tel Aviv University, he was invited to study at the Conservatoire de Musique in Geneva, Switzerland, where he was a student of Pierre Wismer and Alberto Ginastera. He received degrees in composition, theory, and piano from the Hochschule für Musik in Detmold, Germany, and in 1987 he emigrated to the United States and began studies with George Crumb and Richard Wernick at the University of Pennsylvania, where he received his Ph.D. in composition in 1991.
Ben-Amots's music has been performed by such orchestras as the Zürich Philharmonic; the Munich Philharmonic; the Austrian Radio Orchestra; the Brooklyn Philharmonic; the Moscow Camerata; the Heidelberg; Erfurt; and Brandenburg symphonies; the Filarmonici di Sicili; and the Colorado Springs Symphony. His works have been recorded by the Munich Chamber Orchestra, the Gewandhaus Orchestra of Leipzig, and the renowned Czech choir, Permonik. He has been commissioned by the Schleswig-Holstein Musik Festival, the Fuji International Music Festival in Japan, the Delta Ensemble in Amsterdam, and the Assisi Musiche Festival, among others.
Ben-Amots was the winner of the 1994 International Competition for Composers, in Vienna, where his chamber opera, Fool's Paradise, was premiered. He is also the recipient of the 1988 Kavannagh Prize for his composition Fanfare for Orchestra and the Gold Award at South Africa's 1993 Roodepoort International Competition for Choral Composition. His Avis Urbanus, for amplified flute, was awarded first prize at the 1991 Kobe International Competition for Flute Composition in Japan. Subsequently, Avis Urbanus became a required composition at the Kobe Flute Performance Competition. In 1999 he was awarded the Aaron Copland Award and the Music Composition Artist Fellowship by the Colorado Council on the Arts. Ben-Amots is a Jerusalem Fellow of the Center for Jewish Culture and Creativity, and he has been its artistic director for North America since 1997. Currently he is a professor of music at the Colorado College in Colorado Springs. His work for soprano, klezmer clarinet, and men's chorus, Mizmor: Seven Degrees of Praise, an imaginative setting of Psalm 150, received its premiere performance at Lincoln Center in New York in November 2003 as part of "Only in America," an international conference-festival sponsored jointly by the Jewish Theological Seminary and the Milken Archive.
By: Neil W. Levin