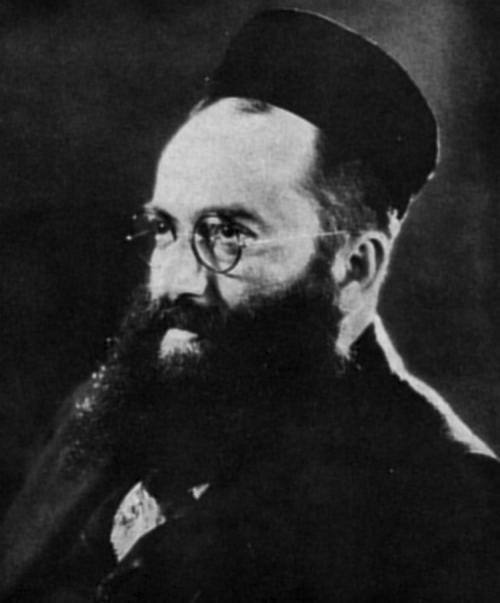 In popular perception the name of Yossele [Joseph] Rosenblatt hovers above all other cantors of any generation as the quintessential virtuoso hazzan of all time. By any objective assessment, his supreme artistry and his sui generis persona and career merit his regard as one of the giants of hazzanut. He had a number of worthy, famous, and equally great colleagues and contemporaries, each of whom had unique attributes and a substantial following of loyalists. Yet it is safe to assume that if a layman (Jew or non-Jew) recognizes only one name from the pantheon of cantorial Olympians, it is likely to be Rosenblatt's. With no need of posthumous embellishment, his life and his art combine to form a Jewish as well as an American legend.
It can be tempting to draw a loose analogy to the superseding fame of Enrico Caruso, who stands out in popular memory as the dominant Italian operatic tenor in the history of that genre, but in reality he was one of a number of equally great—or greater, to many tastes—contemporaneous tenors. Their names and recordings may be familiar to dedicated opera buffs, but less so to the general public, which, if it can identify only one operatic tenor from that era, is likely to cite Caruso.
Many of the great virtuoso cantors in America went beyond the art of improvisation to engage in more deliberate, structured composition. Often, however, those endeavors amounted essentially to formalizing and refining the improvisations that lay generically and historically at the core of cantorial art; and most of those products were monodic recitatives. Choral accompaniments and interludial sections, which nearly always attended pulpit rendition, were usually created by those cantors' choirmasters or other arrangers. There were exceptions, but Rosenblatt was unique in his own composition of a substantial body of full-fledged choral settings, though many remain in manuscript.
Rosenblatt was born in Belaya Tserkov, in the Ukraine. His father was a learned ba'al t'filla (lay cantor), from whom he learned the basic traditional prayer modes and idioms as well as musical skills. When he was seven years old, his family moved to Sadagora, Bukovina (then in the Austro-Hungarian Empire, now Ukraine). In that predominantly Hassidic environment he absorbed a great deal of Hassidic melos and style, which later influenced his compositions.
While still a child, he toured parts of eastern Europe with his father, assisting at guest pulpits, and by the age of thirteen he began functioning as a cantor on his own. Around 1899 he spent several months in Vienna, where he sang in some of its larger eastern European–oriented (Polnishe) synagogues and pursued further informal music studies. After an extensive tour throughout the Hapsburg Empire, he assumed his first permanent cantorial post in Munkács (then in Carpathian-Ruthenia, now Ukraine). The community there was dominated by the radical, zealous Shapira Hassidic dynasty, which held and spread an extreme aversion to any form of modernity or Westernization—even within faithfully orthodox frameworks. Rosenblatt was a personally pious adherent of orthodoxy and remained so throughout his life, but he found the narrow, intolerant environment of Munkács stifling. After only one year there, he seized upon a dispute with his congregation over monetary support for the choir as an occasion to resign his post. He accepted a position in Pressburg (now Bratislava in Slovakia, but then part of the Hungarian Kingdom of the Austro-Hungarian Empire, and even its capital for a brief time in the 19th century), where Viennese cultural influence, including the German language, blended with Slovakian and Hungarian traditions and folkways. Pressburg at that time was the oldest and perhaps the most cultured orthodox community in the Hungarian cultural sphere, and it was not entirely foreign to Rosenblatt, who had sung there as a fourteen-year-old on tour with his father. During his adult tenure in the city, he also studied and coached voice in nearby Vienna; and it was there that he began composing in earnest—choral settings as well as solo recitatives.
The five Pressburg years were among his most productive in terms of composition. During that sojourn he produced his first major collection, Shirei Yosef, a compilation of 150 cantorial recitatives and liturgical choral pieces. His adequate choir could serve as a testing ground for some of these settings, which probably facilitated his self-taught development of choral writing techniques. He acquired the affectionate sobriquet "Yossele Pressburger" and thereafter was known as Yossele rather than Joseph, even in English-speaking circles. Also during that period his cantorial and vocal reputation spread to western Europe. He made his first recording in 1905, which was manufactured by the Edison Company in Vienna. Although not unhappy in Pressburg, he accepted a prestigious cantorial post in Hamburg as a matter of advancement. It was his "graduation" to the West.
Hamburg had been the cradle of extreme German Reform in the early 19th century, and a model for the Reform path elsewhere in Germany as well as elsewhere in the West. That model predominated Western departures from orthodoxy until a second, middle-of-the-road, Liberale approach was conceived as a synthesis of tradition, historical and liturgical foundation, and modernity. But in 1906 there was still a significant Hamburg orthodox community, the Deutsch-Israelitischer Synagogenverband. Rosenblatt served its Börnplatz Synagoge, and he also became acquainted with the Western classical music canon, for which he developed an ardent enthusiasm, acquiring affinities for opera as well as German lieder, especially Schubert. He first heard Caruso there, and his sons later became convinced that the iconic opera singer had become—consciously or not—their father's vocal model.
In Hamburg, Rosenblatt had naturally to adapt some of his eastern European cantorial habits. Rather than resist the features of cantorial as well as secular musical modernity, he was able to assimilate them—along with other aspects of Western culture—into his otherwise manifestly eastern style of hazzanut and to integrate those elements into his art without compromise to its integrity. Exposure to opera and the German lieder tradition gave his hazzanut a classical gloss and refinement.
From both Jewish and artistic standpoints, Rosenblatt harbored some ambivalence during his Hamburg years. He welcomed the opportunities for musical and cultural growth, yet he sometimes felt confined and constrained by some of the imposed strictures, such as the congregation's partiality to German synagogue music traditions and composers and its aversion to idiomatic eastern European word repetition. His compositions from that period reflect some of those impositions, but they contain interesting variations of traditional motifs. In Hamburg he wrote some of the pieces that he published later in his second collection, T'fillot Yosef, which comprises twenty-five settings—followed by Z'mirot Yosef and Shiva Ofanei Hakiddush—and after his 1905 debut on disc, he embarked on a prolific recording career, beginning with issues by the Odeon label in 1908.
In 1909 the World Zionist Congress met in Hamburg, where some American delegates and representatives first heard Rosenblatt and brought home glowing reports. Meanwhile, his reputation had begun to spread to America through his recordings. In 1911 the venerable cantor Yeshiah Meisels resigned from the pulpit at the First Hungarian Congregation Ohab Zedek, one of New York's wealthiest and most lustrous orthodox synagogues, which by then was installed in its new edifice in the upscale Jewish neighborhood of Harlem, and Rosenblatt was engaged as its permanent cantor in 1912. With great pride in his newly adopted country, he became a citizen five years later, and it did not take long for him to become the most recognizable cantor in America as well as a superstar celebrity among non-Jewish audiences. His many recordings aided that rise to fame in no small measure; he recorded more than two hundred 78-rpm discs, including 123 of his own compositions. In addition, his extensive concert tours brought him not only to major and midsize cities across the country but to many remote areas as well.A number of his public appearances and tours were made on behalf of patriotic, humanitarian, and charitable causes: Liberty Bonds during the First World War; relief efforts during the war and in aftermath; and other Jewish campaigns. His 1918 recording of the soon-to-be world-famous Yiddish theater song Eli, eli—which had lain in relative obscurity since its composition by Jacob Koppel Sandler more than two decades earlier and its single-season success on a Second Avenue stage—netted him approximately $10,000 in royalties. He donated the entire amount to assist Jews in Europe who were suffering from the effects of the war. (Rosenblatt innocently assumed Eli, eli to have been an anonymous folksong. Even after Sandler was unable to prevail in his copyright-infringement lawsuit against the publisher of the sheet music—not against Rosenblatt, who testified at the trial—Rosenblatt was personally persuaded by Sandler's claim and graciously credited him as the composer on subsequent recordings and public performances.)
In 1917 Rosenblatt commenced a national tour under the auspices of the Central Relief Committee to raise funds for Jews who were caught between battle lines of the belligerents in the war and could be subjected to war-related pogroms. The opening concert, at New York's Hippodrome, was reported to have attracted an audience of six thousand and to have earned $240,000 for the cause. One of the concerts on that tour was held at the Auditorium Theater in Chicago, the city's resident opera house. Cleofonte Campanini, general director of the Chicago Opera Company, was in the audience, and immediately after the concert he invited Rosenblatt to sing the lead tenor role of Eleazar in the company's forthcoming production of Jacques Fromenthal Halévy's La Juive (The Jewess). He was offered the extraordinary fee of $1,000 per performance. One of the reigning divas of the day, Rosa Raisa (a Bialystok-born Jew whose actual name was Rosa Raisa Burchstein), had been engaged to sing the soprano role of Esther.
Campanini's letter to Rosenblatt's New York congregation asking the board's permission for him to sing in La Juive assured them (as he had assured Rosenblatt) that the opera company would organize or adjust its schedules to accommodate Rosenblatt's Sabbath observance and other religious obligations. No rehearsals or performances would be held on the Sabbath. He would not have to cut his beard, and there would be nothing in the performances or in his appearances on the operatic stage that would "in any way be a [negative] reflection on the orthodox Jewish faith." But Campanini failed to convince either the synagogue officers or, according to some interpretations of the incident, Rosenblatt himself.
It has never been (and is not likely to be) established what role, if any, Ohab Zedek's board members played in Rosenblatt's declining the Chicago Opera's offer: Had they said no to the venture because they feared it as a potential distraction from his cantorial obligations, because they objected to the public image of their cantor on the opera stage—with its secular lures and even the appearance of impropriety—or because they saw it as a dangerous precedent for future demands? Perhaps a combination of these and other factors precluded their acquiescence. In any case, whether Rosenblatt's decision was entirely his own, without interference from his congregation, cannot be known on the basis of any extant documents or minutes. The generally accepted version of the story, perpetuated by his family as well as his legions of devotees then and in succeeding generations, is that he felt that the aura and trappings of the operatic stage, including but not limited to singing and acting with women, were simply out of character with his sacred calling.
Turning down that offer did not, however, slow increasing public recognition. By then his road to fame was nearly secured. Only two days after the Chicago concert at the Auditorium Theater he entertained soldiers at Camp Grant in Rockford, Illinois, and he was introduced simply as "the Jewish tenor." His Carnegie Hall debut recital shortly afterward was an enormous public as well as artistic success.
In 1920 Rosenblatt sang at a concert at the Metropolitan Opera House in New York, and he toured the American South that year. At a concert in Chattanooga, Tennessee, John McCormack, the Irish tenor, was in the audience. He ran up to the stage afterward, congratulating Rosenblatt with the ebullient greeting, "Hello, Jewish McCormack." "Hello, Irish Rosenblatt" was the reply.
A year later he published his mixed choir setting of Psalm 113 and dedicated it to President Warren G. Harding.
Rosenblatt's charitable appearances were not limited to Jewish causes. In 1921 alone, for example, he gave a concert at Sing Sing prison; performed at a joint Passover and Irish Easter relief event, and sang at Madison Square Garden for the benefit of strikers in the needle trades, which included many Italians and other ethnic groups as well as Jews.
Until the early post–World War I years, Rosenblatt pretty much dominated the world of hazzanut in America. Prior to his arrival and until after the war, only a few important European cantors came to the United States. These exceptions included such exemplars as Yehiel Karniol and Arye Leib Rutman, in addition to Meisels, and they soon acquired enviable reputations and dedicated devotees. But some accomplished cantors who came or were brought to America before the turn of the century or shortly afterward ended up returning to Europe when it became clear that the eastern European immigrant community was not quite ready to support them.
The esteemed cantor Boruch Schorr accepted a summons to the pulpit of the Attorney Street Synagogue on New York's Lower East Side in the wake of a suspension by his community in Lemberg in 1890 because he appeared on a Yiddish stage for a curtain call after a performance of his own operetta, Shimshon hagibbur, and shook the hand of the female lead. But five years later, when his former Lemberg congregation swallowed its pride and pleaded for his return, he abandoned America without hesitation. In that time frame and until after the war, orthodox American congregations such as Ohab Zedek, with the means as well as the foresight to provide for a celebrity cantor of Rosenblatt's caliber and persona on a permanent basis, were rarities. As a cantorial public figure, he was virtually sui generis.
Beginning in the early 1920s, others from Europe's roster of acclaimed virtuoso hazzanim started arriving in America—some for tours and other as immigrants. They included Mordecai Hershman, Zavel Kwartin, David Roitman, Pierre Pinchik, and, by the 1930s, many others. They formed the nucleus of an American "golden age" of cantorial art, and they achieved enthusiastic receptions in traditional Jewish circles. But until Moshe Koussevitzky's immigration after the Second World War and his recitals combining classical repertoire and hazzanut, none of the virtuoso hazzanim apart from Rosenblatt succeeded in attracting non-Jewish audiences and admirers to the extent that he did. Perhaps even more telling was his appeal to nonreligious Jews, in whom the echoes of traditional synagogue worship resonated faintly if at all, and who otherwise were disinterested in if not put off by the aesthetics of orthodoxy that his art encapsulated. Moreover, no other cantor ever captured anything approaching his share of the American imagination or achieved so widespread a folk hero status.
In 1923 Rosenblatt made his first British and European tour as an American citizen, singing at major venues in several countries (including in his former community of Pressburg) to consistent critical and popular acclaim. In response to his Royal Albert Hall concert, the Jewish Times of London summed up the general esteem in which he was now held on that side of the Atlantic: "Yossele Rosenblatt stands as firmly planted on Olympus as on Sinai…. He brings something of the Sinaitic into Olympus, and something of the Olympic into Sinai."
In addition to his regular pulpit officiation at Ohab Zedek (which moved by 1930 into its present building on Ninety-fifth Street on the Upper West Side), Rosenblatt appeared as guest cantor at special services throughout the United States. For High Holy Day services one year in Chicago, he presided with Meyer Machtenberg's thirty-five-voice men and boys choir at the Wigwam convention center—the site of Abraham Lincoln's nomination at the 1860 convention of the new Republican Party—because the local synagogue that usually held those services would not have been able to accommodate such a large congregation. Rosenblatt was greeted on his arrival at the railroad station by an escort of the mayor's special police guard and paraded to his lodgings in motorcars decorated with United States and Zionist flags. The purely religious nature and function of the event did not preclude a general press review by the noted critic Glen Dillard Gunn, who wrote in the Herald Examiner that Rosenblatt had "turned the Wigwam into a synagogue" with the power to "cause the prayers to move hearts who understood none of the language."
Despite his undiluted commitment to orthodoxy, his unalloyed personal religious life, and his unadapted immigrant ethnic mien at a time when Americanization was all but required for acceptance, Rosenblatt managed to socialize with some of the greatest opera singers and other musical personalities of the day. His son Henry recalled that Caruso, Nellie Melba, Titto Ruffo, and Luisa Tetrazzini were frequent visitors to their home; and he remembered one Pesah seder when the mayor of New York City and the state's Roman Catholic governor, Al Smith, were guests.
Rosenblatt commanded enormous, unprecedented fees for his concerts, and he realized gargantuan profits in royalties from his record sales. Yet he was frequently in debt—in large part because he continuously donated much of his earnings to charity. In 1925 he went into bankruptcy after being lured into shady and ultimately destructive business investments, and he was forced to resort to national vaudeville tours to pay off financial obligations. Humiliating as those performances might have been, at least—unlike the opera production he had declined—his own act involved solo singing of cantorial, lieder, and operatic repertoire with only a pianist on the stage with him. His "Old World" demeanor and appearance was part of the attraction as a bit of exotica for American audiences, but when he was invited to appear in the first full-length commercial "talking picture" (The Jazz Singer, with Al Jolson), he refused. He did, however, permit his singing voice to be dubbed and used in that film, in which he is heard singing a Yiddish song, Yortsayt likht.
In 1933 he went to Palestine for a concert tour and to work on a Yiddish film, The Dream of My People. He gave some twenty-five concerts, most of them accompanied on piano by Nahum Nardi. He had decided to settle there permanently when he suffered a fatal heart attack, dying at the age of fifty-one. His remains were buried on the Mount of Olives with a funeral service conducted by Chief Rabbi Abraham Isaac Kook and attended by some five thousand mourners. Cantors Hershman and Kwartin, who both happened to be there at the time, chanted the liturgy. At a memorial service at Carnegie Hall in New York, which was presented by the Jewish Ministers Cantors Association (the Hazzanim Farband), many prominent cantors participated along with a chorus of more than two hundred voices.
Rosenblatt was well versed in the canon of classical cantorial-choral literature, of which he sometimes availed himself at the pulpit together with his choir. He also sang and recorded choral settings by his accompanists and choirmasters: Herman Wohl, Meyer Machtenberg, Abraham Ellstein, and Oscar Julius. But the greater part of his liturgical repertoire comprised his own compositions.
His early improvisational style formed the basis for his formally constructed pieces. These compositions frequently employ a recurring leitmotif, occasionally derived from his early Hassidic exposure. Many of the free-flowing recitatives conclude with a lidl, or "little tune." One of his boy choristers from his initial years at Ohab Zedek recalled that some cantorial aficionados had questioned that practice as a concession to popular expectations, but he felt in retrospect that this had been Rosenblatt's way of relating to American worshippers who required some purely melodic elements. Some of those original melodies reflect Rosenblatt's love of Italian opera, yet they never seem inappropriate because he was adept at integrating them into a larger liturgical framework.
The harmonic vocabulary of his choral settings is basic, conservative, and even routine. Rosenblatt did not develop a sophisticated choral language. Some of these pieces therefore invite judicious adjustment. Altogether fresh arrangements can succeed artistically so long as they preserve the character and the flow of the original solo cantorial lines. 
By: Neil W. Levin