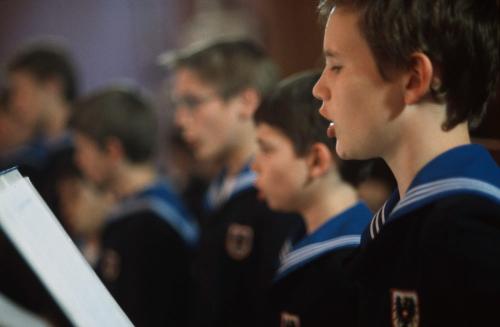 In 1498, when his court was transferred from Innsbruck to Vienna, the Hapsburg Holy Roman Emperor Maximilian requested twelve boy singers to join his court musicians. This event marked the official founding of the Vienna Hofmusikkapelle and the Vienna Boys Choir (Wiener Sängerknaben). The choir originally sang exclusively for the court at Mass, at private concerts, and on state occasions, throughout its history working with musicians such as Isaac, Hofhaimer, Biber, Fux, Gluck, Mozart, Caldara, Salieri, and Bruckner. Some of the musicians were choristers themselves, such as composers Gallus, Schubert, and, as substitutes, the brothers Franz Joseph and Johann Michael Haydn, as well as conductors Hans Richter, Felix Mottl, and Clemens Krauss.
In 1918, after the dissolution of the Hapsburg Empire, the Austrian government took over the Court Opera but not the choirboys. The Wiener Sängerknaben owes its survival to the initiative of Josef Schnitt, who became dean of the Imperial Chapel in 1921. Schnitt established the choir as a private institution, in which the former court choirboys became the Wiener Sängerknaben and the imperial uniform was replaced by the sailor suit, the height of boys' fashion at that time. Funding was not enough to pay for the boys' upkeep, and in 1926 the choir started to give concerts outside the Chapel. Within a year it was performing in Berlin under Erich Kleiber, and in Prague and Zurich. Athens and Riga followed, then Spain, France, Denmark, Norway, Sweden, the United States (1932), Australia (1934), and South America (1936).
The choir's repertoire has come to include everything from Gregorian chant to contemporary and experimental music. Benjamin Britten wrote the vaudeville The Golden Vanity for them and conducted its premiere at the Aldeburgh Festival in 1967. The choir is regularly asked to furnish soloists for large choral and orchestral works, and has sung under many of the world's foremost conductors.
Today, under its artistic director Gerald Wirth, the choir comprises some hundred choristers between the ages of ten and fourteen, divided into four touring choirs. The four choirs give more than 300 concerts and performances annually, each group spending nine to eleven weeks of the year on tour. Together with the Vienna Philharmonic Orchestra and the Vienna State Opera Chorus, the Wiener Sängerknaben carries on the tradition of the Imperial musicians. It still provides the music for the Sunday Mass in Vienna's Imperial Chapel, as it has done since 1498.