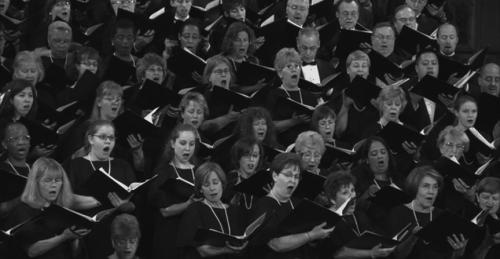 Singing City was founded as an integrated choir in 1948 in Philadelphia by Dr. Elaine Brown. The Choir was born out of the Fellowship House movement, which believed that differences between races, religions, and cultures could be bridged by ordinary people coming together in shared activities. In addition to performances in and around Philadelphia, the Choir traveled to the South during the 1950s and `60s struggle for civil rights, performing before integrated audiences. As a result of critical acclaim through performances with The Philadelphia Orchestra, the choir was invited to perform in Israel with Zubin Mehta and the Israel Philharmonic and also in Jordan and Egypt while on tour in the 1970s and `80s. Singing City was the first western choir to perform with the Leningrad Philharmonic in Leningrad in 1990. In May 2000, Singing City was the lead choir at the First International Choral Festival de Cuba. The choir toured Northern Ireland and the Republic of Ireland in the summer of 2004 and Brazil in 2009.
Singing City, comprised of approximately 115 voices under the guidance and direction of Music Director Jeffrey Brillhart, continues to bring choral music to the underserved, performing not only in concert halls, but also in homeless shelters and nursing homes in and around Philadelphia. Singing City's nationally recognized schools residency program, Singing City in the Schools, has brought music rudiments, choral singing, and composition techniques to children in the Philadelphia public schools and to some private schools in the area. Singing City in the Schools was taken to a new level with the launching of the Singing City Prize for Young Composers in the spring of 2004. This is a composition competition for area high school and college students. The winners benefit from a monetary prize, a performance of their work by Singing City, and a year under the tutelage of a professional composer.
Under the banner of Performance, Community and Education, Singing City strives to be an artistic, social and spiritual force, bringing people together through choral music.
Source: www.singingcity.org