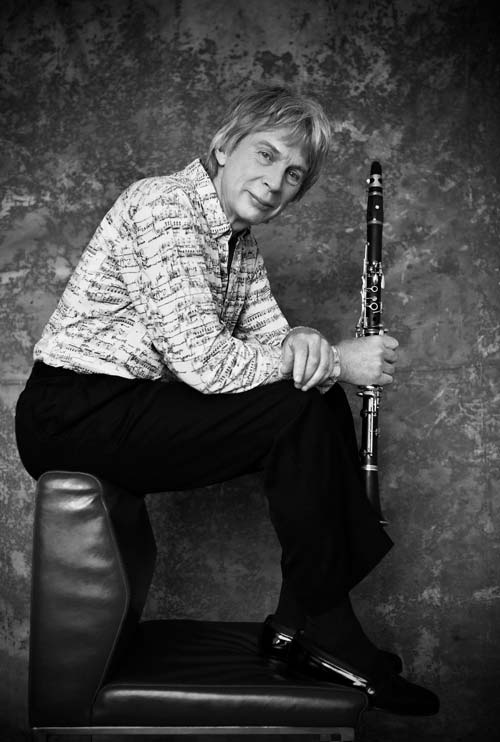 Clarinetist Richard Stoltzman, one of the most sought-after concert artists of our time, was born in 1942 in Omaha, Nebraska, the son of a jazz-playing railwayman. Stoltzman graduated from Ohio State University with a degree in music and mathematics, earned his Master of Music degree at Yale University while studying with Keith Wilson, and later worked toward a doctoral degree with Kalman Opperman at Columbia University. From 1966 to 1976 he played at the Marlboro Music Festival, and during that time he became a founding member of the quartet TASHI (with pianist Peter Serkin, violinist Ida Kavafian, and cellist Fred Sherry), which burst upon the music scene unforgettably with the performance of Messiaen's Quartet for the End of Time, in 1973. In 1976 he won an Avery Fisher Award, and ten years later he became the first wind player to be awarded the Avery Fisher Prize
As soloist with more than 100 orchestras and chamber and jazz ensembles, Stoltzman has defied categorization, and his unique way with the clarinet has opened up new possibilities for the instrument. He gave the first clarinet recitals ever at both the Hollywood Bowl and Carnegie Hall, and has performed or recorded with such jazz and pop luminaries as Gary Burton, the Canadian Brass, Chick Corea, Judy Collins, Eddie Gomez, Keith Jarrett, the King's Singers, George Shearing, Wayne Shorter, and Mel Tormé. His commitment to new music has resulted in numerous new concertos and sonatas for the clarinet, including works by Steve Reich, Lukas Foss, Donald Erb, Toru Takemitsu, and Einojuhani Rautavaara. Stoltzman's discography numbers more than seventy releases, including the  Grammy-winning recordings of the Brahms Sonatas with Richard Goode, and Trios of Mozart, Beethoven and Brahms with Yo-Yo Ma and Emanuel Ax.
Recently he was awarded the prestigious Sanford Medal by the Yale School of Music.
Photo Credit: Lisa Marie Mazzucco