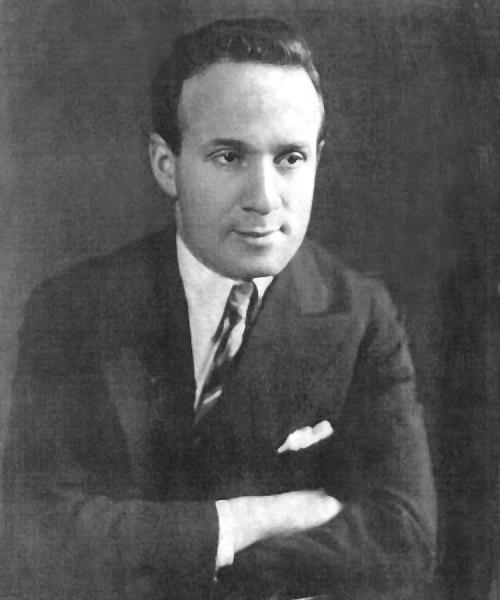 At the age of seven, New York City-born Nathaniel Shilkret was the clarinet soloist for the New York Boys Orchestra on its tour of the United States, and in his teen years he played in several of New York's most popular orchestras and bands, including the Russian Symphony Orchestra, Victor Herbert's orchestra, and John Phillip Sousa's Grand Concert Band—as well as under both Vassily Safanov and Gustav Mahler in the New York Philharmonic Society (later the New York Philharmonic).
For many years Shilkret's most prominent association was with the Victor Talking Machine Company (later RCA Victor), where, as "director of light music," he conducted numerous recordings with his Victor Salon Orchestra and other ensembles. Many of those recordings—either in a popular or what was then called light classical vein—became best-selling hit records. Shilkret conducted for thousands of network radio broadcasts during those years, and recorded for many labels, such as Brunswick, Columbia, Edison, and Okeh. Some of his recordings also featured him as an instrumental soloist, playing clarinet, piano, organ, celeste, chimes, and trumpet—and even whistling.
Shilkret wrote a number of popular songs, of which the best-known and most commercially successful was "The Lonesome Road." It was sung in the initial film version of Show Boat in 1929 and has been recorded in vocal and instrumental versions by more than 100 popular performers, including the Andrews Sisters (on the Paul Whiteman radio show), Louis Armstrong, Benny Goodman, Bing Crosby, Sammy Davis Jr., Peggy Lee, Frank Sinatra, Tommy Dorsey, Earl Hines, Al Hirt, Paul Robeson, and Helen Traubel.
Shilkret conducted the 1927 electrical recording of George Gershwin's Rhapsody in Blue (credited to Paul Whiteman); and he was selected to conduct the initial broadcast and recording of Gershwin's An American in Paris—which he also directed at the 1937 Gershwin Memorial Concert in Los Angeles. In 1935 he relocated to Los Angeles, where he worked intensively in Hollywood—primarily at RKO and MGM studios. He composed, arranged, or conducted for at least several dozen film scores, including Shall We Dance, with Fred Astaire and Ginger Rogers (1937, with a score by Gershwin); Swing Time (1936, with a Jerome Kern score); The Bohemian Girl and Mary of Scotland (both 1936); and several Laurel and Hardy films.
Although Shilkret is best remembered for his commercial and film music, he also wrote a number of concert works. His trombone concerto was commissioned by Tommy Dorsey, who played it in 1945 in New York with Leopold Stokowski conducting, and it was played at Carnegie Hall in 2003 by the New York Pops orchestra conducted by Skitch Henderson. Among his other classically oriented pieces are Skyward (1928), a symphonic poem; Firefly Scherzo; Southern Humoresque for violin; and a clarinet quintet.
By: Neil W. Levin