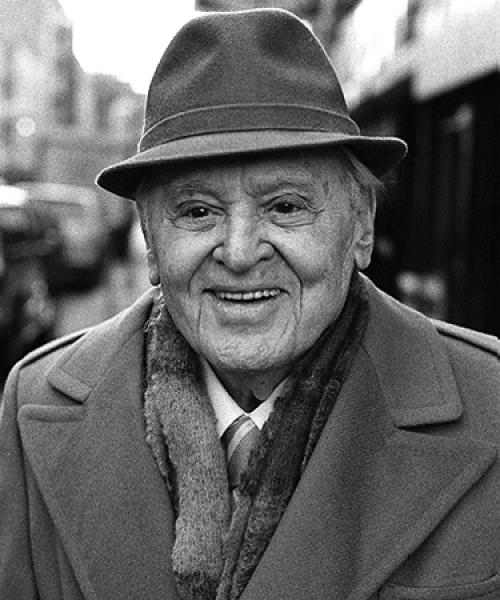 Moshe Ganchoff was known with deep respect throughout his life as "the cantor's cantor." He was beloved by cantorial aficionados, and for more than sixty-five years he inspired legions of lay worshipers with his insightful interpretations of the liturgy. At the same time, the complexity of his art—which went far beyond self-serving virtuosity and vocal pyrotechnics—his fresh nuances that explored the shades of meaning of words and phrases, his mastery of structure and balance, and his innate musical intelligence all lent his cantorial style a sophistication that could be even more profoundly appreciated by serious colleagues. Ganchoff's many recitative compositions seamlessly combine eastern European improvisatory tradition with subtle innovations, reflecting the theological and literary as well as the emotional implications of the prayer texts. He was known for his spontaneity on the pulpit, but in fact his apparent improvisations were not entirely driven by flights of fancy. Rather, they often represented a carefully worked out set of possibilities and options, as well as a previously studied array of alternative settings of the same text—from which he would draw as he improvised, producing a unique interpretation.
Ganchoff was born in Odessa, a city rich at that time with long-standing cantorial traditions. His mother came from a religiously observant family, but his father was a secular Bundist—part of the Jewish socialist milieu. Although Ganchoff's childhood exposure to some of Europe's greatest cantorial masters made an indelible impression on him in Odessa, it was in America that his serious introduction to hazzanut truly informed his path. Among all the world-renowned émigré cantors in America, he was the only one to acquire all his cantorial knowledge and skill in the United States. His family settled initially in Toledo, Ohio, where, by coincidence, a number of great cantors served and where a general appreciation for hazzanut prevailed. His vocal gifts were discovered when he sang in a school choir; and although he was taught privately in the rudiments of music, especially solfeggio, by Irving Kobrin, a local cantor in Toledo who had a classical and worldly background, his considerable general musicianship was largely self-acquired.
In Toledo, as a youth, Ganchoff sang in the choir of Cantor Simon [Sholom Zvi] Zemachson, who also conducted and wrote for the choir. Through that experience he became acquainted with the choral as well as recitative repertoire of the classical eastern European synagogues. Also in his Toledo days, he was inspired by such celebrated guest cantors as Mendel Shapiro and Arye Leib Rutman (1866–1935), who thus shaped his artistic horizons. Later, as a young man, he went to New York to pursue what by then he had determined was his cantorial calling. There he benefited from tutorial work with Hazzan Joshua Lind (1890–1973), and he sang in synagogue choirs directed by such respected choirmasters as Leo Low (1878–1960) and Meyer Machtenberg (1884–1979), and with such star cantors as Yossele Rosenblatt (1882–1933) and Mordechai Hershman (1888–1941). He later cited that experience as a major part of his cantorial education.
Though various accomplished cantors have been credited with exerting stylistic influences on him and in some cases serving as de facto mentors, none was actually his formal teacher. Notwithstanding his work with Lind (which consisted in large measure of Lind's notation for him of various sections of the service), Ganchoff remained mostly self-taught. That intensive independent study of hazzanut involved a disciplined and committed process of listening to the great masters and analyzing their artistic approaches and individual treatments of the texts. In particular, he studied, on his own, Rutman's technique and style—especially his manner of improvisation—and Hershman's vocal mastery. But he absorbed the artistry of others as well, and he became conversant with the variety of their interpretations. He fashioned his own synthesis, which included highly original musical ideas, and thus arrived ultimately at his own unique style.
By the 1940s Ganchoff had emerged as a star cantor. Through the 1970s he served a number of the New York area's most prestigious traditional synagogues; recorded some of his own settings as well as pieces from the classical European synagogue repertoire; and made concert tours of Europe, Central and South America, and Israel. For years he was part of a Jewish musical, literary, and theatrical intelligentsia in New York that congregated frequently at the legendary Café Royal, and he attended more formal academic meetings of Jewish music societies such as MAILAMM and the Jewish Music Forum. He also became widely known for his weekly WEVD radio broadcasts over a period of more than twenty-five years, and his listeners came to expect a new liturgical selection each week, accompanied by an instrumental ensemble. Ganchoff is said to have written a new cantorial composition for nearly every program, and he also included Hebrew and Yiddish folk and classical art songs of the highest caliber.
Ganchoff taught cantorial students for many years at the School of Sacred Music of Hebrew Union College, influencing entire generations of young cantors. During his last decades he was well aware that he was upholding an endangered tradition, but when he was asked if it could be maintained in future generations, he affirmed his faith in his best students and protégés to do so. "Hazzanut will survive because it is beautiful," he said only two years before his 1997 death, "and true beauty lives." Still, as an artistic product of an environment informed by sensibilities now largely foreign, Ganchoff is properly considered the last of the great masters of the Golden Age of Hazzanut.

By: Neil W. Levin