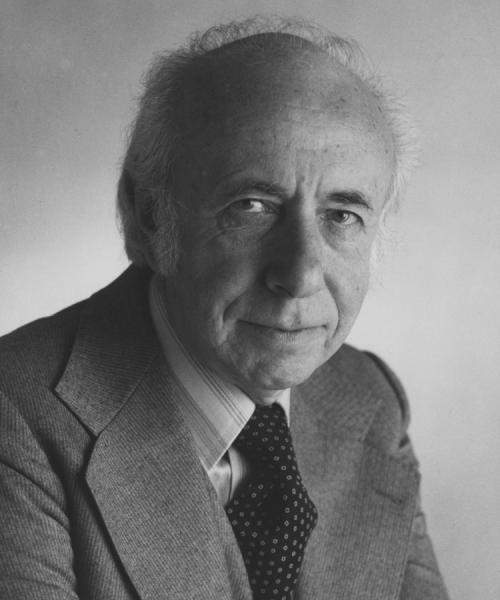 Composer, conductor, and arts administrator Morton Gould was born in Richmond Hill, New York. When he was eight years old, he won a scholarship to the Institute of Musical Art (since 1923 The Juilliard School), and he published his first piece at age fifteen.
In 1934, Gould, a staff pianist at Radio City Music Hall since its opening in 1932, became music director of a weekly New York radio program, which involved composing, arranging, and conducting. While writing specifically for broadcast—which often included what was then called a "light classical" approach and was governed by timing limitations—he also composed more substantial works that integrated popular American styles, flavors, and idioms.
Gould wrote music for two Broadway shows, Billion Dollar Baby (1945) and Arms and the Girl (1950), a ballet score, Fall River Legend (choreographed by Agnes De Mille), and a number of film scores—appearing himself in the 1945 film Delightfully Dangerous. And he continued creating orchestral works informed by American themes and vernacular styles, such as American Salute (1947), a symphonic treatment of the famous song from the War Between the States, "When Johnny Comes Marching Home." His later works include a flute concerto (1985), Notes of Remembrance (1989), and the piece that won a Pulitzer Prize in 1995, Stringmusic, written for Mstislav Rostropovich's final season as conductor of the National Symphony in Washington, D.C.
Gould served on the governing board of ASCAP for more than thirty-six years and as president from 1986 until 1994. He was elected to the American Academy of Arts and Letters and awarded a Kennedy Center Honor. His assimilation of popular American idioms and entertainment forms and styles into concert works ranged from conventional but inventive orchestral versions of existing themes to more flamboyant experiments, such as the 1952 Concerto for Tap Dancer and Orchestra or, forty years later, a work for rapper and orchestra, The Jogger and the Dinosaur, written for the Pittsburgh Youth Symphony.
By: Neil W. Levin