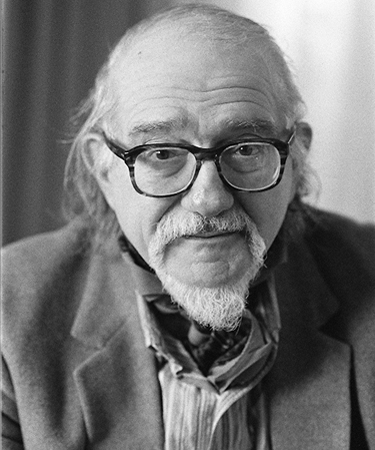 Often enthusiastically celebrated for his catholicity of musical materials, his creative defiance of academic as well as stylistic strictures, and, especially, his combinations as well as juxtapositions of jazz with contemporary concert (read "classical") music, Meyer Kupferman addressed most of the traditional forms and formal structures available to 20th-century composers. His multifaceted and eclectic opera include twelve symphonies, ten concertos, nine ballet scores, seven operas, and many other descriptive or programmatic symphonic works; more than 200 chamber and solo instrumental pieces; choral settings; works combining electronic sounds and elements with traditional instruments in live performances; and music for film sound tracks.
Kupferman was born in New York City to Jewish parents who had emigrated from eastern/east central Europe. His mother came from the Czarist Empire. His father, Elias, came from Romania, where he was a quasi-Gypsy street singer and band musician and acquired a large repertoire of Hungarian, Russian, Romanian, Gypsy, and Yiddish songs—many of which he sang to Meyer when the latter was still a young child. Throughout his life Meyer Kupferman was fond of recounting this family history—how his father had run away from home at a relatively young age and joined a Gypsy band, traveling with it across large swaths of Europe, playing a number of instruments as a self-taught musician and singing in several languages. According to family legend, Elias bested a professional "strong man" in a wrestling contest at a circus in Romania—a victory that netted him sufficient prize money to emigrate with his sister to America.
Kupferman always credited his father with inculcating in him an abiding appreciation for Jewish tradition and culture and introducing him to the melos of eastern European folk music. "It was because of his wish to pass on to me something of his former life," he once reminisced, "that I absorbed so many Romanian, Hungarian, and Yiddish folk melodies—their scales, intervals, rhythms." And he always felt that those properties had a lasting impact on his own melodic shapes, modal references, and even harmonic language.
Following a brief but ultimately fruitless introduction to the violin at about the age of five, the young Kupferman became attracted to the clarinet when he was ten years old. Later he gained admission to New York's High School of Music and Art as a clarinetist. Meanwhile, around the age of thirteen, he began composing on his own—often imitating, as he later recalled, some of his father's Yiddish and other eastern European melodies as well as big band and jazz sounds he heard on radio. In a 1942 review of a student composers' concert at the High School of Music and Art, critic and composer Virgil Thomson, observing with some regret the harmonic and structural conservatism of the offerings, singled out the young Kupferman as at least the most adventurous of the group. "The farthest any piece strayed from mid-nineteenth-century harmonic syntax," he wrote, "was the moderate but wholly neat and charming French impressionism of Mr. Meyer Kupferman's Wind Sextet."
After graduation from high school Kupferman studied at Queens College (City University of New York), where his music classes included theory and chamber music performance—but not formal composition. He remained a self-taught composer, acknowledging that fact with pride throughout his life. "Since I was essentially self-taught in composition," he explained in a retrospective interview in connection with his seventy-fifth birthday celebrations, "I was never intimidated by the strict academic rules of the game my colleagues were so often plagued by. I learned counterpoint, harmony, form, and orchestration by doing it myself, either by arranging jazz, classical, or contemporary keyboard works for small ensembles—or by composing brand-new 'tryout' miniatures for my friends to play".
During and immediately after his years at Queens College he became known as an accomplished jazz clarinetist, performing at various clubs, first on Coney Island and then at others in the New York area. It was then that he began scoring arrangements for the bands with which he performed and for fellow solo musicians. That experience had a profound impact on his subsequent compositional development. "In the early '30s and '40s," he recalled early in the 21st century,
jazz, swing, and the expanding literature of "standard songs," film tunes, and Broadway stage songs all provided a sole image of what American music meant to me. The idea of arranging a tune for a swing band with a slick, unique popular style clearly resembled "compositional thinking"—which for me, in those formative years, had something in common with conceiving a string quartet. One could almost say that in the swing-jazz era our American arrangers were our American composers. As for me, the influence of jazz was and probably still is evident in certain patterns of rhythm in my personal style. Also very important: The improvisatory flow of my musical phrase structure comes from the variety of freedoms I experienced as a jazz performer on the clarinet and tenor sax.
By the late 1940s Kupferman began focusing more intently on so-called concert music. In 1948 he wrote the first of his piano concertos, and he completed his first opera—a one-act children's opera, In a Garden, based on Gertrude Stein's The First Reader. In order to hear his own work as he progressed, he formed an orchestra of colleagues. Known as the Composers Workshop, it included such subsequently established composers as Seymour Shifrin and Morton Feldman.
Ostinato Burlesco has been cited frequently as the most enduring and well-received piece among Kupferman's early works. It exists in a number of distinct orchestral and solo piano versions. Writing for the American Record Guide, Mark Lehman described it as "a brash send-up of Bartók's famous Allegro Barbaro"; and Rob Barnett, in an article in Classical Music Web, referred to the work as "Bernstein on turbo."
The generally respectable reception with which Kupferman's early pieces met may be encapsulated in William Moortz's review of his fourth symphony. Writing in the Louisville Courier-Journal about its 1956 performance by the Louisville Orchestra, he proclaimed, "Kupferman's star is still rising on the American musical scene." And he assessed Kupferman at that stage in his progress as "a composer who demands unusual concentration from his listeners and writes with impressive technical polish."
Through most of the 1940s, Kupferman's music relied largely on the neoclassical models that guided many young American composers during that decade. But his stylistic, procedural, and overall aesthetic approach eventually evolved in more adventurous and more individual directions. In the 1950s he became interested in twelve-tone techniques, and he began employing serial procedures—albeit in a highly personal manner that involved simultaneous use of rhythms, textures, and tonal inflections of jazz. His urge to retain what had become his signature lyricism in conjunction with serial procedures led eventually to his development of a single tone row that would underlie numerous pieces as a common, familiar element. He continually worked to refine and develop his interest in serial techniques on deliberately nonacademic levels. In a 1999 interview he remarked, "When I got to the 12-tone idea, which fascinated me, I was not classical about it and didn't feel that I had to do it Schoenberg's way. The reason was that, being self-taught, I didn't know what Schoenberg's way was." In that spirit, he crafted his own system for ordering pitches that was nonetheless based on the twelve-tone principle. That exploration is evident, for example, in his Chamber Symphony, which is based on a solidified tonal center that shifts as it moves through the tone row.
Through his incorporation of jazz elements, he tried to address what he considered a common problem with the twelve-tone music of that time, as he explained nearly a half century later:
I was feeling the impact of slow music on the current contemporary scene. It seemed to me that the physical rhythm of music had gone by the wayside, and that audiences were very restless because they were hearing very complex serial rhythms that moved in static bursts.
One of the most immediate results of that thinking was his Sonata on Jazz Elements (1958)—a serial/twelve-tone piano work embracing both jazz and classical elements, but written in classical sonata form.
Reviewing a Carnegie Recital Hall performance of it for The New York Times in 1960, Eric Salzman acknowledged that Kupferman was one of the few composers who had succeeded at "mixing in a little jazz with a long-hair concert piece" and in "getting the combination to work." He pointed to the composer's working out certain parallels between some advanced jazz sounds and "a good, fat contemporary composing technique." And he applauded what he perceived as the illumination of the work's sounds and lines by the "jazz experience" and its "expressive tension between the layer of jazz idea and the 'serious' constructive fundamentals."
Kupferman continued over the span of his career to score significant successes with his so-called jazz-classical works. In 1963 the United States State Department commissioned his Jazz String Quartet, which was played by the Claremont String Quartet at the White House during the Johnson administration and later by the Kronos Quartet—both ensembles including it in their touring repertoire.
During the 1960s Kupferman also began to experiment with electronic sonorities and techniques—not only synthesized sounds in themselves but, more characteristically, prerecorded instrumental lines in combinations with live performers. And he turned increasingly to aleatoric procedures, improvisation, visual scores, theater effects, and unusual or unorthodox instrumental performance techniques. But he never abandoned the jazz-oriented directions of his earlier years as a composer and performer. To the contrary, jazz continued to form a basic part of his overall aesthetic energy. His jazz-influenced Moonflowers, Baby! for solo clarinet (1986) was described by New York Times critic Bernard Holland as "full of charm and cleverness, one of the finest 'third stream' pieces this writer has encountered." Observing some of its most imaginative jazz properties, he noted that "hints of blues and jazz fly by . . . , their earthiness and grace hinted at deftly in a context far more precisely plotted and complexly argued than most jazz improvisations can be."
In 1988, to commemorate the bicentennial of the United States Constitution, the Hudson Valley (New York) Philharmonic commissioned Kupferman's Jazz Symphony. In the composer's own recollection, it represented a sort of culmination—a piece he had been "wanting to write for forty years." In it, the jazz and classical elements vie but retain their distinctness in a juxtaposition—even a sort of marriage—where neither loses its identity nor becomes diluted. Once again, Bernard Holland recognized in this aesthetic duality a valuable contribution. "Here jazz and symphonic style meet and argue," he wrote, "but they never really come to terms." Rather, in his view, the composer had shown his instinct for the irreconcilability of certain differences of rhythm, phrase, and color, maintaining the individuality and integrity of those elements in a still unified artistic expression: "He does not force them together."
In the 1960s Kupferman began writing his series of quasi-serial or partially serial pieces under the collective title Infinities—a corpus comprising more than thirty distinct works written over a span of more than two decades for various media and in various forms, but all based on (or incorporating) the same tone row: G, F, A-flat, C-flat, B-flat, D, F-sharp, E, C, E-flat, A, C-sharp. Apart from that row, however, the pieces are otherwise unrelated. And the row was nearly always combined with a variety of other nonserial and even tonal as well as modal elements—not excluding jazz features. For Kupferman, that mixed approach constituted a way to use the organizational benefits of serial techniques and the repetitive value of a common row while preserving the emotional character and overall exuberance for which his earlier music had become known. He saw that path not as a compromise, but as an evolved serial technique that could mitigate against what he considered the academic aspect of much dodecaphonic music.
Infinities was born of a lengthy solo flute piece that was composed in 1961 expressly for the well-known flutist Samuel Baron. Once the series progressed, this piece became known as Infinities One. Eventually, Infinities included not only such solo instrumental pieces, but also chamber works, a cantata, a three-act opera, The Judgment; and other forms. Many of the works in the Infinities cycle are actually scored for jazz ensembles; and his String Quartet No. 6 is also part of Infinities.
The tone row common among all works in the Infinities cycle also became the basis for other works not necessarily under that umbrella. Kupferman later cited the function of that particular row as a core component of his overall musical vocabulary.
By the 1980s and thereafter, it became impossible to categorize Kupferman's major works in terms of style, approach, or technique. He had come to perceive his own aesthetic as a "mixed voice"—one he dubbed a "gestalt," in reference to an overall impression created by a work that nonetheless contained (or could contain) multiple, contrasting, and even incongruous elements. In a 1992 interview he expanded on that gestalt application:
For years now, I've been bringing into close, even conflicting proximity, musical styles that normally are polarized by time, culture, common practice, philosophy, and geographical distance.
Normally, I like to mix things that normally don't mix. It's a bit like walking down Broadway, or riding the subways of New York. There's sort of a mix of love and hate, fears, joys, and tragic components, all mingled in the sights and sounds around you. I think that because I'm a New Yorker, I have this sense of what can happen in a very tiny area between all of these unmixable elements.
Drawing on the firm sense of Jewish identity dating to his childhood and home life, Kupferman turned to Jewish themes for a number of his works. In addition to The Shadows of Jerusalem, these include Masada, a programmatic instrumental chamber work based on the story of the ill-fated Jewish holdout in 73 C.E. against the Roman army on the plateau known as Masada; a ballet choreographed by Pearl Lang, The Possessed, based on the legend of the dybbuk, on which he collaborated with the composer Joel Spiegelman, who furnished the electronic portions; In My Father's Image, a piece for violin and piano in which there are chromatically altered echoes of Gypsy scales that are also found in Yiddish folk as well as eastern European liturgical music traditions; an a cappella choral opera, The Judgment (Infinities No. 18), with a libretto adapted from the Book of Genesis; Images of Chagall, a programmatic instrumental depiction of a number of Marc Chagall's Judaically informed paintings (Kupferman was also a painter with a special interest in Chagall's work), which uses the same instrumentation as Stravinsky's L'Histoire du Soldat; and a very early choral setting of the Hebrew liturgical hymn yigdal elohim ḥai. A unique characteristic of The Judgment is its requirement of three separate a cappella choruses, all made up of singers with perfect pitch. It was inspired by the composer's childhood memories of the aural ambience in Orthodox or traditional synagogues, where the congregation's responses occur as a spontaneous undertone that can erroneously appear to the uninitiated as disorganized mumbling—to which he once referred nostalgically as "a dissonant chatter of voices" (i.e., congregational davening, in traditional synagogue parlance).
Among Kupferman's other significant works are his Symphony No. 10, subtitled FDR; Wings of the Highest Tower, Phantom Rhapsody, for guitar and orchestra (1980); Challenger (1983); The Mask of Electra, for soprano, oboe and electronic harpsichord (1968); The Celestial City, for piano and electronic tape (1973); Abracadabra, for piano and string trio (1976); Sound Phantoms 2, for flute, viola, double bass, and eight guitars; and Dem unbekannten Gott (Nietzsche), a cantata for soprano and seven instruments (1982). Among his film scores is music for such motion pictures as Black Like Me, Hallelujah the Hills, Blast of Silence, and the Truman Capote film trilogy, which includes A Christmas Memory.
From 1951 until his retirement, in 1994, Kupferman was on the faculty of Sarah Lawrence College, where he taught courses in theory, composition, and film music; conducted the orchestra, chorus, and an improvisatory chamber ensemble; and chaired the music department for five terms. He was the recipient of grants and fellowships from the Guggenheim, Ford, and Rockefeller foundations, the National Endowment for the Arts, the Aaron Copland Fund, and the American Academy of Arts and Letters. In addition to his many published compositions, he is the author of Atonal Jazz (Dorn, 1992), a two-volume study of chromatic techniques in contemporary jazz.
By: Neil W. Levin