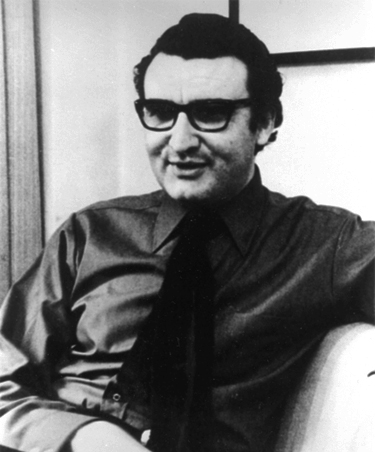 A longtime resident and citizen of the United States and very much an American composer, Mario Davidovsky was born in Médanos, Buenos Aires province (Argentina)—a town nearly 600 kilometers southwest of the city of Buenos Aires, near the seaport of Bahia Blanca. His parents had emigrated with their families from Lithuania, his father having arrived at the age of two, when his side of the family left the Czarist Empire during the Russo-Japanese War. Traditional Jewish customs and values informed Davidovsky's early home life. Both grandfathers were rabbis (one was also a Hebrew scribe), though not officiating ones, and his mother engaged in scholarly biblical studies. Though they enthusiastically assimilated the culture of their adopted country—including the art culture of Western and especially German-orientated émigrés—and therefore Spanish was the language spoken in the home while the young Mario was growing up, his parents nonetheless spoke Yiddish to each other.
Music was also an entrenched part of his family life. His father played clarinet and violin; uncles played brass instruments; and some of the women sang. And along with folk and popular music, much classical music was heard in the home on the radio. The young Davidovsky began violin lessons at the age of seven with a local teacher who also sold tractors (and petrol) as a Ford franchisee. After a year or two (he doesn't remember precisely) Davidovsky began studies at a conservatory in Bahia Blanca, where he had lessons with an elderly Spanish violinist who had played in the London Symphony Orchestra, whom Davidovsky considers his "first real teacher." At that early age Davidovsky began improvising, arranging, and orchestrating on his own, and by the time he was thirteen, he had begun composing. A piece for violin and piano was, as he later recalled, his "first real composition." Even at eleven or twelve years old, the solitude of composing appealed to him. As he analyzed it more than a half century later, he "liked the absolute loneliness of being totally isolated from everything and being able just to exist in the function of an idea." And he found permanent fascination with the experience of discovery: "It [composing in isolation] was discovering that you can focus on something and almost forget that you exist. . . . It's discovering a space inside yourself."
But it was not until he was eighteen that he began serious formal training in theory and composition—in Buenos Aires, where his family had moved when he was fifteen. His teachers were German and Austrian émigrés at an institution modeled on the German Hochschule. He worked with Guillermo Graetzer at the University of Buenos Aires, from which he graduated, and he also pursued general academic studies with a view toward preparing for a possible career in the law. But by the time he was twenty, he decided to devote himself fully to music.
That decision coincided with his first significant success as a composer: a string quartet, completed in 1954, that was awarded first prize in a competition sponsored by the Wagneriana Association in Buenos Aires. Other instrumental works written during the next few years included a concertino for strings and percussion, a clarinet quintet, a second string quartet, and a Nonetto. That last piece brought him to the United States in 1958, when it was performed at the Berkshire Music Center at Tanglewood. There, he studied with Aaron Copland.
Before coming to Tanglewood that summer, Davidovsky was familiar with European electronic music and with the early work of such advanced contemporary composers as Luciano Berio, Maderna, Stockhausen, and others; and he knew some of the work of the musique concrète composers of Radio France. When he told Copland of his interest in exploring these avenues in his own work, Copland introduced him to Milton Babbitt, who was also at Tanglewood and who, to this day, remains one of the intellectual giants of the composers' world. At that time Babbitt was involved in establishing an electronic music studio jointly sponsored by Princeton and Columbia universities—initiated by the composers Vladimir Ussachevsky and Otto Luening—which came to be known as the Columbia-Princeton Electronic Music Center. He was working on the RCA synthesizer, which for its time represented a very advanced degree of the technology. Davidovsky, through his association with Babbitt that summer, became ever more intrigued by the relatively young and rapidly growing medium of electronically produced sounds in music and its far-reaching aesthetic and artistic possibilities. He returned permanently to the United States in 1960 and became a member of the first wave of younger composers to work at the center, of which he was eventually appointed associate director (and much later, as a full professor at Columbia, its director). Shortly after he arrived at the center, Ussachevsky assigned him to assist the Turkish composer Bülent Arel, who had come a year earlier, as a means of learning his way around the studio, its equipment and technologies, and its creative possibilities. "Nothing I knew counted," he famously said in retrospect. He thus learned on the spot, rather than according to any formal curriculum or pedagogy—more or less as a conventional apprenticeship.
That initial association with the Electronic Music Center marked a turning point in his career, which he has always acknowledged as a seminal moment in terms of how he learned to understand and to hear music. After gaining fluency with the electronic resources in a series of purely electroacoustic studies (the Electronic Studies), which established his international reputation as a pioneer in the field, he turned his attention to joining prerecorded, electronically generated sounds with those of traditional acoustic instruments in live performance. The initial catalytic inspiration for that path was a large-scale 1961 concert of electronic music (probably the first of its kind, certainly on that level) produced by Columbia University at its McMillan Theater (now Bache Miller Theater). Davidovsky was struck by the awkwardness of a situation where the stage, devoid of any live performers, was occupied only by "ugly black boxes [speakers] playing sounds," with the audience forced to sit as in a theater—i.e., looking at the stage, but with nothing happening on it. He saw that as a "real point of friction" and imagined a more viable situation in which, in addition to the prerecorded electronic/electroacoustic sounds, there would be one or more live performers onstage in concert with those sounds. The live performers on traditional instruments would, he predicted, serve as a vehicle for unifying the audience and the electronic sounds—constituting, among other artistic aspects, a means of integrating the new medium into the listeners' "total memory"—viz., into the musical mainstream. Thus was born his work combining prerecorded electronically generated sounds with music played in real time by live performers. Contrasts, for string instruments and tape-recorded electronic sounds, composed in 1962, was followed by a series of pieces collectively titled Synchronisms, composed over a span of many years, each of which is performed live by one or more musicians on traditional or "classical" instruments against played-back prerecorded electroacoustic music or musical sounds created previously in a laboratory. "In those works," Davidovsky has observed, "I try to keep, on the one hand, as much as possible of what is characteristic of the electronic instrument [medium], and, on the other, what is characteristic of the live performer. At the same time, each extends the other." Moreover, he created in those pieces a close coordination and lively interplay between the electronic and instrumental sonorities. The Synchronisms series, eventually comprising twelve individual and independent compositions, attracted considerable attention. Synchronisms No. 6, for piano and prerecorded electronic sounds, won Davidovsky the Pulitzer Prize for music in 1971.
Unlike some composers who became devoted to the electronic medium and built their reputations primarily on its novelty and its perception as au courant, supposedly solving compositional problems of structural organization and development and even substituting for artistic inspiration, Davidovsky realized that its value lay in its addition to the conventional sounds available to a composer, not in its ability to circumvent creative challenges. Describing Davidovsky's keen understanding of this difference, the composer George Crumb wrote that Davidovsky was, in his opinion,
the most elegant of all the electronic composers whose music had a truly messianic feeling concerning the promise of this new medium. In those euphoric days of intense experimentation, some composers felt that electronic music, because of its seemingly unlimited possibilities, would eventually replace conventional music. Davidovsky now regards the medium simply as a unique and important language at the disposal of any composer who wants to make use of it, and as a valuable teaching tool for the ear. . . . It is obvious that the electronic medium in itself solves none of the composer's major problems, which have to do with creating a viable style, inventing distinguished thematic material, and articulating form.
Davidovsky also saw early on that the electronic medium could be most useful as a means of control over the basic parameters of sound—i.e., attack, delay, decay, continuation, etc. He experimented in the laboratory by cutting tape into small pieces and reassembling the pieces in various combinations, thus gaining new levels of control over those parameters of sound and creating his own sonic vocabulary. He turned out to be so proficient at such processes that he became the technician for the composer Edgard Varèse (1883–1965), one of the early advocates of electronically generated "organized sound"—the term he preferred to "music"—who, in the 1950s, had composed two of the first significant works using taped sounds. They became close friends, and upon Varèse's death Davidovsky dedicated Electronic Study No. 3 to his memory.
In addition to his work at the Columbia-Princeton Electronic Music Center, and in connection with it, Davidovsky taught at Columbia in the late 1960s and 1970s. During that period he was also a visiting professor at several schools, including the University of Michigan, the Manhattan School of Music, and Yale University; and he served on the faculty of City College of New York. In 1981 he became the MacDowell Professor of Music at Columbia, and, in 1994, he assumed a professorship at Harvard—where he remained until his retirement from teaching.
Davidovsky has distinguished himself in the electronic field in terms of musical architecture and artistic ordering of sounds, using batteries of newly created or discovered sounds and their minutiae of possible articulations—exploiting virtually every conceivable detail of any particular sound—to increase the composer's arsenal of available musical substance. What he in effect invented, as the composer Eric Chasalow, his former student, has astutely analyzed in his overview essay on Davidovsky's contributions, was
an approach to electroacoustic music that uses electronic sounds to enrich the art-music tradition, not to replace it . . . [demonstrating] that it is not necessary to throw away the musical past in order to embrace the resources of the new technology.
And Chasalow goes on to underscore that Davidovsky's continual quest has been for ways to use such new sounds with musical integrity—in "musically motivated ways." He cogently sums up Davidovsky's originality within the medium, as well as his hard-won control over it, as a composer—rather than merely as a deviser of new sounds for their own sake, without attention to the other critical parameters such as time, space, structure, and direction:
In the 1950s and 1960s, much electronic music consisted of dense layers or successions of sounds whose placement in time was of little consequence. Composers of the period were often satisfied with "discovering" sensuous sounds, and few would go any farther to build these into a musical architecture. . . . When Davidovsky came to the Columbia-Princeton Electronic Music Center in 1960, he became a central part of a community of composers seeking new expressive means and willing to use their highly developed musicianship as the point of departure.
At that time, some composers—including those for whom technical fascination and proficiency often superseded genuine musical talent or craft—were working with the new electronic medium as if it were an end in itself. However, Davidovsky, as Chasalow emphasizes, was ever mindful of "the most central realities of music . . . that it unfolds in time," and he underscored the fact that it is not sufficient for a composer just "to invent sounds and simply expose them without any attention to ordering." Thus he was never content with what Chasalow calls "sound environments" alone. It is this innate understanding that has given musical and compositional authenticity both to his purely electronic pieces and to those combining taped and live music.
Despite the priority given to the electronic medium throughout the 1960s and early 1970s, a number of Davidovsky's purely instrumental pieces date from that time frame as well—such as his trio for clarinet, trumpet, and viola; Junctures, for flute, clarinet, and violin; Piano 1961, an orchestral work; Transientes, for orchestra; Chacona, for violin, cello, and piano; Music for Solo Violin; and Inflexions (1965), which Chasalow cites as "perhaps the most electronic sounding [purely instrumental] chamber piece ever written."
By 1974, however, after completing Synchronisms No. 8, Davidovsky turned away (though not permanently) from the electronic medium and began concentrating more intensely on purely instrumental composition. He came to feel that electronic music was "a fantastic way of diversifying, but that it was not the Messiah." He had been driven, as he later recounted, by the electronic medium's newness—by the challenge of being in the avant-garde of what he saw as "a situation where there is very little history or very little tradition." But once the medium was no longer the exclusive domain of serious composers, and as it came to be embraced by profit-driven ventures, including the rock music world as well as advertising and industrial development, he became disenchanted if not repelled by the commercialism associated with it. And as he has admitted, he "almost got a little bored." So he followed his urge to return to instrumental chamber and orchestral music, which benefited from his years in the electronic field and from what that experience taught him about music. "Forty years later," he remarked in a 2006 interview, "I'm still finding innumerable ideas [for instrumental composition] that stem from what I learned in the studio."
Important post-1974 instrumental works (in addition to those with voice, mentioned below) include Pennplay, for sixteen players; Consorts (1980), for symphonic band; a string trio; Divertimento, for cello and orchestra; Quartetto (1987), for flute, violin, viola, and cello; Concertante (1990), for string quartet and orchestra, written for the Guarneri Quartet and the Philadelphia Orchestra; Simple Dances (written between 1991 and 2001), for flute/piccolo/alto flute, cello, piano, and two percussion; Festino (1994), for guitar, viola, cello, and contrabass; Quartetto No. 4 (2005), for clarinet, violin, viola, and cello; and five string quartets. But in 1988 he returned to the electronic medium in Synchronisms No. 9, which integrates echoes of Romantic-era virtuosic violin writing, including many of its idioms, with his inventive batteries of electronic sounds. The electronic works Synchronisms Nos. 10 (with guitar), 11 (with contrabass), and 12 (with clarinet) followed in 1992, 2005, and 2006.
In fact, although Davidovsky might remain most famously associated with his compositions that combine electronic and traditional instrumental resources, most of his important music (certainly apart from Synchronisms) of the 1980s and 1990s and into the 21st century is scored for traditional acoustical forces: orchestra, chamber ensembles, and voices, without electronic sounds. Not surprisingly, much of it has been interpreted as revealing concepts and handling and manipulation of sonorities evidently influenced by his earlier concentration on electronic music—with careful attention to sound details and focus on aspects of attack and decay, texture, timbre, and spatial arrangements of instrumentally produced sounds.
In his purely instrumental as well as his electronic music, Davidovsky has resisted (for himself personally, without prejudice with regard to other composers) both distinctly religious parameters and cultural-ethnic nationalism in favor of abstract expression, universalist or internationalist perspectives, and the European classical tradition. His vocal music, however, especially in terms of its texts and their musical expression, has been driven repeatedly by the strong sense of Jewish identity and Judaic heritage instilled in him from his youth. Indeed, compositions based on biblical texts are among his most important works: Synchronism No. 4, which incorporates Psalm 13; Shulamit's Dream, for soprano and orchestra; the cantata Scenes from Shir-Hashirim, based on the Song of Songs; and Biblical Songs, for soprano and instrumental quintet. Sefarad: Four Spanish-Ladino Folkscenes, for baritone, flute/piccolo/alto flute, clarinet/bass clarinet, violin, cello, and percussion, is drawn from Sephardi folk heritage, as is his earlier work, Romancero, for soprano and the same instrumental combination without percussion. He describes all of these works proudly as "culturally specific," noting that "I have great emotional ties with my own culture."
Mario Davidovsky passed away on August 23, 2019.
By: Neil W. Levin