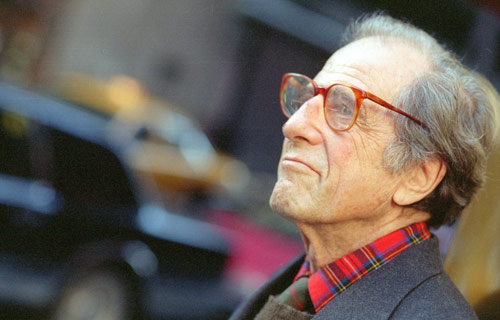 Lukas Foss achieved remarkable distinction as a composer, a conductor, and a pianist, and he was universally regarded not only as one of America's leading 20th-century composers but also as one of the major forces on the American music scene generally. In 1974 Aaron Copland referred to his works as "among the most original and stimulating compositions in American music." Yet many observers characterized him as overly eclectic—even as once having aspired to the role of enfant terrible of American music—and as never having found a convenient artistic niche. That is, however, a reputation in which Foss took great pride. Not only does his music defy classification, but he himself refused to be categorized. He deliberately embraced a wide range of styles, techniques, influences, and approaches: from Copland-type Americana to the neoclassicism of Stravinsky, from aleatoric and graphic to precisely notated music, from tonality to rigorous serial techniques, and from stabs at his own brand of minimalism (long before it was fashionable) to the so-called postmodern composite variety—and much in between. But he made each influence his own, and his works generally bear the unmistakable stamp of his hand.
Born Lukas Fuchs in Berlin, he was soon recognized as a child prodigy. He began piano and theory lessons with Julius Goldstein [Herford], but following the German electorate's "surrender" to the National Socialist Party, the installation of the Nazi regime with the appointment of Hitler as chancellor, and the commencement of state persecution of Jews, his parents emigrated swiftly to Paris in 1933. He continued his studies there: piano with Lazare Levy, composition with Noël Gallon, orchestration with Felix Wolfes, and flute with Louise Moyse. In 1937 his family resettled in the United States, where Foss continued his studies at the Curtis Institute in Philadelphia, with Isabelle Vengerova for piano, Rosario Scalero and Randall Thompson for composition, and Fritz Reiner for conducting.
During his first year in America, Foss met Aaron Copland, who had a decisive influence on him and his musical direction. As Foss later recalled, "I had fallen in love with America because of people like Aaron," and he once wrote to Copland, "Yours is the only American music I have performed consistently over the years." Foss continued his composition studies with Paul Hindemith at Yale (1939–40) and his conducting studies at the Berkshire Music Center (Tanglewood) during the summers of 1939–43 with Serge Koussevitzky, who engaged him in 1943 as the pianist for the Boston Symphony Orchestra, a position he held until 1949.
Foss's initial acclaim as a composer came with his cantata The Prairie, on a poem by Carl Sandburg, which he wrote for soloists, mixed chorus, and orchestra. It was performed in 1944 in New York by Robert Shaw and his Collegiate Chorale, and it received honorable mention by the Music Critics' Circle of New York. Over the next several years he achieved several further distinctions: In 1945 he was the youngest recipient to date of a Guggenheim fellowship in composition; and from 1950–52 he was in residence in Rome on Fulbright grants and as a Fellow of the American Academy. A year later he was appointed a professor of music at the University of California at Los Angeles, in both composition and conducting.
During his California tenure, Foss also was active as a performer, directing the Ojai Festival and conducting twelve marathon concerts with the Los Angeles Philharmonic at the Hollywood Bowl, each devoted thematically to a single composer or geographic region. This was the beginning of his lifelong dedication to the music of contemporary composers and his recognized championship of new music. He founded the Improvisation Chamber Ensemble in 1957 at U.C.L.A., which provided expanded opportunities for experimentation both in his own music and for other composers.
In 1963 Foss became music director and conductor of the Buffalo Philharmonic. Although some criticized his excessive programming of new music there (he was even dubbed the "would-be Boulez of Buffalo" in reference to Pierre Boulez's troubled tenure as music director of the New York Philharmonic, where his attention to contemporary music was not always welcomed by conservative audiences), he brought the Buffalo Philharmonic into the limelight of the 20th-century music world and thereby introduced the public to a broader range of new music. While there, he also founded the Center for Creative and Performing Arts at the State University of New York.
Foss's appointment in 1970 as conductor of the Brooklyn Philharmonia (now the Brooklyn Philharmonic) inaugurated a two-decade tenure during which he became especially known for his inventive programming, which also included a balance between the old and the new. He foreshadowed many of the future trends in programming: thematic programs, single-composer marathons (he opened his first season in 1971 with a four-and-a-half-hour Bach marathon), pre- and post-concert discussions and symposia ("Meet the Moderns"), and specialized new music events. From 1972 until 1976 Foss was also the conductor of the Kol Yisrael (state radio) Orchestra in Jerusalem (now the Jerusalem Philharmonic), and from 1981 until 1986 he was the music director of the Milwaukee Symphony—after which he was named its conductor laureate. Meanwhile, he continued to guest conduct major orchestras throughout America and Europe, and he has taught and been a composer-in-residence at such universities and conservatories as Harvard, Yale, Carnegie Mellon, Boston University, Tanglewood, and the Manhattan School of Music.
"Our recognition of originality is awfully primitive at times," he once remarked. "When we think of a composer, we put him in a cubbyhole, where he doesn't belong." Perhaps the admittedly overused word eclectic does aptly describe Foss in some respects, but his is a multilayered and highly personal brand of eclecticism. He insists that his available creative tools include "all the techniques"—and that the greater variety of techniques he employs, both within a single piece and from one work to another, the richer his musical vocabulary becomes; and he is quick to differentiate that from "style." He also maintains that he can be as adventurous and "wild" in tonal music as he has been in his nontonal and even his improvisatory works. Whatever the technique, and whatever the influence, the "trick is to make it your own." He was fond of quoting Stravinsky: "You must always steal, but never from yourself."
The composer David Del Tredici also views Foss's eclecticism as an artistic advantage: "In a sense, pluralism is his style. Foss has the ability to take disparate materials, fracture them, and put them into one piece," as a child would "break the toy and put it back together again—cracked!" In fact, much of Foss's music has been described as childlike by others as well—childlike, but in no way childish, suggesting the sense of wonderment and freshness he brought to his music.
Time Cycle, a work for soprano and chamber ensemble (1959–60) on English and German texts by Auden, Housman, Kafka, and Nietzsche, won the New York Music Critics' Circle award and remains one of Foss's best-known and most frequently performed pieces. Echoi (1963), for four soloists, was one of his first "experimental" pieces, fusing serial technique with aleatoric elements. In some of his later works he combined experimental aspects with more traditional elements in a single piece. His 1989 clarinet concerto, for example, written for Richard Stoltzman, is nearly neoclassical in its second movement, while the third movement is an aleatoric exposition that could easily have come from his 1960s phase. Indeed, that concerto is now considered one of the most original and important contributions to the clarinet repertory—an example of the underlying healthy tension between tradition and innovation that is found throughout much of Foss's work. His flute concerto, on the other hand, utilizes Renaissance musical idioms, and in fact he calls it Renaissance Concerto. Foss also resisted "image building," which he deemed dangerous for any composer: "That means you're stagnating—stuck with that image! A composer must keep learning, which is the opposite of image building." Had he thought of music as a career, he mused, he might have been more competitive. "But music to me is just work!" Indeed, Foss eschewed the term career—or even profession—with regard to music, or any high art for that matter. If composition in that perception is "just work," it is a form of sacred work—a calling, not a career.
Foss perceives a subconsciously Jewish character not only in his directly Judaic pieces (sacred or secular), but also in much of his work in general. For him it was not a religious matter or even a religious influence, but a matter of identity. "I think that identity comes to the fore in many pieces." Yet he stressed the importance of the unconscious, uncontrived influence. "I feel that it is a great asset to be deeply rooted in the soil of one's people," he responded in the 1940s to a query about the relationship between nationalism and music, "but never must one consciously seek it." He was referring both to the American and to the Jewish parameters of his art as a so-called American Jewish composer. "I am very much conscious of my place in the world as Jew, but I never ask myself whether or not I write 'as a Jew.'"
But just as Foss addressed Americana transparently in certain works of his, he also composed a significant number of specifically Judaic, or Judaically related, pieces. In addition to those presented here, they include Song of Songs, his second solo biblical cantata, written for soprano and orchestra and premiered by Serge Koussevitzky in 1946; Behold I Build an House for chorus and organ or piano, with the text drawn from Chronicles; Psalms for chorus, orchestra, and two pianos; De profundis, also a choral setting from the Book of Psalms; and the Salamone Rossi Suite for orchestra, based on music by the late Renaissance/early Baroque Italian Jewish composer Salamone Rossi (ca. 1570—ca. 1630), who composed, among much other music, the first known Hebrew liturgical settings in the style of the Italian Renaissance.
Foss always considered his Jewish and his American identities a twin badge of honor, more or less ignoring his European birth and childhood from an emotional perspective. Shortly after the Second World War he returned to Berlin to conduct the Berlin Philharmonic. When a reporter asked him how it felt to "be home," Foss replied that he would be home when he got back to New York.
A highly valued memeber of the Milken Archive Editorial Board, Foss passed away on February 1, 2009.

By: Neil W. Levin