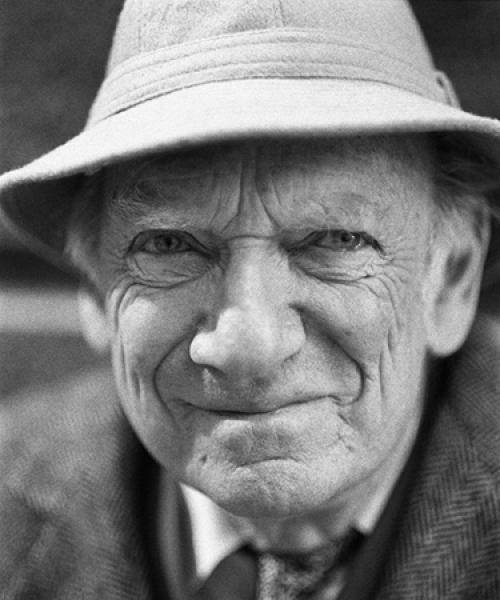 "In [Leo] Kraft, as in many mid-century composers," wrote reviewer Mark Alburger in 1998, "one can clearly hear the stylistic trends of the day." Leo Kraft has made equally important musical contributions as a composer, educator, and author of music textbooks and other music education materials. Born in Brooklyn, New York, he did not begin serious composition studies until his undergraduate years at Queens College in New York City (CUNY), where he was a student of Karl Rathaus. He studied with Randall Thompson at Princeton, earned his M.F.A., and in 1947 he began his academic career as a professor at Queens College, later becoming the chairman of its music department. In 1954 a Fulbright scholarship enabled him to work with Nadia Boulanger in Paris.
In his early works, which date from the 1950s, Kraft was clearly under the sway of the neoclassicism found in much of the contemporaneous aesthetic of some of the most prominent composers—including its champion for a time, Stravinsky, as well as Bartók, Hindemith, and others. His work with Boulanger shows itself in his works of the mid- to late 1950s as well, but he also tried to fuse aspects of the international neoclassical school with elements that had come to be perceived as American inflections, idioms, and influences—especially as reflected in much of the music of Aaron Copland and that of his followers. During subsequent years, however, Kraft experimented with greater chromaticism and departures from conventional tonality. Though many of his works from the late 1950s and early 1960s reveal a vascillation between advanced tonality and more rigorous, pantonal chromaticism—often arriving at a middle ground—he once remarked that his first partita for piano (1958) "marks the end of my diatonic and freely tonal style." But his second string quartet (1959) is generally cited as the turning point in his compositional approach, with its new, more chromatic harmonic language, expanded rhythmic invention, and instrumentally inspired lines.
In the 1960s Kraft turned more overtly to nontonal ventures, epitomized in his Five Pieces for Clarinet and Piano (1962), and in the mid-1960s he became attracted to the medium and procedures of electronic music, working at Columbia University with Vladimir Ussachevsky, one of the pioneers in the field. "I have chosen to follow a certain line of development growing out of earlier 20th-century practices that appeal to me," he explained. "I keep my ear and mind open to what is new in music and keep trying to incorporate new acquisitions into my stream of musical thought." Some of his works from the 1960s combined traditional live instrumental performance with prerecorded, electronically produced sonorities, such as his Antiphonies: Four Pieces for Piano Four-Hands and Tape. From the 1980s on, Kraft periodically revisited the diatonic foundations on which his earliest works had been built, leading to a deeper exploration of lyricism. But harmonic freedom continued to play a mediating role between fundamentally tonal and non- or extra-tonal chromatic directions.
For a number of years Kraft served on the faculty of the Cantors Institute and Seminary College of Jewish Music (now the H. L. Miller Cantorial School) of the Jewish Theological Seminary in New York, where he taught a course that surveyed cantorial and synagogue choral repertoire in historical context.
Among Kraft's Jewish or Judaically related works are A Proverb of Solomon (1953), for chorus and orchestra; the quintet Omaggio (1992), a musical tribute in memory of the Italian-Jewish chemist and writer Primo Levi, which explores Levi's suffering as an inmate at Auschwitz; TheVision of Isaiah, for chorus and orchestra, commissioned and premiered by the Florilegium Chamber Choir; Jacob Wrestles with the Angel, a large-scale symphonic tone poem; Eight Choral Songs for A Capella Chorus (1974–75), settings of poetry by the medieval Spanish-Hebrew poet Moses ibn Ezra in both the original Hebrew and the composer's revisions of earlier English translations; Alleluia/Halleluyah, a short choral etude that juxtaposes the Latin and Hebrew text versions; Set Me as a Seal, for mixed chorus harp and cello, from Song of Songs; and choral settings of Psalms 40 and 114.
Among Kraft's many other significant chamber works for various instrumental combinations are Short Suite, for flute, clarinet, and bassoon; Trios and Interludes, for flute, viola, and piano; Partita No. 4, for violin, double bass, flute, clarinet, and piano; Dialectica, for flute, clarinet, violin, cello, and electronic tape; Inventions and Airs, for violin, clarinet, and piano; Dialogue, for flute and electronic tape; Dualities, for two trumpets; Diaphonies, for oboe and piano; O Primavera, for flute, oboe, and clarinet; and Five Short Pieces, a woodwind quartet. His orchestral oeuvre includes four concertos: for flute, clarinet, trumpet, and strings; for thirteen instruments; for cello, wind quintet, and percussion; for piano and fourteen instruments; and for clarinet and orchestra; as well as Symphonic Prelude; two chamber symphonies; Pacific Bridges, for clarinet and strings; and From the Hudson Valley, for flute, harp, and strings. He has also composed a number of choral settings to a variety of texts, solo vocal pieces with instrumental chamber groups, and solo instrumental works. Among the last category are several interesting solo piano pieces, including a sonata and a "short sonata," Five Short Pieces and a Reprise, Venetian Reflections, and Statements and Commentaries.
Kraft's textbooks on music include Gradus: An Integrated Approach to Harmony, Counterpoint, and Analysis and A New Approach to Ear Training. He is the coauthor of A New Approach to Sightsinging (together with S. Berkowitz and G. Fontrier) and A New Approach to Keyboard Harmony (with A. Brings and others). He has served as president of the American Music Center and has been the editorial advisor for New Music Connoisseur, to which he has contributed articles as well.
Kraft died on April 30, 2014. See an obituary on New Music Box.
By: Neil W. Levin