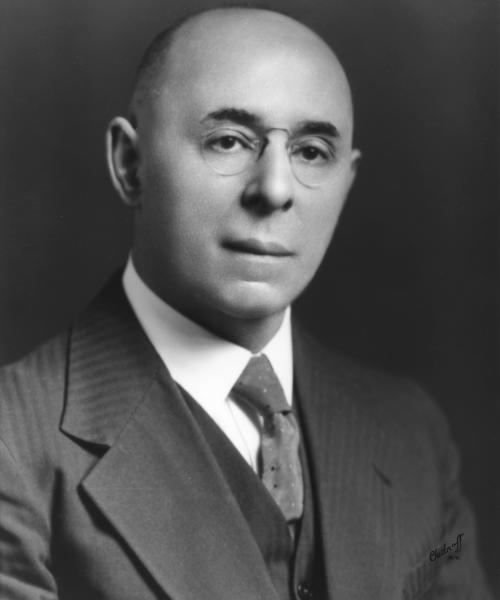 Lazare Saminsky belongs to the school of musicians, ethnologists, folklorists, and other intellectuals in Russia who, during the first decade of the 20th century, attempted to establish a new Jewish national art music based on ethnic as well as religious heritage. Intrigued and encouraged by both the Russian and the more recent Russo-Jewish national-cultural pursuit of folklore, that coterie formalized itself in 1908 as the Gesellschaft für Jüdische Volksmusik (Society for Jewish Folk Music) in St. Petersburg—of which Saminsky was one of the earliest members.
Branches followed in Moscow, Riga, Odessa, and other cities. Although the initial phase of its activities centered around harmonizing and arranging Jewish folk music collected from various parts of the Russian Empire, its long-range purpose was more artistic than ethnological. Its second transitory stage involved shaping such arranged folk material for concert rendition, and in its ultimate stage it aimed at original composition of works—based on or inspired by that Jewish heritage—which its members saw as accumulating to become a national Jewish musical art. Musical publication was therefore an important part of the Society's efforts, and it founded its own press.
To some extent, the "Russification" path among Russian composers and in the Russian classical music world became a model for a Jewish counterpart. But the mission espoused by the Gesellschaft composers also had been kindled and bred by a number of deeper forces operating among the Jewish intelligentsia in the Russian sphere—including the awakening of a national consciousness, the modern revival of Hebrew (apart from the language of prayer), the interest in a secular Hebrew as well as Yiddish literature, and, of course, Zionism, with its cultural and historical ramifications. Underlying these currents were the powerful cultural forces of the movement known as the Haskala—the Jewish Enlightenment—which had sought to implant secular culture and literature, humanistic thought, and western European–style social liberalism within eastern European Jewry. Indeed, cosmopolitan middle-class intelligentsia's very embrace of "the folk" and its music in the far-flung and often backward regions of the empire was one manifestation of the liberal worldview fostered by the Haskala.
Saminsky was born in Vale-Gotzulovo [-Hatzulovo], in the Ukraine, some hundred miles from Odessa, to an upper-middle-class family that, on his father's side, had been long-standing residents and successful merchants in that metropolis on the Black Sea. His mother was an accomplished amateur singer who instilled in him a love for music that he later traced to his earliest memories. He was enrolled at the Emperor Nicholas I Lyceum of Commerce at the age of eleven. Although he sang in school choirs (even in a local church choir) and responded enthusiastically to an exposure to classical concert music performances by dabbling in childhood composition efforts, he did not begin piano lessons until he was nearly fifteen—unusually late for any future professional musician. Following initial music theory studies in Odessa, he entered the St. Petersburg (Imperial) Conservatory in 1906, where his principal teachers were Nikolay Rimsky-Korsakov, Anatoli Liadov, and Nikolay Tcherepnin, and where Prokofiev was among his classmates. Simultaneously, he pursued his other lifelong passion, studying mathematics at the university in St. Petersburg, where he had wanted to enroll earlier but had been precluded as a Jew—until a degree of liberalization following the 1905 Revolution now made it possible for him. In Odessa, he had begun his examination of the "philosophy behind the new geometry," and by the time he entered university, he was already engaged in a philosophical-analytical review of new geometrical concepts.
Midway into the period of his conservatory studies, his induction into the Gesellschaft ignited his theretofore unexplored interests in music of historical, national, cultural, and religious Jewish connection. Several acquaintances and friends among his fellow composers and composition students and within his intellectual-artistic circle introduced him to their Jewish cultural mission and initiated him into their gestating but as yet unofficial society. Among them, according to his recollections, were Efraim Shkliar (1871–1943), Mikhail Gneissin (1883–1957), Solomon Rosowsky (1878–1962), and Lyubov Streicher (1888–1958), all of them imbued with Zionist sensibilities. It was a turning point in Saminsky's artistic path that he later acknowledged as "an event of the highest importance in my creative life...a new field of interest."
Until that moment Saminsky had by his own admission been "only faintly interested in things Jewish." He entered the Gesellschaft circle with "dormant musical impressions of my boyhood about to have their sway," and he became its first secretary, conductor of its chorus, and, intermittently, chairman of its art and publication committee. In its first year of official existence he conducted one of the Society's first public concerts, which included his own choral piece Ode to Mendelssohn (in honor of Mendelssohn's centenary), marking his public debut as a composer, along with Shkliar's Jerusalem and folksong arrangements by some of his colleagues.
Saminsky's career in Russia bloomed following his graduation from the conservatory, in 1910. During the next eight years, in addition to his continuing involvement with the affairs of the Society and military service in the Caucasus, he composed his first and second symphonies; two Hebrew song cycles; Ch'siddish (Hassidic Dance), for violin and piano; Orientalia, for orchestra; Four Sacred Choruses; Two Hebrew Lullabies, for voice and string quartet; and a variety of chamber pieces and other songs. He was the assistant music editor of the St. Petersburg daily newspaper Russkaya Molva, and he conducted numerous symphonic and choral concerts, which included a performance of his own symphonic triptych, Vigiliae, at the Koussevitzky Concerts in Moscow in 1913.
In 1913 Saminsky—along with Society adherents Joel Engel (1868–1927; composer and critic, and head of the music committee or section of the Moscow branch) and Sussman Kisselgof, an ardent collector and arranger—participated in the music section of the watershed Jewish Ethnographic Expedition (1911–14), conducted under the patronage of the Jewish Historico-Ethnographic Society in St. Petersburg in the name of Baron Horace Guinzbourg (1833–1909), whose funds largely financed the project. Directed by the famous author, playwright, and folklorist S[eymon Ankimovitch] An-Ski [Solomon Zainwil Rapaport; 1863–1920], the expedition (later informally known as the An-Ski expedition) collected folklore, artifacts, music, and other documentation of Jewish life from cities, towns, villages, and hamlets throughout the Pale of Settlement of the Czarist Empire—most prominently from Podolia and Volhynia, but from other areas as well. An-Ski, realizing that modernity and urbanization would eventually render that cultural world extinct, described the mission of the expedition in heartfelt detail:
to collect all that has survived of our life, both spiritually and materially, to record tales, historical facts, folk poetry, folk sayings, to notate old Jewish melodies, to photograph old synagogues, tombstones, folk types, folk scenes of Jewish life, to collect photography, documents and old Hebrew holy objects for a national museum.
The fruits of the expedition were brought back to St. Petersburg, where they were to be made available for scientific and scholarly study and for artistic use as well. Saminsky's contribution was the collection of biblical cantillations, prayer chants and melodies, and other sacred music traditions of the Georgian and Persian Jews in Transcaucasia, some of which he later published in simply accompanied and mildly stylized versions in his Song Treasury of Old Israel (1951). The experience apparently confirmed his primary attraction to vintage synagogal chant (biblical and prayer) and its perceived aura of antiquity—a lure no doubt reinforced for him by the exotic southwest Asian flavor of what, in later-20th-century ethnological and psychological terms, might be called "the other." That interest had been triggered in his imagination during his earlier military tour of duty in the region, when he first encountered those musical phenomena that would have been largely foreign even to regular synagogue worshippers in such cosmopolitan settings as St. Petersburg or Odessa. But now his more formal academic engagement with the subject crystallized the germ cell of his subsequent and persistent—albeit historically naïve and romantically reductionist—belief that all such "old synagogue song" and supposedly fossilized cantillations (viz., from a variety of geographical traditions) constituted the purest continuum of Jewish musical authenticity.
In 1915 the Society's accumulated publication of various items drawn from eastern European Yiddish as well as Hassidic folk material—which Saminsky deemed generically "inferior" to older, exclusively sacred song and, in many cases, qualitatively banal and inauthentic—ignited his now legendary polemic in the press with Joel Engel about what constitutes historical authenticity in Jewish music. As one of the Society's leaders and chief protagonists, Engel not only endorsed those publications, but relied heavily on such secular folk substance in his own instrumental as well as vocal compositions and arrangements.
As wellsprings of raw source material for cultivation in art music, however, the two musical realms that Saminsky and Engel addressed—like any separate, distinct, or even unconnected genres—need not be mutually exclusive even within a single work. Oddly enough, Saminsky and Engel, both accomplished composers who could certainly imagine the creative potential in such dualities and even in adversarial aesthetics, wrestled in their polemic with each other over issues that pertain more to abstract than to applied theory.
For a time in 1917–18 Saminsky served as director of the State Conservatory in Tbilisi (Tiflis). But in the wake of the October Bolshevik Revolution, he soon determined to abandon Russia, with America his ultimate destination. He went first to Constantinople in 1919, where he was befriended by a number of influential members of the local B'nai Brith lodge, some of whom were also prominent Zionists who assisted him in acquiring a permit to enter Syria and Palestine under a pretext of "repatriation." Many years later he described with unfaded enthusiasm his impressions of the land, the optimism and determination of the settlers and pioneers, the historic sites that kindled in him a new level of kinship with his people and its ancient history, the general euphoria that pervaded the Zionist enterprise in Palestine, and his elation upon seeing Jerusalem for the first time. "Standing at the gate of Jerusalem," he recalled in his unpublished memoirs, "I, too, was overcome by that darkened ecstasy of the wayfarer who has reached the threshold of his beloved old home at last." But despite his exhilarating experiences there, he was not inspired to remain permanently in Palestine. After a few months, during which time he delivered a concert-lecture (read in Hebrew from a translation prepared for him) in Jerusalem and then Tel Aviv, he was able to obtain a visa for France.
After about five months in Paris he spent a little over a year in London, where he lectured on Russian, Oriental, and Jewish music (in Oxford and Liverpool as well), conducted a ballet season at the Duke of York Theatre, and attempted to organize a chapter of the Gesellschaft. At the end of 1920 Saminsky immigrated to the United States. During his first few years in New York he became active both in new music circles and among the small but dedicated coterie of Jewish intellectuals, composers, and other musicians interested in promoting new Judaic works as well as engaging in historical and analytical deliberations about Jewish music. Within a short time he became recognized as an important personality on both scenes, and in 1923 he cofounded the League of Composers. And with the exception of the American tour of the Zimro Ensemble in 1919–20 (from Russia en route to Palestine, although the group did not proceed past New York), he was probably the first to introduce New York audiences to the music of the Gesellschaft composers.
It was his thirty-four-year tenure as music director of New York's Temple Emanu-El, beginning in 1924, that provided Saminsky with his most potent platform and his most productive base. Emanu-El was one of the first congregations in America established initially as "Reform," well before the official formulation and founding of an actual Reform movement in the United States. By the 20th century, by virtue of a variety of factors—including the historically elite social and economic status of its lay leadership and much of its membership, and the cathedral-like aura of its present sanctuary (built 1926–30)—Temple Emanu-El acquired a popular perception in many quarters as the "flagship" congregation of the American Reform movement, at least in the eastern half of the country. Under Saminsky's musical stewardship it became one of the first American synagogues to embrace goals of Western musical sophistication in tandem with a respectable measure of modernized and stylized Judaic aesthetics.
Saminsky had no tolerance for the strange, artificial music scene he encountered at Emanu-El, which for the most part had characterized the music of American Reform worship from the mid-19th century up to that time. Virtually detached from any manifestations of Jewish musical tradition—western as well as eastern European, Sephardi, or Near Eastern—and isolated even from contemporaneous modernization and historically based musical reforms in Germany, the collective American Reform repertoire reflected a misguided effort to forge a new, patently "American" brand of "temple" music that was to be more compatible with New World sensibilities and free of all connection to European Jewry—including its liberal wings.
But Saminsky was just as repelled by the inroads of Yiddish folk, cheap theatrical, and other entertainment-oriented popular song, as well as pseudo-Hassidic flavors, into orthodox services in America, a practice that had begun in Europe. It was that state of affairs that gave him the impetus to begin composing for the liturgy, initially for his own choir and then—as his example soon made waves across the country even as it met with its share of resistance to change—for publication and ultimately to the benefit of American Reform congregations nationally. In his programming and selection of repertoire and in his own music Saminsky thus brought his commitment to exalted aesthetic standards and artistic taste to bear upon the musical character of the classical American Reform service, exposing it to long-embedded values in serious Jewish liturgical art.
As Temple Emanu-El's music director, Saminsky ushered in an era of impressive musical accomplishments, liturgical creativity, and higher standards—both for that synagogue and for American nonorthodox synagogue music in general. He used his position to great effect to alter and elevate the course of music in American Reform worship, to enrich the Jewish musical life of New York apart from synagogue services, and to encourage young American composers such as David Diamond and Frederick Jacobi to contribute their gifts to music for the Hebrew liturgy. Beginning in the first decade of Saminsky's direction, Emanu-El sponsored performances of new Judaic works by composers such as Joseph Achron, whom he commissioned to write a full Sabbath eve service in 1932 (probably the first such commission to a classical composer in America), and Ernest Bloch, as well as biblical cantatas by Mussorgsky and Honegger, among others. In 1929 he and the synagogue's Choir Committee established a program whose purpose was "purification and performance of new choral synagogue services by representative composers of the United States—and then possibly also eminent Hebrew [Jewish] composers on the European continent," in order to bring forth a "revival of Hebrew synagogue music in America"—by which was meant, in the main, new compositions.
Later, Saminsky established and coordinated citywide Jewish music festivals. The annual Three Choir Festival, which he inaugurated at Temple Emanu-El in 1936, was an important event on New York's cultural calendar. For twenty-three years it featured new choral works, including many premieres, by established as well as budding composers such as George Rochberg, Miriam Gideon, Hugo Weisgall, Edward T. Cone, Elliott Carter, Frederick Jacobi, Paul Creston, and many others.
Albert Weisser, the first serious historian of the Gesellschaft episode, was intimately familiar with Saminsky's music. His observations appear even more trenchant in perspective: "[In his] heroic endeavors to bring a vital and dignified musical service to the American Synagogue, Saminsky's unique incandescence has always been felt. It stirred controversy, it unsettled the smug and self-satisfied, it offended the crafty vulgarians and, not the least important, it brought some sorely needed aesthetic standards to an area from which they had too long been absent."
Saminsky's first important liturgical work was his Sabbath Eve Service (1926; rev. 1930, 1947, and 1954), in which he incorporated with subtle originality not only biblical cantillation motifs and melodic contours, but also a Galician-Volhynian tune once employed in those regions by beadles, or "town criers," to awaken Jews for morning prayers, and even some restrained Ashkenazi cantorial archetypes. There followed his Sabbath Morning Service (1926–29) and Holiday Service: Hymns and Responses for Rosh Hashana and Yom Kippur (1927–29), along with various individual prayer settings. All were intended primarily for Reform services and therefore composed with organ accompaniment and according to the format and texts of the Union Prayerbook, which had become the official and, by Saminsky's middle years, virtually the exclusive prayerbook of American Reform. Much of this music has fallen into disuse. But a few of his settings—at one time current in some progressive Conservative synagogues as well—remain standard in Reform repertoires, especially for the High Holy Days, even as much of the mid-20th-century guise of "classical" Reform aura and ambience has been ceded to a more populist, informal sway.
In retrospect, it is largely owing to Saminsky's tenacity, his relentless if occasionally belligerent and quarrelsome demand for higher standards, and his own original musical contributions that the 1920s marked a turning point in the development of American synagogue music outside orthodox and traditional domains. Together with Abraham Wolf Binder (1895–1966) and, to a lesser extent, Edward Stark (1853–1918), who composed for San Francisco's Reform community, Saminsky can be said to have established a second stage in the course of American Reform aesthetics. This served as a kind of bridge to the period between about 1940 and the 1960s, when the Reform musical scene was dominated by western and west-central European émigré composers from the German-speaking cultural orbit, many of them refugees from the Third Reich. But it was Saminsky and Binder who, more than any other individual composers, paved the way for that third stage and for acceptance of further advanced musical levels.
Saminsky's Jewish-related concert works from his American period include The Daughter of Jeptha, an opera-ballet, also labeled a "cantata-pantomime"; Ten Hebrew Folksongs and Folk Dances for piano; The Lament of Rachel, a "coro-ballet" (with soprano or mezzo-soprano solo), which was begun in Russia but completed in America; King Saul, a cantata; By the Rivers of Babylon (Psalm 137), for chorus, vocal soloists, and instruments; and various solo and chamber pieces. Critics have discerned in many of these works a "Hebraic content" joined with a universalist artistic outlook to form a unified expression. Among his many general works are the five symphonies; Pueblo, a ballet; Julian, The Apostate Caesar, later retitled The Defeat of Caesar Julian, a three-act opera; songs and song cycles on poetry from various sources; several chamber works, including Rye Septet for voice and seven instruments; and numerous other choral, symphonic, and solo pieces.
Saminsky perhaps egotistically fancied himself a true Renaissance man—as suggested by the title of his unpublished autobiography, The Third Leonardo: Illusions of a Warrior of Civilization. Bloated as the manuscript is with name-dropping and overseasoned with a peppering of literary titles and references, that image is nonetheless not entirely without justification. In addition to his mathematical pursuits and writings, he delved seriously into several other fields of intellectual and philosophical enquiry. He was at home with the European canon of belles lettres and art, but he also soon became conversant in American literature; and he acquired a knowledge of eastern philosophies and religions. Among his books are Music of Our Day; Music of the Ghetto and the Bible; Living Music of the Americas; Physics and Metaphysics of Music and Essays on the Philosophy of Mathematics; and Essentials of Conducting.
During his lifetime Saminsky enjoyed a respectable insider reputation in the general contemporary music world in America. For reasons that have yet to be fully and objectively explored, his name has faded from the roster of significant American émigré composers of that era. At the beginning of the 21st century, however, there are unmistakable signs of renewed interest in his legacy. A Saminsky revival seems imminent and promising.
By: Neil W. Levin