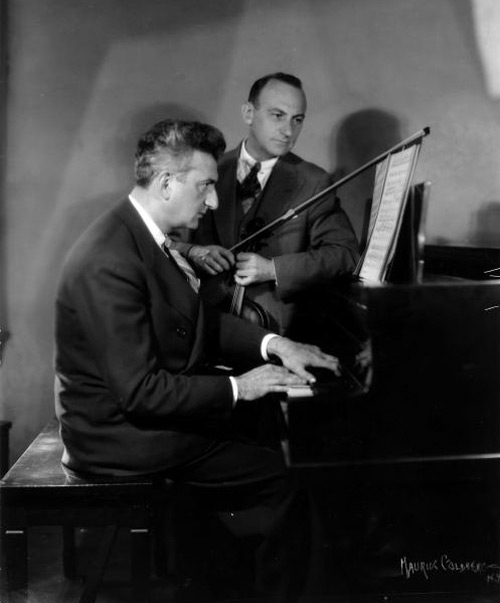 Composer and violinist Joseph Achron belongs to the school of musicians, ethnologists, folklorists, and other intellectuals in Russia who, during the first decade of the 20th century, attempted to establish a new Jewish national art music based on ethnic, as well as religious, heritage. Intrigued and encouraged by both the Russian and the more recent Russo-Jewish national-cultural pursuit of folklore, that coterie formalized itself in 1908 as the Gesellschaft für Jüdische Volksmusik (The Society for Jewish Folk Music) in St. Petersburg. Branches followed in Moscow, Riga, Odessa, and other cities. Its name, however, is misleading. Although the initial phase of its activities centered around harmonizing and arranging Jewish folk music collected from various parts of the Russian Empire, its long-range purpose was more artistic than ethnological. Its second transitory stage involved shaping such arranged folk material for concert rendition, and in its ultimate stage, it aimed at original composition of works—based on or inspired by that Jewish heritage—which its members saw as accumulating eventually to become a national Jewish art music. Musical publication was therefore an important part of the Society's efforts, and it founded its own press, which in fact published three of Achron's early works.
To some extent, the "Russification" path among Russian composers and in the Russian classical music world became a model for a Jewish counterpart. But the mission espoused by the Gesellschaft composers also had been kindled and bred by a number of deeper forces operating among the Jewish intelligentsia in the Russian sphere, including the awakening of a national consciousness, the revival of Hebrew, the interest in a secular Hebrew as well as Yiddish literature, and, of course, Zionism, with its cultural and historical ramifications. Underlying these currents were the powerful cultural forces of the movement known as the Haskala—the Jewish "Enlightenment"—which had sought to implant secular culture and literature, humanistic thought, and western European–style social liberalism within eastern European Jewry. Indeed, the middle-class intelligentsia's very embrace of "the folk" and its music was one manifestation of a liberal worldview fostered by the Haskala.
Achron's brief Gesellschaft experience turned out to be his guiding inspiration for much of his artistic life. Though a relative latecomer to the group, he was one of the leading musical personalities to come out of its milieu.
Achron was born in Losdzey (Lozdzieje), in the Suwałky region of historic Lithuania (then part of Russian Poland; now Lazdijai, Lithuania), into a comfortable middle-class family. His father was an amateur violinist as well as a lay ba'al t'filla (amateur precentor or cantor). Joseph's younger brother, Isidore, was an accomplished pianist who later became Jascha Heifetz's accompanist for a time in America. The family moved to Warsaw, where Joseph began violin lessons at the age of five. He soon emerged as a child prodigy, and at seven years old he wrote his first known composition—a lullaby for violin (an unpublished manuscript now in the British Museum). He made his debut at the age of nine (reviewed in a St. Petersburg newspaper) and his first tour at thirteen, which took him to many European parts of the Russian Empire: Kiev, Odessa, Łódź, Białystok, Grodno, and to St. Petersburg, where he played at the Imperial Palace at a birthday celebration of the czar's brother, Grand Duke Michael. On that occasion he was presented with a gold watch by the czar's mother, Czarina Maria Fedorovna.
In 1898 the family relocated again, to St. Petersburg, where Achron entered the conservatory with monetary assistance from the grand duke and joined the class of the legendary violin teacher Leopold Auer, whose other students included Jascha Heiftez, Mischa Elman, Efrem Zimbalist, Nathan Milstein, and Tascha Seidl. Achron also studied composition with Anatoly Lyadov, best known today outside of Russia for his descriptive orchestral pieces and for his rejection of Diaghilev's commission for a Firebird ballet score, which then went to Stravinsky and launched his brilliant career.
By the time Achron graduated from the conservatory, in 1904, he had written a dozen compositions. He demonstrated an affinity for Judaic themes well before his Gesellschaft association. His Variations on Kamarinskaya, op. 12, for example, has a theme and variations (no. 9) marked "Hebraique." He went to Germany for three years, where his concerts met with great success. His performance of Beethoven's violin concerto with the Leipzig Gewandhaus, conducted by Arthur Nikisch, incorporated his own cadenza. On his return to St. Petersburg, he became increasingly interested in composition, and he studied orchestration with Maximillian Steinberg, Rimsky-Korsakov's son-in-law. Analysts of Achron's music have observed that of all the Russian composers, Scriabin exerted the most influence on his work. On Scriabin's death, in 1915, Achron wrote an Epitaph (op. 38) in his memory.
Achron considered himself primarily a violinist and a composer, hopeful for inclusion in the general mainstream of Russian music. However, around 1911 he became attracted to the work and mission of the Gesellschaft circle, intrigued by its reactions to the musical assimilation of many Russian-Jewish composers who demonstrated an obliviousness to Jewish roots. Solomon Rosowsky (1878–1962), president of the main St. Petersburg section of the Society, became friendly with Achron after hearing him play, introducing him to the Gesellschaft's activities and its discovery of Jewish heritage and folklore as a source of artistic creativity. Achron joined the Gesellschaft that year and later became chairman of its music committee. Rosowsky was his mentor, a relationship that continued throughout their lives after both had moved to the United States.
Achron's first composition following his joining the Gesellschaft was his Hebrew Melody for violin and piano (op. 33, 1911) based on a theme he remembered hearing in a Warsaw synagogue in his youth. It remains his most famous piece, part of the standard repertoire of virtually all concert violinists and a frequent encore number. It has been played and/or recorded by Heifetz, Milstein, Elman, Henryk Szeryng, and Itzhak Perlman, and it usually provides the primary recognition of Achron's name in the classical music world. It was first performed in St. Petersburg in 1912 at a ball-concert given by an adjutant to the czar, where Achron played it as an encore after a program of classical works. The immediate success of Hebrew Melody actually changed the course of Achron's musical life, since from that point on, he devoted a significant part of his energies and gifts to music with Jewish connections. His next piece was a ballad on Hebrew themes for cello and piano, Hazzan (op. 34). A number of pieces related to Jewish themes followed: Three Pieces on Jewish Folksongs; Hebrew Dance; Hebrew Lullaby; Dance Improvisations; Variations on El yivne hagalil, for piano; and To the Jewess.
Achron became preoccupied with developing a "Jewish" harmonic and contrapuntal idiom that would be more appropriate to Jewish melodies than typical Western techniques, but he opposed the notion of an artificially superimposed "Jewish style." He was convinced that any possible stylistic development of a Jewish national art music required an evolutionary course, just as Western music had evolved over centuries. In his essay "On Jewish Music," he wrote that any serious Jewish art music must "be developed by gradual assimilation" and that if Jewish composers were to express their own Jewish experiences musically, the creative product would be "welcome and accepted as an important and integral part of music as a whole." That is, any Jewish national art music—music pertaining to Jewish experience as a people—must first stand as music, and then as a subset of cultivated Western music, rather than the reverse. In this he presaged misunderstood sentiments articulated decades later by composer Hugo Weisgall, who said that for serious music to be "Jewish," it first had to be "good music." Achron rejected as naïve any chauvinistic perceptions of "purity" and "authenticity." "Such purity does not and cannot exist," he wrote. "This is as true of art as of life's other constituents, since inter-influences are not only unavoidable but desirable."
During the First World War, Achron served in the Russian Imperial Army and saw action at the Western Front. He then joined the music corps of the Russian army and was headquartered in Petrograd. After Russia's exit from the war and during the first few years following the October Revolution, he continued his performing career and began to solidify his reputation as a composer. In 1922 he moved to Berlin, where, with a few other émigré colleagues, he tried to replant the Gesellschaft, which had disbanded after the Revolution. Among his major works of that period is Children's Suite, based on motives of biblical cantillations. Achron became increasingly attracted to both biblical cantillation and secular Jewish folksong as sources for compositions, but unlike many of his colleagues, he grew less interested in Hassidic music as a mine from which to draw.
While in Berlin, Achron became interested in the work of the Habima (Hebrew) theatrical studio, which inspired his original score for Belshazzar. His Berlin experience proved to be short-lived, and in 1924 he went to Palestine for several months, as did many former Gesellschaft associates. That visit had a profound effect on his subsequent music, both spiritually and in terms of various melodies, modes, and cantillations he heard for the first time. He came to America in 1925—first to Chicago, and then New York for nine years. Although he devoted himself ever more diligently to composition during those years, he still performed frequently. At an eightieth birthday tribute to Leopold Auer at Carnegie Hall, Heifetz, Zimbalist, and the honoree played Achron's cadenza in their performance of a Vivaldi concerto for three violins (a concert that also included performances by Sergei Rachmaninoff, Joseph Hoffman, Ossip Gabrilowitch, and other supreme giants of the music world of the time).
In New York, Achron wrote several scores of incidental music for productions at Maurice Schwarz's Yiddish Art Theater, building on his Berlin experiences with Habima and the Teatron Eretz Israeli. Among the plays for which he wrote music were Goldfaden's The Tenth Commandment, Leivick's The Golem, Sholom Asch's The Witch of Castille, and two by Sholom Aleichem: Kiddush hashem and Stempenyu. The score for the last was later reworked into a piece for violin and piano with the same title, premiered by Joseph Szigeti, and later programmed by Jascha Heifetz.
Also in New York, Achron wrote his one serious synagogue work, a complete Sabbath evening service according to the American Reform format. It was commissioned by Temple Emanu-El—where the music director, Lazare Saminksy, had also been part of the Gesellschaft circle in Russia—and it was published in 1932.
In 1934 Achron moved to Los Angeles, which was then playing host to a significant group of émigré composers, intellectuals, and performers, such as Castelnuovo-Tedesco, Schoenberg, Toch, Zeisl, Mann, Stravinsky, Rubinstein, Heifetz, and Piatigorsky. Achron became part of that circle, and like many fellow émigré composers, he took advantage of opportunities for involvement in film scoring (in his case, with minimal success) and playing in studios. He also became active in some of the intellectual organizations of Jewish musical life there.
Achron completed his second (1936) and third (1937) violin concertos in Los Angeles, the latter on a commission from Heifetz, and he played the premieres of both with the Los Angeles Philharmonic, conducted by Otto Klemperer. Unlike the Concerto no. 1, written in New York in 1925, neither of those utilized any Jewish material or purported to be Judaic art works. Although the second concerto received favorable reviews, some saw in the third a loss of the charm and inspiration so evident in the first. Indeed, at that point in his life Achron was attempting to join the avant-garde, and he sometimes allowed a forced theoretical approach to crowd out his natural inclination toward emotional freshness. 
Achron's oeuvre is considerable, comprising chamber and orchestral works; solo piano pieces; violin pieces in addition to the concertos; songs and choral settings; eight cadenzas for Paganini, Brahms, Mozart, Beethoven, Vivaldi, and Haydn concertos; and at least thirty-three known violin and piano transcriptions of songs and piano miniatures by such composers as Grieg, Brahms, Liszt, Rameau, Beethoven, Mendelssohn, and Schumann. Found among his papers and other effects were sketches for a planned seven-movement symphonic work.
All of Achron's Judaically related music was indelibly affected by his association with the Gesellschaft für Jüdische Volksmusik. It reflects both his and the Gesellschaft's central thesis that creation of a genuine "Hebrew music" was possible. In spite of the argument that by the 20th century, Jews had been without national roots for too long and therefore could no longer resurrect an individual musical character, Achron insisted that it was still possible to ferret out and define at least some national characteristics of style, especially since some of the fundamentals of ancient Hebrew music could be traced through continuous usage (especially biblical cantillation and modal motifs), even allowing for transmutation and acculturation over time. To those opponents who posited the argument that the length and geographical breadth of the Diaspora—and its crystallization of host influences—precluded a freely created Jewish national music, he replied in an interview that "the same thing could be said about any music at the time of its creation. Always and everywhere, dependence upon others precedes the liberation of one's own artistic idiom and self-determination. In the first 'real Russian' compositions (Glinka), for example, we find Italian influences." In stating further that a valid Jewish art music must actually incorporate at least some of the acculturated aspects in order to go beyond the narrowness of pre-Diaspora elements, he demonstrated a profound understanding of the issue both historically and aesthetically.
Achron's artistic path as a composer was thus partly a lifelong search for a new language of musical expression. Over the course of that search he underwent a series of stylistic transformations, ranging from mid-19th-century Romantic idioms to some of the most important forces in 20th-century Western music—from Russian nationalist and French Impressionist schools even to some of the post-tonal influences of the Second Viennese School. But underlying much of his work, overtly or not, was his preoccupation with Jewish elements. Arnold Schoenberg referred to Achron as "one of the most underestimated of modern composers." Albert Weisser, the first thorough historian of the Gesellschaft für Jüdische Volksmusik phenomenon, offered one explanation: "Achron's music stood, as it were, between two poles, the specifically Jewish public and the general musical audiences; and it could not be wholly accepted by either."
By: Neil W. Levin