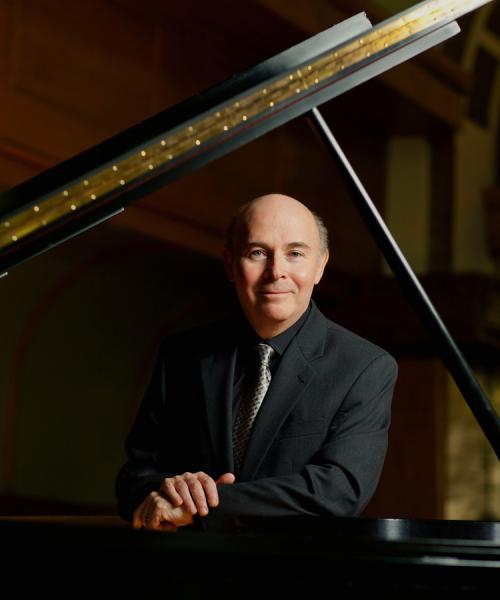 Jorge Federico Osorio was born in Mexico City into a musical family. His first teachers were his father, a violinist, and his mother, noted pianist Luz María Puente. He studied at the National Conservatory of Music in Mexico City, where he made his professional debut at the age of sixteen with the University Philharmonic, conducted by Eduardo Mata. He subsequently went to the Paris Conservatory, where he studied with Bernard Flavigny and Monique Haas. He also studied at the Moscow Conservatory with Jacob Milstein, who had been a student of Constantine Igumnoff, the piano teacher of Jacob Weinberg. The gifted young Osorio was invited to study privately in New York with Nadia Reisenberg, and with Wilhelm Kempff at his villa in Positano, Italy, where the renowned pianist had established a school for especially talented pianists.
Osorio is the recipient of many international prizes, including the Rhode Island International Master Piano Competition and the Dallas Symphony Orchestra's Gina Bachauer Award. In addition to his triumphant debut with the Chicago Symphony Orchestra and his acclaimed Lincoln Center recital debut at Alice Tully Hall, Osorio has performed all five Beethoven concertos with the Orchestra Sinfonica de Tenerife, one of Spain's leading orchestras. His recordings and performances of the piano concertos of Mozart, Brahms, and Rachmaninoff, as well as those of Mexican composers Carlos Chávez and Manuel Ponce, have received high praise from distinguished critics. Osorio gave the London premiere of the Ponce concerto, as well as its world premiere recording for the Artek label. He has recorded a wide variety of repertoire, including a critically acclaimed all-Brahms disc, Piano Español, a collection of works by Albéniz, Falla, Granados, and Soler for Cedille Records, and most recently, Russian Recital, which features the music of Mussorgsky, Prokofiev and Shostakovich. 
Apart from appearing frequently as guest soloist with the major orchestras of his native country, Osorio has performed with top international orchestras, including the Dallas Symphony, the Detroit Symphony, the Seattle Symphony, Concertgebouw, the Israel Philharmonic, the Orchestre National de France, the Royal Philharmonic Orchestra, the Moscow State Orchestra, and the Warsaw Philharmonic, under the batons of such distinguished conductors as James Conlon, Rafael Frühbeck de Burgos, Lorin Maazel, Bernard Haitink, Klaus Tennstedt, Jorge Mester, Christopher Wilkins, Maximiano Valdés, Enrique Bátiz, Luis Herrera de la Fuente, and Lukas Foss. 
His concert tours have taken him to Europe, Asia, and North, Central, and South America, and his American festival appearances have included the Hollywood Bowl, Ravinia, and Grant Park. Formerly artistic director of the Brahms Music Festival in Mexico, Osorio has played in chamber music performances with the Moscow Quartet, the Tel Aviv Quartet, and the legendary violinist Henryk Szeryng, as well as recitals with violinist Mayumi Fujikawa and cellist Richard Markson, and has collaborated with Yo-Yo Ma. Osorio currently makes his home in Chicago where he serves on the faculty at Roosevelt University's Chicago College of Performing Arts.
Photo credit: Todd Rosenberg