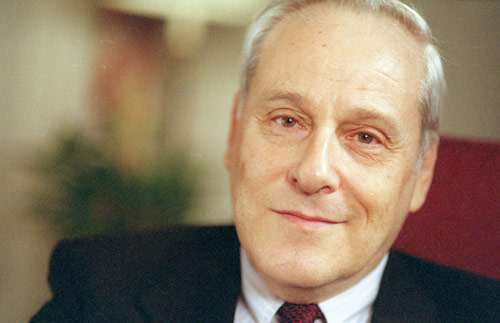 Jack Gottlieb contributed his considerable creative gifts to a broad spectrum of musical endeavor that spans high art, Judaically related, functional liturgical, and theatrical musical expression—as well as music criticism and scholarship of American popular idioms. He described his own music as "basically eclectic," in the American tradition of Copland. His pungent rhythms, inventive harmonic colors, clarity, and refreshing directness bespeak a manifestly urban American influence, often also informed by Jewish musical traditions and, where applicable, by the natural sonorities and cadences of the Hebrew language.
Gottlieb grew up in New Rochelle, a suburb of New York City, and initially played the clarinet in marching bands. Throughout his youth he was conditioned by much of the music heard generally in America—especially on radio, which he recalls as very formative for him at that time: jazz, Broadway, and other emblematic American styles. During his later teen years he taught himself to play the piano, but the defining moment in his musical development and in his Jewish musical awareness came during his summer residences at the Brandeis Arts Institute, a division of the Brandeis Camp Institute in Santa Susana, California, where the music director was the esteemed and charismatic choral conductor and composer Max Helfman, one of the seminal figures in Jewish music in America. Like so many other alumni of both the camp and its more specialized arts institute, Gottlieb was permanently inspired by Helfman, whom he regarded as his "spiritual father." The arts institute program brought together college-age students as well as established Israeli and American Jewish composers and other artists of that period in an effort to broaden the Jewish artistic horizons of young musicians. "I was still raw and not yet very musically developed" (when he entered the program), Gottlieb later recalled. But at the Brandeis Arts Institute he was introduced to new artistic possibilities inherent in modern Jewish cultural consciousness. The experience gave him lasting artistic direction.
Gottlieb earned his bachelor's degree from Queens College in New York (part of the City University system). There he studied with Karol Rathaus, whom he also credited as having had a major impact on him. At Brandeis University, where he earned his master's degree, his principal teacher was Irving Fine. The atmosphere there was further enriched for Gottlieb by composers Harold Shapero and Arthur Berger, also on the faculty at the time. Fine's own music, in addition to his formal teaching, made an invaluable impression on Gottlieb. "That's when I was bitten by the so-called Stravinsky-Copland bug," he later reminisced in a Milken Archive oral history project session. He received his doctorate from the University of Illinois (Champaign-Urbana), where he studied with Burrill Phillips and taught courses as a graduate assistant. He also worked with Aaron Copland and Boris Blacher at Tanglewood. During his years of undergraduate and graduate study, his compositions embraced a variety of media and subjects, but during that same period he also became increasingly attracted and devoted to music of Jewish experience.
From 1970 until 1973 Gottlieb was the music director of Temple Israel in St. Louis, one of the major Reform congregations in America, where he instigated and supervised much creative musical programming; and during the 1970s he was a professor of music at the School of Sacred Music of Hebrew Union College-Jewish Institute of Religion, in New York, where he was also composer-in-residence. From 1958 to 1966 he was Leonard Bernstein's assistant at the New York Philharmonic, and later he became publications director of Amberson Enterprises (the Leonard Bernstein Office), which manages the Bernstein musical legacy. Recognized as a leading authority on Bernstein's music, Gottlieb was the editor of Bernstein's books, including Young People's Concerts, and also edited Prelude, Fugue & Riffs, the Bernstein newsletter.
Gottlieb's music has been performed by ensembles and artists from the Boston Symphony and the Vienna Philharmonic as well as by Seiji Ozawa and the Chicago Symphony Orchestra; Sixten Ehrling and the Detroit Symphony; Bernstein; Jennie Tourel; Adele Addison; John Reardon; and a host of cantors, synagogue choirs, and other choral groups throughout the United States and Canada. In addition to Fine and Helfman, he believed that the most important musical influences on his style were Copland, Stravinsky, Bernstein, and Bartók. But his musical approach was also profoundly affected by the most sophisticated elements of Broadway and other American popular song styles. An imaginative sense of theater on the highest level permeates many if not most of his works. With its rhythmic vibrance, eclectic spirit, openness, and general mood of optimism, Gottlieb's music has the thorough ring of a quintessentially American composer.
In addition to the pieces featured here, Gottlieb's many large-scale works include Articles of Faith for Orchestra and Memorable Voices; Tea Party, a one-act opera that won both an Ohio State University opera competition and a National Federation of Music Clubs Award; Monkey Biz'nis; After the Flood, a musical based on the story of Noah in Genesis; The Canterville Ghost, a one-act opera; a piano sonata; a string quartet; In Memory of …, a cantata that won first prize at a Brown University Competition (his first published work); and Sharing the Prophets—a Musical Happening. He has also written numerous songs in both art and popular styles, other chamber music for instrumental and vocal combinations, and a large body of synagogue music.
Gottlieb was an authority, author, and lecturer on the influence of Jewish popular, folk, theatrical, and even liturgical music traditions on the rise of American popular music, to which he has devoted many years of study and research. His acclaimed presentations include "From Shtetl to Stage Door" and "The Yiddisha Professor: The Early Songs of Irving Berlin." His lecture-entertainment, "Funny, It Doesn't Sound Jewish," has been presented at venues ranging from the Library of Congress and the Smithsonian Institution to the Village Gate in New York. His 2004 book bears the same title, and is subtitled How Yiddish Songs and Synagogue Melodies Influenced Tin Pan Alley, Broadway and Hollywood. Songs of Godlove, a two-volume set of solos and duets, was also published in 2004.
One of the most outspoken critics of populist inroads into American synagogue music, Gottlieb was a vocal proponent of reforging a connection between learned cantorial-training and aesthetic-standards in American synagogues. His biting polemics against the post–1960s and 1970s fashion of replicating guitar-strumming summer-camp song and hootenanny experiences in adult synagogue services—thus replacing liturgical music more appropriate to the dignity of prayer and the sophistication of the Hebrew liturgy and impeding the continuum of serious liturgical composition—have earned him considerable respect among like-minded colleagues.
Gottlieb's fiftieth birthday was celebrated in 1980 with a gala concert of his music at Merkin Concert Hall in New York, in which fifty musicians participated. Leonard Bernstein, who both performed and spoke, hailed Gottlieb as "one of the most important talents on the American musical scene."
In 1993, Gottlieb became the first recipient of the Ahad Ha'am Award from the Center for Jewish Creativity & Culture, and he had recently been named by the New York Philharmonic as the Leonard Bernstein Scholar-in-Residence for the 2010-2011 season.
Jack Gottlieb passed away on February 23, 2011. A memorial concert commemorating his life and work was held on his third yahrzeit, February 23, 2014 at Hebrew Union College in New York.
(Updated: 03/03/2014)
By: Neil W. Levin