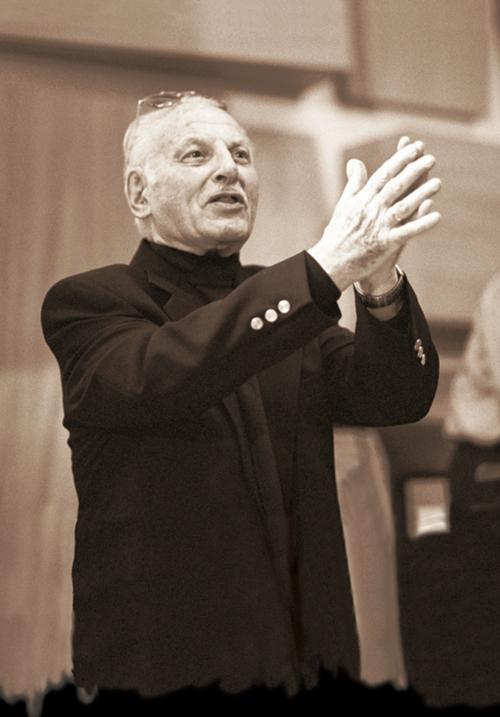 The Jewish creative orientation of composer and organist Herman Berlinski represents a fertile synthesis. His Jewish roots and family traditions were fundamentally eastern European, but he also acquired and adopted the cultural perspectives—and especially musical affinities—of German Jewry; his Paris studies added 20th-century French as well as international influences; and eventually he emerged as a thoroughly American composer and an ardent advocate of artistic innovations in the American Synagogue.
Berlinski was born in Leipzig to parents who, in the wake of the dangers of backlash following the 1905 Revolution in Russia, had emigrated from the highly developed Jewish community in Łódź (then Russian Poland). He demonstrated natural musical gifts at an early age and at sixteen entered the Leipzig Conservatory—primarily as a piano student, with additional studies in theory and composition. In 1918, when an independent Polish Republic was declared following the First World War, his father chose to declare that he and his family were Polish citizens (residing in Germany) rather than accepting an official passport classification as "stateless," since actual full German citizenship was difficult to obtain and involved a complicated process. The family remained in Leipzig until the installation of the National Socialist regime, which barred Jewish musicians from participation or employment in musical institutions outside the Jewish community.
Berlinski left Germany in 1933, easily able to secure an exit permit with his Polish passport. He went initially to Łódź, where he had many relatives and where he did some concertizing. Not prepared to accept Polish army service, however, he left shortly afterward for Paris. There he studied at the prestigious École Normale de Musique: composition with the legendary Nadia Boulanger, teacher of many of the 20th century's most important composers; and piano with the subsequently infamous Nazi sympathizer and collaborator, world-renowned pianist Alfred Cortot. Berlinski supported himself by directing, arranging, and sometimes composing incidental music for productions of an émigré Yiddish art theater, known then as PIAT (Paris Jewish Avant-Garde Theatre). This troupe in effect comprised the survivors of the well-known Yiddish art theater in Vilna, whose repertoire ranged from Shalom Aleichem and Peretz to classic Russian plays in Yiddish. These were literary plays, unrelated to the musical Yiddish theater in America—the so-called Second Avenue variety—or to its Romanian foundations in the operettas of Goldfaden. Nonetheless, it was common to include appropriate incidental music and even to superimpose or incorporate some songs in those productions. For Berlinski, this was not only an artistic but a "human experience," because it brought him into contact with so many Ukrainian, Polish, and Lithuanian Jews then stranded in France—a profound personal episode that was later to find reflection and expression in some of his American works.
Herman Berlinksi, founder Lowell Milken, and tenor Robert Brubaker
Berlinski found his studies with Boulanger less than fulfilling. Unlike many of her other American pupils (or so he felt), he was not seeking to shed ethnic boundaries, as perceived limitations, in favor of the more universal approach and technique of the so-called international school. Moreover, he found her unable to relate to his artistic preoccupations with things Jewish. After two years he parted ways with her and entered the Schola Cantorum, where the respected Sephardi synagogue composer and music director Leon Algazi actually taught a course on Jewish music (in a fundamentally Roman Catholic religious musical environment). Berlinski later recalled that he was received "with open arms" by the French composer Daniel-Lesur and his circle, La Jeune France, which included Olivier Messiaen. Messiaen—a deeply and mystically religious Christian whose faith informs many of his major works—understood, along with others in that group, Berlinski's natural inclination to draw upon his Judaism. Berlinski later credited Messiaen with having encouraged him personally to use the musical language of his traditions, as fellow composers in that circle made use of Gregorian chant.
In 1934–35 Berlinski applied for French citizenship, which carried with it the obligation of military service in the French Foreign Legion. Though he never did obtain his citizenship, he later recalled with pride his participation at the Belgian border when German army units broke through; and he always took great satisfaction in being "one of the few Jews with the opportunity to have a machine gun in my hand and shoot at them."
After France's surrender to Germany and the establishment of the Vichy government, Berlinski determined to leave while he (and his wife) still could, and to head for America. His father had gone there earlier, and he also had a number of relatives who had emigrated directly from Łódź and were residing in New Jersey. In this he was assisted by a man named Varian Fry ("the American Schindler"), who had come voluntarily to France to facilitate the rescue and emigration of stranded European intellectuals.
As both a German native and a veteran French Legionnaire who had fought against Germany, Berlinski was technically ineligible for an exit visa, since the cooperating French authorities were required to hand over all such individuals to the Germans. His illegally "purchased" exit visa still required an approval stamp. He obtained that only because the French official did not realize that Lipsk, shown as his birthplace on his passport, was simply the Polish translation for Leipzig, and thus assumed incorrectly that Berlinski had been born in Poland rather than Germany. There was still the problem, however, that Poland was occupied by Germany as well. Fry helped him invent a Russian identity, which finally qualified him for exit, since the Soviet Union was still technically neutral as a result of the infamous but soon-to-be-violated nonaggression pact. He left France and arrived in the United States only two weeks before the German invasion of the Soviet Union.
Berlinski's first fruitful contact in New York was Moshe Rudinov, cantor of the nationally prestigious Reform synagogue Temple Emanu-El. Rudinov introduced him to the small but intensely committed coterie of Jewish music intellectuals, the Jewish Music Forum, and he soon became well acquainted with the leading personalities of that society, such as Lazar Weiner, Joseph Yasser, Abraham Wolf Binder, and Lazare Saminsky. Always on the lookout for Jewish-related pieces for its intimate recital events, the Forum programmed the only full piece that Berlinski had saved from his French period, a flute and piano sonata on Jewish themes. On the same program that evening, Leonard Bernstein offered a piano preview of his Jeremiah Symphony.
Berlinski taught piano privately until Joseph Yasser, the acclaimed musicologist who was also a synagogue organist, suggested that he study organ and offered to teach him. Thus Berlinski, soon to establish an international reputation as a classical organist, began his study of the instrument as late as 1951. He had had a fascination with the organ since his Leipzig student days, but its study was not part of the curriculum and was generally learned within the Church. In New York he eventually became a virtuoso performer and an active member of the American Guild of Organists.
In 1954, Lazare Saminsky, music director at Temple Emanu-El, engaged Berlinski as an additional organist and became his mentor, especially with regard to particular organ techniques for synagogue services and for accompanying a cantor. In 1955 Berlinski gave his first organ recital at Emanu-El, and during his tenure there he continued to compose extensively for various media, including choral and other liturgical works, especially addressing organ music.
Berlinski commenced graduate studies in Jewish music at the Jewish Theological Seminary in the early 1950s, where he delved into serious musicological investigations of ancient Jewish liturgical origins and practices, biblical cantillation, and traditional Jewish prayer modes with Joseph Yasser, Johanna Spector, Solomon Rosowsky, and Max Wohlberg. From these guiding spirits he acquired a solid appreciation for the cantorial traditions and their modal foundations, important inspirations for his future compositions. His primary composition mentor at the seminary was Hugo Weisgall, the esteemed American composer and chairman of the faculty, under whose guidance he completed his master's degree in composition—after abandoning his initial effort at a historical thesis on rabbinical inhibitions vis-à-vis music. He then earned the seminary's first doctoral degree in composition, also with Weisgall, with a dissertation entitled Kiddush hashem—a large choral orchestral work that has never been performed in its entirety. Much of its material, however, was later reworked and used in Berlinski's Litanies for the Persecuted, one of his best-known works.
In 1959, after Saminsky's death, Arthur Wolfson, the cantor of Emanu-El, also assumed the tasks and responsibilities of music director. Meanwhile, by 1963, Berlinski could not resist the invitation to become music director of the Washington Hebrew Congregation, also one of America's oldest and most prestigious Reform temples, which had already been exposed to high musical standards under Max Helfman's direction for the High Holy Day services. Its leader, Rabbi Gerstenfeld, wanted it to become a center for the finest sacred music in Washington, D.C., on a par with the city's most prominent churches, and he assured Berlinski a virtually free hand. Indeed, Berlinski quickly succeeded in making that synagogue a showcase for Jewish liturgical music creativity, and it became known nationally throughout the Reform movement for its musical sophistication and its adventurous but nonetheless diverse music. Services were even occasionally reviewed by music critics from the general press, and eventually Berlinski was given the highly unusual title Minister of Music. At the same time, he garnered an international reputation as the foremost interpreter, as well as composer, of Jewish organ music, and he began giving organ recitals throughout Europe and America. After his retirement, he founded his own concert chorus, Shir Chadash, which became recognized for its programming of historical and contemporary Jewish music at annual concerts at the Washington National Cathedral and the Kennedy Center. Its annual Hanukka concert was supported by the city and the Kennedy Center, and its concerts of High Holy Day music, given each year between Rosh Hashana and Yom Kippur, were geared to the non-Jewish general community and well attended. Both became important annual events on Washington's cultural calendar, but they ceased when Berlinski could no longer prepare and direct them.
Conductor Avner Itai with members of the BBC Singers recording
Herman Berlinski's Shofar Service.
Berlinski was a prolific composer. His nonliturgical concert opera include many symphonic and chamber works, concerti, song cycles, a violin sonata (Le Violon de Chagall, after the famous Jewish painter), oratorios and various dramatic works, a dozen organ sinfonias as well as smaller organ pieces, and other symphonic music. His liturgical catalogue includes includes many individual prayer settings and service excerpts, as well as organ pieces for the synagogue. His magnum opus—and, in many ways, the work closest to his heart—was Avodat Shabbat, an elaborate setting of the complete Reform Sabbath eve liturgy for tenor cantor solo, large chorus, and full symphony orchestra.Commissioned by Cantor David Putterman for the annual service of new music at New York's Park Avenue Synagogue in 1958, its subsequently orchestrated version was premiered in 1963 at Lincoln Center in New York and was recorded for the Milken Archive in Berlin in 2000.
Berlinski's Etz ḥayyim (Tree of Life), originally The Beadle of Prague, which he abandoned and rewrote, was commissioned by Project Judaica to mark the opening of the Smithsonian Institution's The Precious Legacy, an exhibition of treasures from the Prague Jewish Museum that toured North America from 1983 to 1986. In 1993, Union Theological Seminary in New York, the nation's leading pan-denominational liberal Protestant Christian institution, commissioned him—along with Robert Helmschrott, the Roman Catholic composer from Munich, and the Protestant Heinz Werner Zimmermann of Frankfurt—to compose Bonhoeffer Triptych. This work was conceived to honor the German Evangelical (Lutheran) pastor and Resistance leader Dietrich Bonhoeffer, who was murdered by the Germans in 1945 for his Resistance activities and humanitarian efforts. It has been performed in Germany, America, Israel, and South Africa.
Berlinski's oratorio Job was commissioned for the groundbreaking ceremony of the rebuilding of Dresden's main synagogue, in 1988, and was performed by the Dresden State Opera Orchestra and Chamber Chorus. That same year, his Mazkir n'shamot (In Remembrance of the Soul), commissioned by the Library of Congress for a concert commemorating the sixtieth anniversary of Reichskristallnacht, was premiered at the Library's Coolidge Auditorium. His twelfth organ sinfonia, Die heiligen Zehn Gebote (The Sacred Ten Sinaitic Pronouncements [commandments]), for tenor, baritone, two trumpets, narrator, percussion, chorus, celesta, and organ, was first performed in October 2000 at Leipzig's Thomaskirche (St. Thomas Church) as part of an entire concert devoted to Berlinski's music, and was repeated a month later in Munich.
At the time of his death, Berlinski was working on a large-scale composition based on the High Holy Day liturgy and partly based on reworked sections of his earlier cantata Days of Awe. He did not live to complete it. But only a few months before he passed away, his chamber work for baritone, mezzo-soprano, double bass, and piano, Celan—inspired by the life and work of the great French-Romanian Jewish poet and Holocaust survivor Paul Celan—was given its premiere at the United States Holocaust Museum in Washington. His last completed works are a quintet for clarinet and strings, and Psalm 130 for solo voice, chorus, and organ, commissioned by the Washington National Cathedral.
Among Berlinski's many other important works are the following: Litany of Solomon ben Aaron, a tribute to Jewish martyrdom; Yizkor, a memorial service; Sh'virat hakkelim, which quotes from Russian synagogue music; The Death of Rachel; and a Psalm of Unity. Especially notable among his other organ sinfonias are two that are also scored for voices: David and Goliath and The Glass Bead Game.
Berlinski's music is not confined exclusively to overt Jewish themes. However, he always insisted that the imprint of his Jewish experience was inextricable from anything he wrote: "I don't think I can write a piece of music, no matter what I do and what I will try, that does not have the stamp of my Jewish existence." Indeed, inspiration from Judaic themes, biblical cantillation as well as narratives, liturgy, Jewish history, and the Hebrew language itself all permeate his aggregate output on one level or another. He viewed Judaism not only as religion—though that played a major part for him—but also as a civilization, along the lines of Mordecai Kaplan's ideas. He felt that those extramusical sources helped him focus his musical conceptions.
From his classical training and from his special devotion to the organ, Berlinski always thought naturally in polyphonic terms. He correctly perceived Jewish sacred music as historically—and therefore fundamentally in origin—nonpolyphonic, especially in its early roots of biblical cantillation and psalmody. Finding ways to incorporate these elements within polyphonic frameworks was therefore his self-imposed challenge. He often credited German composer Max Reger with having exerted a profound influence on his own technique, particularly with regard to polyphony. Yet his synagogue works, no matter how bold or progressive the harmonic language or general approach, are all skillfully crafted around nuclei of traditional liturgical melos. And despite his penchant for a kind of post-Bartók chromaticism, the flowing freedom as well as modality of cantorial chant is usually discernible.
For Berlinski, any nontonal music and any polyphony—whether tonal, pantonal, or nontonal—had to derive from a homophonic line, from what he called his "inner voice" that he could sing first. His immersion in the study of Ashkenazi cantorial tradition with Cantor Max Wohlberg at the Jewish Theological Seminary—of sacred tunes emanating from the Middle Ages, modal chants, and even older biblical intonations—impregnated both his own musical thinking and much of the melodic material he invented. "I cannot think of a melody [of mine]," he proclaimed a year before his ninetieth birthday, "that does not, in one way or another, reflect this osmosis and absorption of Jewish material." His embracive artistic and stylistic credos are summed up in the continuation of his ruminations during that interview.
Consonance and dissonance are the two poles of a bipolar system that, together, amount to a musical idiom for me. That is the language…. I consider dissonance, still, as an expression of inner tension. And you can go from dissonance to dissonance and intensify the density of the dissonant writing. But there is no work of mine where a consonance in the solution does not play a very important role…. It is not a question of dissonant or not, or of tonal or nontonal: they are both elements. Tonality and atonality do not, either one, go without the other. Both elements, for me, must work together.
Berlinski's many honors include a MacDowell fellowship (1958), the Peabody Waite Award of the American Academy of Arts and Letters (1984), the Lifetime Achievement Award of the American Guild of Organists (1995), and the Commander's Cross of the Order of Merit from the president of the Federal Republic of Germany (2001).
By: Neil W. Levin