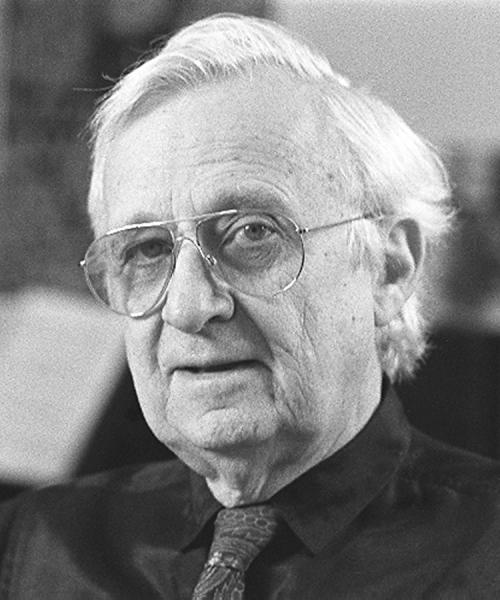 "Chaos versus organization" is how Gershon Kingsley once described his overall artistic approach, which he has applied to a diverse array of musical genres. Perceiving his own creative world as one in which "Mozart dances with the Beatles and Carl Jung struggles to reconcile the opposites of our human soul," he has focused equal energy on both secular and religious theatrical or theatrically oriented works. He has also achieved extraordinary success in the commercial field as a composer for radio, television, and motion pictures, earning an Emmy for New Voices in the Wilderness as well as two Clio awards—the advertising industry's highest mark of recognition. Indeed, despite numerous major works to his credit, Kingsley is probably still best known to many as the composer of the international hit song "Popcorn," first released in 1969 as part of a Kingsley solo LP album entitled Music to Moog By. "I have always been sitting between two chairs in my music," the composer has reflected. "I try to bring classical and pop together."
Born Goetz Gustav Ksinski in Bochum, Germany, Kingsley spent most of his childhood in Berlin, where, when he was sixteen, his response to the increasing persecution after 1933 under the National Socialist regime was to join the Zionist youth movement. He went to a training camp in Hamburg that was at least partially funded by American Zionist organizations, where young idealistic boys and girls were prepared for the tasks of rebuilding a Jewish homeland in Palestine. Following Kristallnacht (Reichskristallnacht), the national pogrom throughout the Third Reich on 9 November 1938, he went with a group of fifty young veterans chosen from the Hamburg Zionist youth camp to begin a new life in Palestine. This group was on one of the last sealed trains from Berlin to Italy, from where they sailed for Haifa. Kingsley's parents tried unsuccessfully to obtain visas for themselves for the United States, and eventually they found their way there only via Cuba and various South American ports.
Under the sponsorship of an American Jewish foundation, Kingsley spent two years on a Labor Zionist kibbutz, where, in addition to working the fields and learning agriculture, he taught himself to play piano and began studying orchestral scores he had brought from Germany. As his musical interests solidified and he sought more formal instruction with a view toward professional goals, he decided to abandon the kibbutz, and he left on his own for Jerusalem. There, sometimes interrupted by auxiliary military service that included guarding against Arab marauders at another kibbutz, he studied at a conservatory. He also played jazz in Tel Aviv and Jerusalem in a band with four Arab musicians. In 1946, he emigrated to the United States and, after a short stay in New York, went to Los Angeles, where his first employment was as an organist in a Reform synagogue. "They asked me to write a small liturgical setting—for bar'khu or sh'ma," he recalled more than fifty years later, "so I became a 'Jewish composer' by default!" That was the first of his many liturgical compositions. Meanwhile, he earned a degree from the Los Angeles Conservatory (now the California Institute of Arts), performed in supper clubs, and began conducting for summer stock theater productions. He went on to establish himself as a theatrical conductor, eventually directing music for the Joffrey Ballet, for Josephine Baker, for the highly acclaimed television special The World of Kurt Weill starring Lotte Lenya, and for a number of Broadway shows. As a staff arranger for Vanguard Records, he arranged and orchestrated for major artists, including Jan Peerce, who engaged him as his accompanist for American and European concert tours.
In 1948, Kingsley spent a summer in residence at the Brandeis Arts Institute (a division of the Brandeis Camp Institute), in Santa Susana, California, where the music director was the esteemed and charismatic choral conductor and composer Max Helfman (1901–63), one of the seminal figures in Jewish music in America. The program there provided a rich and exciting forum for Jewish arts by bringing established Jewish musicians, dancers, and other artists of that period together with college-age students in an effort to broaden their creative horizons in the context of contemporary Jewish expression. Young musicians, for example, were able to benefit from interaction with such composers as Mario Castelnuovo-Tedesco, Julius Chajes, Eric Zeisl, and Heinrich Schalit. New artistic possibilities that Kingsley had encountered in Palestine—inherent in the modern Jewish cultural consciousness ignited by the Zionist ideal and its enterprise of national restoration and rejuvenation—were expanded and reinforced for him. Among other students in residence during the institute's five-year existence were such future distinguished composers as Yehudi Wyner, Charles Davidson, Jack Gottlieb, Simon Sargon, and Ray Smolover—all of whom have acknowledged the powerful impact of that experience. Like so many other alumni of the Arts Institute as well as the camp, Kingsley has always credited Helfman with exerting a lasting influence on his own musical course and with inspiring him to explore the aesthetic as well as dramatic possibilities of the Hebrew language.
In the late 1960s, encouraged by that period's nearly rebellious road to the relaxation of traditional formal expectations and restraints, as well as by the heightened sense of receptivity to vibrations of contemporaneous youth-oriented popular culture that the political and social climate of the '60s fostered in some American synagogue circles, Kingsley began to devote serious attention to expanding the boundaries of synagogue music. He became widely recognized for his use of contemporary popular and even quasi-commercial idioms in liturgical contexts, and his name became linked—perhaps disproportionately—to the then experimental and revolutionary reliance on synthesized electronic sounds in the search for new modes of expression in Jewish worship. In addition to the liturgical works included in the Milken Archive, he has written many other sacred and quasi-sacred works, some of which he characterizes as "scenic cantatas." Among these are A Prophet's Song of Love; What Is Man?; Simcha; Friday of Thanksgiving; They Never Had a Chance to Live, a Holocaust-related dramatic musical presentation based on the poetry of a young Jewess whose murder in a concentration camp at the age of eighteen represents in this work the one million Jewish children slaughtered by the Germans; The Fifth Cup, a staged Passover seder that has been broadcast nationally, in which the ritual foods are represented by corresponding songs; The Flood According to Ham; and The Letter to the Russian Pharaohs, an interpretation of a Sabbath eve service from modern Israeli-Hassidic perspectives. His popular choral anthem Shepherd Me, Lord (with lyrics by a cantor) generated nearly two million sheet music sales to southern Baptist congregational choirs, who were attracted to its gospel style.
Kingsley's increasing immersion in synthesized music dates coincidentally to the 1960s as well, when he became enchanted with the intriguing array of seemingly endless fresh aural possibilities of the new electronic medium, and with the unprecedented degree of control it appeared to afford composers. Electronic music—which should be understood as a technical tool and an expressive medium, as well as a technique, but neither as a genre nor as any specific musical type or style—refers both to electronically generated and acoustic sounds (whether from musical instruments, from nature, or from any other nonelectronic sound source) that are collected and then modified and manipulated electronically. These sounds are assembled into an ordered sonic format by means of magnetic tape or, more commonly today, with computer editing software. The resulting piece can be offered to its audience either in fixed prerecorded mode or by live performance (for example, on programmed modules, keyboards, or computers). In either mode, the electronically synthesized or manipulated sounds can, if the composer chooses, also occur in combination with unmanipulated traditional musical instruments. In principle, electronic music can embrace all genres or types—commercial, popular, or "classical" art music.
In 1966, Kingsley was introduced to tape splicing and looping techniques by the French composer Jean-Jacques Perrey, and they collaborated on an experimental album entitled The In Sound from the Way Out, which combined those techniques and sounds with others produced by live studio musicians. The album scored an immediate success with the advertising industry. Kingsley acquired one of the first commercially available and now legendary Moog synthesizers, designed by Robert Moog in collaboration with composers Herbert A. Deutsch and Walter Carlos. "It looked like a telephone switchboard," Kingsley later reminisced, "and I got hooked on it; I had to get to know it." The album, Kaleidoscopic Visions, which exposed the potential of the Moog synthesizer, contained one of Kingsley's earliest electronic pieces, Baroque Hoedown, which is still featured as part of the accompaniment for the Main Street Electrical Parade at Disneyland and Disney theme parks. By the late 1960s, following the success of Carlos's LP recording Switched on Bach, which was recorded completely with the use of Moog synthesizers, the Moog had already become an important instrument for commercial and commercially popular music, used in the pop world by such celebrities as the Beatles and Mick Jagger. Kingsley made use of it for everything from classical to pop, from commercial jingles to theater and even religious music. During most of the time Kingsley was writing for the Moog, there were probably fewer than 300 synthesizer installations in the United States. He came to view electronic music as the "bridge between 'serious' and 'nonserious' music," and in 1970 he founded the First Moog Quartet—a four-keyboard ensemble. That same year, it gave the first-ever live electronic music concert at Carnegie Hall as a full evening, presented by the adventurous impresario Sol Hurok. The program that evening, which Kingsley describes as "from the sublime to the ridiculous," included arrangements for Moog of Rossini's Wind Quartet no. 1, Bach's G-minor fugue from The Well-Tempered Clavier, songs of Lennon and McCartney and Simon and Garfunkel—and, of course, the hit "Popcorn," which became the quartet's standard encore number on its national tour of colleges and universities. That Carnegie Hall concert inspired Arthur Fiedler, the conductor of the Boston Pops Orchestra, to commission Kingsley's Concerto Moogo for synthesizer quartet and symphony orchestra, which was premiered at Symphony Hall in Boston in 1971 and televised nationally.
Kingsley was attracted to electronic music not only for the uncharted and potentially infinite territory of its new sonic world, nor merely for its newness or its place in the avant-garde, to which he nonetheless aspired. Equally important for him was the control it promised a composer, at least in theory, over the final product heard by an audience. Ideally, this could pertain to all aspects of the actual realization of a composer's ideas and intentions after the completion of a piece "on paper," without having to rely on unrelated or separate performers. He relayed his enthusiasm in a 1970 CBS radio interview with Harry Reasoner.
For the first time in the history of music, the composer doesn't have to take a backseat to the other arts, in that he can be personally responsible not only for the original idea, but for the final result as well. Instead of going through the process of first conceiving the idea, then orchestrating it, then having it played on an instrument, now a musical work can be created entirely in the studio environment.... With the advent of the electronic synthesizer, a composer can now function the same way as a painter or a sculptor.
Until the 1990s, Kingsley worked extensively with the Munich Radio Orchestra (Munchner Rundfunkorchester) and other European and American orchestras. At the same time, he continued to produce a number of major musical-dramatic works for American audiences. His operatic musical Cristobal, written to commemorate the 500th anniversary of Columbus's voyage to the New World, was presented at New York's Union Square Theatre in 1992; and an opera on the same theme, Tierra, was premiered in Munich. In 2004, he completed an opera based on the story of the Swedish diplomat Raoul Wallenberg, who saved thousands of Jewish lives during the Holocaust as a personal mission, only to be abducted, imprisoned, and eventually murdered by the Soviets following the German surrender.
By: Neil W. Levin