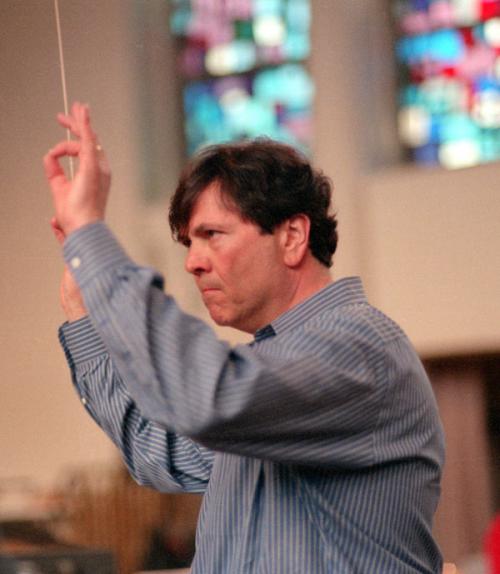 Gerard Schwarz was born in Weehawken, New Jersey, in 1947. He began trumpet lessons at the age of eight and attended the National Music Camp in Interlochen, Michigan, and New York's High School of Peforming Arts (now La Guardia High School of Music and Art and Performing Arts). From 1962 to 1968 he studied trumpet with William Vacchiano, longtime principal trumpet of the New York Philharmonic. He played in the American Brass Quintet (1965–73), with which he toured internationally; in the American Symphony Orchestra under Stokowski (1966–72), in the Aspen Festival Orchestra (1969–75); and in the Casals Festival Orchestra (1973). Completing his training as virtuoso trumpeter at The Juilliard School, he received his bachelor's degree in 1972 (later also his master's degree) and promptly joined the New York Philharmonic the following year, succeeding Vacchiano as co–principal trumpet.
Within a few years Schwarz found himself increasingly attracted to conducting, having made his debut as early as 1966 with the Erik Hawkins Dance Company, which he served for a time as music director, and having meanwhile also conducted the Eliot Feld Dance Company and the Waterloo Festival. In 1977, he resigned from the Philharmonic to pursue a full-time podium career and began an impressive list of achievements that have brought him conducting renown. In 1977, he cofounded the New York Chamber Symphony (originally the "Y" Chamber Symphony), serving as its music director for twenty-five seasons. From 1978 to 1985, he was music director of the Los Angeles Chamber Orchestra, with which he made many recordings. In 1981, he established the "Music Today" Contemporary Music series in New York, serving as its music director until 1989. He made his Philadelphia Orchestra debut in 1982 in a program of music by George Perle, Mozart, Shostakovich, and Hindemith, and that year he became director of Lincoln Center's Mostly Mozart Festival, which he had first conducted in 1978. In the course of two decades he brought the Mostly Mozart orchestra to the Tanglewood and Ravinia festivals and on annual tours to Japan as well as PBS Live from Lincoln Center telecasts; and in 2002 he became its emeritus conductor. In 2001, Schwarz also became music director of the Royal Liverpool Philharmonic, one of the world's oldest orchestras, whose list of previous conductors includes such eminent figures as Max Bruch, Sir Malcolm Sargent, Sir Thomas Beecham, and Sir Charles Groves.
In 1983, Schwarz was appointed music advisor of the Seattle Symphony, and he was named principal conductor and music director the following year—positions he held until 2011. During his tenure in Seattle, Schwarz shepherded the orchestra to worldwide acclaim, leaving it a legacy of renowned recordings and a reputation for championing new music (he conducted more than 100 world premieres with the SSO). In recognition of his impact and acheivements, the City of Seattle named the street alongside Benaroya Hall (the SSO's performance hall) "Gerard Schwarz Place," and the State of Washington gave him the honorary title of General.
After leaving the Seattle Symphony Orchestra, Schwarz founded and has served as Music Director of the All-Star Orchestra, an ensemble comprising top players from several orchestras that gather for an annual "summit" to perform—on film and unrehearsed—great orchestral works from the standard repertoire as well contemporary pieces. Performances are filmed in the round and broadcast on public television stations—as well as on DVDs and Web sites—along with educational components. He is also Conductor Laureate of the Seattle Symphony Orchestra and returns for performances there several times per year.
Schwarz has received hundreds of honors and accolades, including two Emmy Awards, 13 GRAMMY nominations, and six ASCAP Awards, and was the first American named Conductor of the Year by Musical America (1994). Other honors include the Ditson Conductors Award from Columbia University and honorary doctorates from The Juilliard School, Fairleigh Dickinson University, the University of Puget Sound, and Seattle University. In 2000 he was made an honorary fellow of John Moores University in Liverpool. And, in 2004, he was nominated by President George Bush to serve on the National Council on the Arts, the advisory body of the National Endowment for the Arts. Among his discography of nearly 350 recordings on more than 11 labels are the numerous recordings he conducted for the Milken Archive.
(Updated: 6/10/2014)