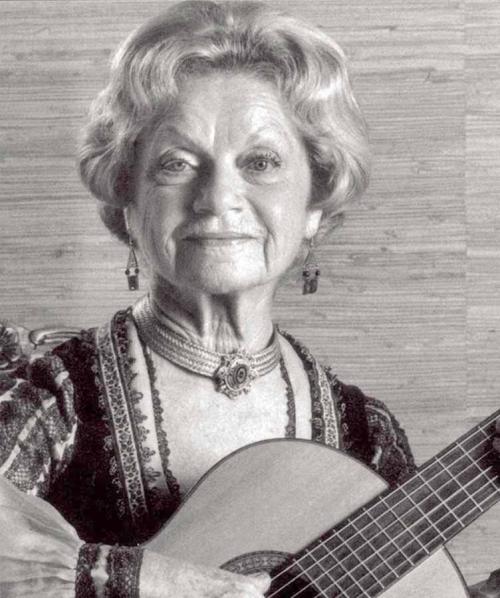 Flory Jagoda is one of the most recognized musicians in Sephardi music today, and one of its most prominent advocates. Born in Sarajevo, Jagoda was raised in Vlasenica—a mountain village that was home to an ethnically and religiously diverse community. Vlasenica had been home the Altaras (Jagoda's maiden name) family for centuries, and Flory's mother, Rosa, was among the first to leave. Yearning for life in the city, Rosa moved to Sarajevo and fell in love with and married a musician. But the union was short-lived and Rosa soon returned to Vlasenica—with Flory—where she stayed until a second marriage took her to Zagreb, Croatia. Flory remained in Vlasenica with her grandparents initially, but later joined her mother and second husband, who adopted Flory. 
Born into a well-known family of singers and folk musicians, Jagoda grew up speaking Ladino (Judeo-Spanish) and learning Sephardi songs mostly within the context of her own family. Like other members of her family, Jagoda did not receive formal musical training—the learning of instruments and repertoire occurred via oral tradition. She is fluent on many instruments—guitar and accordion as well as some traditional Bosnian instruments—and generally serves as her own accompanist.
Flory was a young girl when the Second World War broke out, and she, along with her parents, fled Bosnia. They wound up in a refugee camp in Italy, where the young Flory met and married a U.S. soldier named Harry Jagoda. They settled in northern Virginia after the war, where they still live today. The decision to flee proved to be crucial, as all but one member of her extended family that remained in Vlasenica died in a mass execution carried out by Croatian fascists sympathetic to Hilter's regime. 
Since coming to America, Jagoda has carried on and added to the Sephardi musical traditions of the Balkans, and has also become a strong advocate for the preservation of the Ladino language. She has taught her unique repertoire to scores of students and participated in workshops and social groups dedicated to preserving the Ladino language. Her interest in and commitment to the preservation of Sephardi culture and heritage has earned her the sobriquet "the keeper of the flame."
Jagoda has recorded and released four albums commercially: Arvoliko (Little Tree, after a tree that stands on the site of her family's mass grave in Vlasenica),  Memories of Sarajevo, La Nona Kanto (The Grandmother Sings), and Kantikas Di Mi Nona (Songs of My Grandmother). Additionally, her songs have been recorded by countless artists. Ocho Kandelikes, which is featured in Volume 4 of the Milken Archive in an arrangement by The Western Wind vocal ensemble, is one of her most popular songs, and has been covered by many artists—including, most recently, by the Portland band Pink Martini on a 2010 holiday album. 
Jagoda was bestowed a National Heritage Fellowship by the NEA in 2002, and has also served as a Master Artist in the Folklife Apprenticeship Program for the Virginia Foundation for the Humanities. Her life and music were documented in the 2000 film The Key from Spain: The Songs and Stories of Flory Jagoda by Bosnian-American ethnomusicologist Ankica Petrovic. As of 2013, a biographical film is in production by the JEMGLO organization.
Profile image via Flory Jagoda's Facebook page.