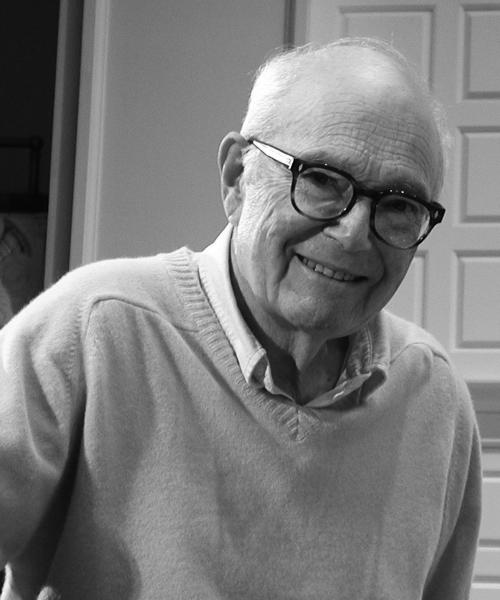 Born in Brooklyn, Ezra Laderman studied music in his teen years at the High School of Music and Art in New York, where he performed his own piano concerto at a school concert at the age of fifteen. His service in the United States Army during the Second World War began in 1943, when he was stationed with the Sixty-ninth Infantry Division as a radio operator in the 881st Company A Battalion of the artillery. According to his autobiographical material, he entered combat during the Battle of the Bulge between December 1944 and January 1945, and afterward he crossed the Rhine with his battalion, which participated in the taking of Leipzig and then met up with the Red Army at the Elbe River. He was stationed with the occupation forces in Leipzig as a technical sergeant, and it was there that he was inspired to compose his first symphonic work, which became known as the Leipzig Symphony—a forty-two-minute work in four movements. After performing it in its unorchestrated piano version before audiences of officers, he was relocated to Paris, where he became a member of the newly formed GI Symphony. Shortly thereafter, in April 1945, he was invited to conduct the newly re-formed Wiesbaden Symphony Orchestra (disbanded during the war) in the Leipzig Symphony's world premiere before a combined audience of Allied servicemen and officers from the American, British, French, and Red (Soviet) armies. The symphony was broadcast over the U.S. Armed Forces Radio Service and recorded, and then performed in France. Fifty-four years later, he returned to Germany to be present at a performance of the symphony in the city of its title, given by the East-West International Festival Symphony, conducted by Glen Cortese.
Newly returned to civilian life, Laderman entered Brooklyn College in the autumn of 1945. He studied composition with Miriam Gideon and received his bachelor of arts degree in 1949, and he also studied composition privately with Stefan Wolpe. At Columbia University, where he earned his master's degree in 1952, his teachers in composition were Otto Luening and Douglas Moore; and he benefited from classes in music history with the eminent musicologist Paul Henry Lang.
Wolpe introduced Laderman to atonal and serial techniques and procedures, while Luening and Moore subsequently encouraged him to experiment with more freedom and to develop an expansive lyricism. That dual exposure to radically different orientations contributed to his eventual fusion of approaches, which has often resulted in tonally based materials in combination with both nontonal and aleatoric elements.
In 1955 the first of three Guggenheim Fellowships (two others followed in 1958 and 1984) allowed Laderman to concentrate intensively on developing as a composer. In the 1960–61 academic year, he served on the faculty of Sarah Lawrence College, where he wrote his opera-cantata for young people, The Hunting of the Snark—based on Lewis Carroll's narrative poem. He was awarded the Rome Prize and lived in Italy from 1963 to 1964, then returned to Sarah Lawrence. Subsequently, he was composer-in-residence at the State University of New York (SUNY) at Binghamton (1971–82), visiting composer at Yale University, and dean of the Yale School of Music (1989–95). In 1996 he was appointed professor of composition at Yale. During the 1970s he served on the National Endowment for the Arts, ultimately becoming the director of its music program (1979–82). He also was chairman of the board of the American Composers Orchestra for a number of years.
In 1954, Laderman had become interested in writing for the theater (the first of his ten operas, Jacob and the Indians, was based on Stephen Vincent Benet's short story), and he also began to devote serious attention to chamber music. Not until 1963 did he return to larger symphonic forms, writing what came to be listed officially as Symphony No. 1 in Rome, where it was first performed. By 1994 he had written seven additional symphonies, which became the core of his creativity, and he often used the symphonic medium and its structural form as an outlet for expression of deeply felt convictions. This is evident in some of their consciously planned extramusical associations, and in some cases their specific programs. The first symphony reflected the mood in America and in much of Europe following the assassination of President Kennedy; its second movement, marked grave, is a powerful dirge, with the instruction "the inexorable half-note pulse is to be maintained throughout." The second symphony, "Luther," (in one movement) is a musical portrait of Martin Luther, written on a commission from CBS Television. Although it was not originally so intended, it was eventually choreographed and danced by José Limón. Symphony No. 3, Jerusalem, was composed in 1973 to commemorate the twenty-fifth anniversary of the State of Israel. Each of its four movements programmatically depicts a stage in the history of the Jewish people, and it achieves its climax with the founding of the Jewish state. It too was commissioned for a CBS Television broadcast, which followed its premiere in Jerusalem.
Symphony No. 5 (1982), Isaiah, scored for soprano and orchestra, was written on commission from the National Symphony Orchestra in Washington, D.C., and exists in two versions: one in English and the other in Hebrew. "The sections in the Book of Isaiah that suggested themselves to me," Laderman has explained, "are thematical; they are expressions of the human condition with which I identify." He selected verses that would, for him, "illuminate different aspects of the Book of Isaiah … and to express my own personal view." Following its premiere in 1983, Joseph McLellan wrote in the Washington Post:
The symphony is based on the reconciliation of opposites: themes of war and peace. Its opening movements are filled with tension—a multitude of motifs jostling one another … driving, pounding, muscular rhythms in the magnificently orchestrated scherzo that follows.
Laderman's 1998 four-movement work Yisrael, which is not specifically designated a symphony per se, was composed for the State of Israel's fiftieth anniversary and premiered at Yale University's "Salute to Israel at 50." Its program involves scenes from the history and life of the Jewish state—and its people—that have been described as emerging from the orchestral textures.
Laderman has spoken of his creative path succinctly as an arch: "When I was very young, everything I wrote was tonal; and after that, atonal; and then serial. Finally, I've come back to tonality—but in a synthesized form, with the freedom to call upon all techniques." He was led toward this synthesis in 1975, when he was commissioned to write an organ piece and composed a set of twenty-five preludes in different styles, each using a different technical or procedural approach and/or language: atonal, serial, dodecaphonic, tonal, expressionist, polytonal, modal, etc. When he heard those preludes performed without pause as a single work at the premiere, he realized that he could combine them all in a single, unified work. "Why segregate these aesthetic elements?" he later recalled asking himself. He described that realization as nothing short of "traumatic … it changed my life."
Fusion and juxtaposition of such varying styles and techniques informed the series of concertos that Laderman began to write in the later 1970s. A Concerto for Viola and Chamber Orchestra (1977) was followed by his Piano Concerto No. 1 and Violin Concerto (both 1978), the latter written for violinist Elmar Oliveira, who gave the work its premiere with the Philadelphia Orchestra under Eugene Ormandy in 1980.
Laderman's string quartets illustrate the course of his development. The tonal first quartet of 1959 was followed by serial explorations that reached a peak in the one-movement fourth quartet of 1974. Traditional or classical forms and formal elements (sonata allegro form, theme and variations, etc.) return in his fifth quartet (1976); and the three subsequent quartets, which together form a triptych, embrace a wide range of conventional 18th/19th-century as well as contemporary techniques, ending with the dissonant eighth quartet of 1985. In succeeding years he added further string quartets to his catalogue.
Other significant works in his substantial symphonic/orchestral body of work include Chai Ivri, a violin concerto; two double concertos—for flute and bassoon and for violin and cello; a Sinfonia Concertante for piccolo, soprano trumpet, English horn, bass clarinet, and bass trombone; a concerto for bass clarinet; Summer Solstice, written for the summer concerts of the Philadelphia Orchestra; Sonore, written for the Denver Symphony (now the Colorado Symphony Orchestra); and Concerto for Double Orchestra and Concerto for Chamber Orchestra, to which his publisher refers as "nested works" in that the first and last of the former's five movements "enfold the central three movements making up" the latter (which may be performed separately, and which Laderman has called "a play with a play," tracing that procedure to Strauss's score for Le Bourgeois gentilhomme and Shaw's play Arms and the Man (which incorporates the sometimes independently performed Don Juan in Hell); and Citadel, jointly commissioned by the Louisville Orchestra, the New Haven Symphony Orchestra, and the New World Symphony. His large catalogue of chamber music includes—in addition to the string quartets—his Double String Quartet ("Octet"); Duo for Cello and Piano; Quintet for Clarinet and String Quartet; and unaccompanied works for various instruments.
For his staged as well as unstaged dramatic vocal works, Laderman drew on a wide range of sources, from the Bible to European and American history, and from literature to current events and even popular culture. Visions Columbus was composed for the American bicentennial in 1976. On its Sunday television programs Look Up and Live and Lamp unto My Feet, CBS premiered more than fifteen works by Laderman on Jewish subjects or related to Jewish experience, including his operas Esther and Sarah, which featured soprano Judith Raskin, and The Eagle Stirred, an oratorio related to the Passover narrative in Exodus. Two opera-cantatas, And David Wept and The Questions of Abraham, were first broadcast in 1971 and 1973. The two-act Shadows Among Us (1969), to a libretto by Norman Rosten, addresses the experiences of survivors of the Second World War in a displaced persons camp, while Marilyn, an opera in one act (also to a libretto by Rosten), portrays the film actress Marilyn Monroe in the depressed state of her last days. Commissioned and premiered by the New York City Opera in 1993, it incorporates relevant popular and jazz elements within the composer's more usual musical language and aesthetic parameters.
Ezra Laderman passed away on February 28, 2015 at his Connecticut home.
By: Neil W. Levin