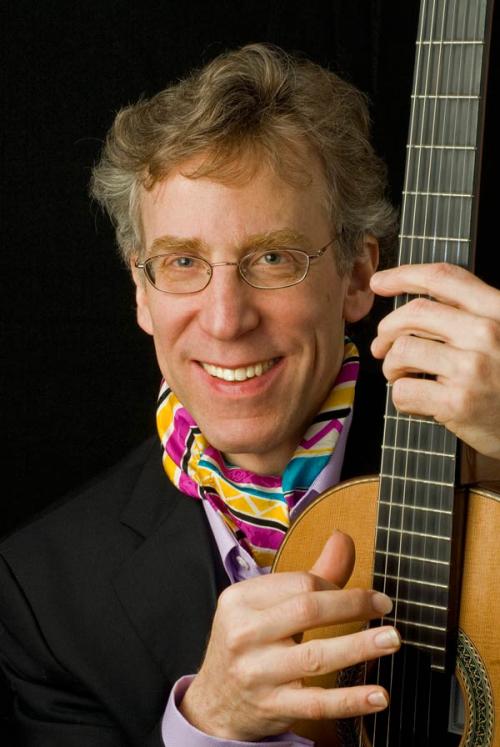 Born in Philadelphia in 1954, guitarist Eliot Fisk earned his B.A. (1976) and M.M.A. (1977) from Yale, where he studied with harpsichordists Ralph Kirkpatrick and Albert Fuller and, shortly after graduation, founded the guitar department. His guitar teachers included Oscar Ghiglia, Alivio Diaz, and Andrés Segovia, who declared him "one of the most brilliant, intelligent and gifted young musical artists of our times." His solo debut at Alice Tully Hall in New York in 1976 was described as possessing "rhythmic strength, clean articulation, dazzling speed when required, and almost unfailing accuracy." Four years later, he won the International Classical Guitar Competition in Gargnano, Italy.
Fisk has premiered works by composers Robert Beaser, Nicholas Maw, George Rochberg, and Luciano Berio, who composed his solo Sequenza XI for the guitarist in 1987–88 and the version with chamber orchestra, Chemin V, in 1992. Fisk has further enriched the guitar repertoire with transcriptions of works by composers ranging from Bach and Domenico Scarlatti to Paganini (Fisk was the first guitarist to record the 24 Caprices), Mendelssohn, Albeniz, and Falla. In 1996, Segovia's widow granted Fisk first performance and recording rights to a collection of her late husband's own compositions.
Fisk has collaborated frequently with such artists as flutist Paula Robison, violinist Ruggiero Ricci, the Juilliard String Quartet, and has led numerous "crossover" projects with Paco Pena, Joe Pass and Bill Frisell, chanteuse Ute Lemper and Turkish music specialist Burhan Oeca.
A featured artist at numerous guitar festivals, Fisk has performed as soloist with major orchestras and in prestigious concerts halls across the globe, and is the founder and artistic director of Boston GuitarFest, an annual cross-disciplinary event co-sponsored by the New England Conservatory and Northeastern University. In addition to his performing and recording career, Fisk has taught since 1989 at the Mozarteum in Salzburg and is also on the faculty of the New England Conservatory.
Fisk's recent awards include the "Cruz de Isabel la Catolica," bestowed on him in 2006 by Spain's King Juan Carlos for his service to the cause of Spanish music, and the 2010 Krasner "Teacher of the Year" Award from the New England Conservatory.