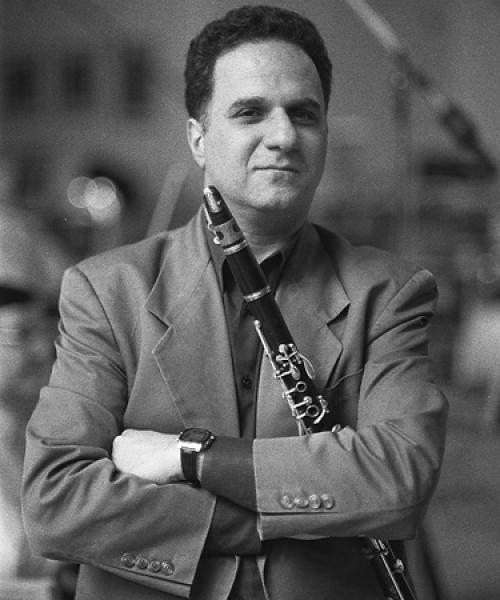 Clarinetist David Krakauer, who grew up in New York City, is a graduate of The Juilliard School and the Paris Conservatoire. As a member of the Aspen Wind Quintet, he won the Naumburg Chamber Music Award in 1984. He is now a leading exponent of the Eastern European klezmer idiom, as well as a major interpreter of the classical repertoire. He has been heard around the world with his Klezmer Madness! ensemble, and his compositions for the group, while firmly rooted in traditional klezmer-type folk tunes, also pay homage to jazz, rock, experimental, classical, and funk. He has appeared as guest soloist with such groups as the Tokyo String Quartet, the Chamber Music Society of Lincoln Center, the Berlin Radio Orchestra, and the Kronos Quartet, among other leading ensembles and orchestras worldwide.
Krakauer's discography is extensive. His critically acclaimed release A New Hot One on the French jazz label Bleu was awarded France's prestigious Diapason d'Or. Klezmer, NY (1988), on John Zorn's Tzadik label, features Krakauer's suite A Klezmer Tribute to Sidney Bechet, commemorating the legendary jazz clarinetist's 100th birthday. Krakauer's other recordings include the groundbreaking Rhythm and Jews with the Klezmatics and In the Fiddler's House with violinist Itzhak Perlman and the Klezmatics. He has been profiled in The New York Times, The New Yorker, and the International Herald Tribune. In October 2000, the European arts television channel Arte aired a fifty-four-minute feature film about Krakauer's life and work. He is a member of the clarinet and chamber music faculties of Mannes College of Music, the Manhattan School of Music, NYU and the Bard College Conservatory of Music.
Krakauer is cofounder, with musician and DJ Josh Dolgin (aka "SoCalled") and trombonist Fred Wesley (James Brown, George Clinton), of the klezmer-funk band Abraham Inc. Composers who have written major pieces for him include Osvaldo Golijov, Mohamid Fairouz, David del Tredici, Paul Moravec, Ofer Ben-Amots, Jean Philippe Calvin, George Tsontakis, Anthony Coleman and Wlad Marhulets.