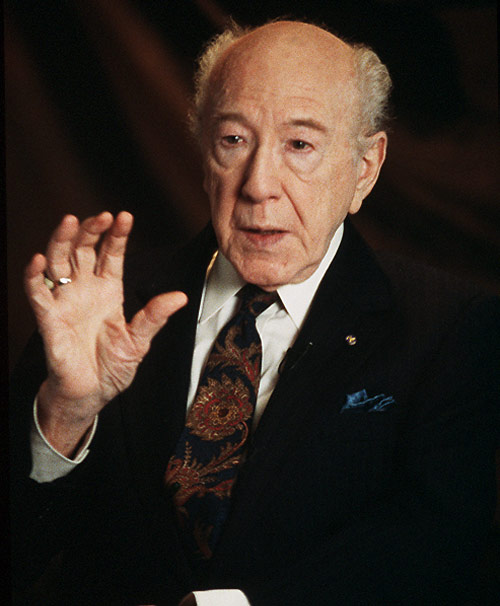 For more than five decades David Leo Diamond figured prominently among mainstream American composers. Born in Rochester, New York, to Yiddish-speaking immigrant parents from the area around Lemberg, Galicia (now Ukraine), he received a typical Jewish religious education in the local afternoon Hebrew school. At the age of seven he displayed musical gifts on the violin, which he learned to play initially on his own, and he began composing small pieces while still a child—also without formal instruction. There followed violin lessons at public grammar school and, briefly, while his family was in temporary residence in Cleveland, Ohio, during the 1920s, some studies at the Cleveland Institute of Music. Later, he was awarded a scholarship at the Eastman School of Music, in Rochester, where he studied with Bernard Rogers. The premiere of his first orchestral work, a one-movement symphony, was conducted by Eastman's resident composer and composition department chairman, Howard Hanson.
As a student in Rochester, Diamond was fascinated by the cantorial art he heard in the local synagogue and at concerts given by visiting cantorial celebrities—especially, as he could still recall more than seven decades later, the famous Yossele Rosenblatt (1882–1933). Diamond also developed an intellectual interest in Jewish music history, acquainting himself with much of the available literature. During his studies with Rogers, he began writing short pieces that incorporated Jewish themes and modes.
Before completing the course at Eastman, however, Diamond left for New York City, where he became a pupil of Roger Sessions and studied at the Dalcroze Institute. Sessions, like Rogers, had been a student of Ernest Bloch, and Diamond always felt that this provided him an indirect yet significant influence of that acknowledged 20th-century master.
Shortly after arriving in New York, Diamond introduced himself to Lazare Saminsky (1882–1959), then the music director at Temple Emanu-El, the city's flagship Reform congregation. Saminsky, an established and respected composer in the general music world who was also one of the major personalities on the American Jewish music scene, took an interest in the young composer's gifts and became something of a patron. He invited Diamond to write various liturgical settings for Emanu-El's services, and Diamond continued on his own to add to that repertoire. Saminsky's encouragement proved significant on several levels: "It was really Mr. Saminsky who got me writing more and more," Diamond later acknowledged. In those initial New York years Saminsky also introduced him to the highly regarded and well-established American-born composer, the first composition professor at The Juilliard School, Frederick Jacobi (1891–1952), who, like Diamond, included Judaically related works among his overall opera. Jacobi quietly organized some private financial assistance for Diamond to help him continue his studies and pursue his artistic goals.
Critics and commentators have observed in Diamond's early style the distinct influence of both Eric Satie and Ravel. He has continued throughout his life to admire Ravel's music as "the most perfect, the most imaginative, and the most moving contemporary music." Diamond's reliance on traditional structures and contrapuntal techniques was refined during his work with Sessions. One of his first successful works to emerge from that period was Sinfonietta (1935), inspired by Carl Sandburg's poem "Good Morning America." It was awarded the Elfrida Whiteman scholarship (for which George Gershwin was one of the judges) and was premiered in 1936 by the Philadelphia Orchestra conducted by Paul Whiteman. That same year, a commission for a ballet score for Léonide Massine (which, in the end, did not materialize as a ballet) brought Diamond to Paris, where he fraternized with a circle of composers, writers, and other artists that included Ravel, Milhaud, Joyce, Gide, as well as Roussel, to whom he dedicated his Concerto for String Quartet (1936). Following the premiere of his first violin concerto, in 1937, Diamond returned to Paris to study—as did many young aspiring American and other composers—with the legendary Nadia Boulanger. Soon afterward his Psalm for Orchestra (dedicated to Gide), for which he acknowledged Stravinsky's musical advice, was premiered in San Francisco under Pierre Monteaux's baton and received the Juilliard Publication Award. After a one-year return to New York, a Guggenheim Fellowship enabled him to go back to Paris for a second round of studies with Boulanger, and he remained there until 1939. That period saw the composition of Elegy in Memory of Maurice Ravel (who had died in 1937); Heroic Piece and Concert Piece, both for orchestra; and a cello concerto. Two symphonies followed his return to the United States after the commencement of the Second World War. The first was premiered by the New York Philharmonic conducted by Dimitri Mitropoulos, and the second, subtitled "A War Symphony," was first performed by the Boston Symphony Orchestra under Koussevitzky in 1944.
During the mid-and late 1940s, Diamond often supported himself at least partly by playing violin in live radio-station and theater-pit orchestras. During that period he wrote Rounds, for string orchestra, on commission from Mitropoulos, which won the New York Critics Circles Award and which remains one of his most popular works. He also wrote two further symphonies (no. 4 was premiered by a young Koussevitzky protégé, Leonard Bernstein); a piano concerto; and a second violin concerto. In general, beginning with Rounds, these postwar works exhibit a move toward a more relaxed diatonic-modal approach. During the same time frame he also wrote incidental music for theatrical productions: Shakespeare's The Tempest (1944) and Romeo and Juliet (1950), and Tennessee Williams's The Rose Tattoo (1951).
In 1951 Diamond spent a year at the University of Rome as a Fulbright professor and then lived in Florence until 1965. His music of those years in Italy became increasingly chromatic, reflective of contemporaneous developments, but he never employed, nor did he embrace, atonality. In fact, Diamond adheres to the view that "atonal" is a misnomer as it is generally applied, since unavoidable tonal poles render truly atonal music impossible. His own fleshed-out brand of chromaticism during the 1950s is well exemplified in The World of Paul Klee (1957), a series of musical reflections of Klee's paintings.
The frenzy of interest in both electronic and aleatoric music that swept up so many composers during the 1960s and 1970s held little or no attraction for Diamond. He continued freely to pursue, refine, and expand his own chromatic and contrapuntal techniques fully within 20th-century harmonic and stylistic contexts, but he could not relate to the notion of chance elements in his work. "The aleatoric business is simply not music!" he once said. In some perceptions, this attitude landed Diamond somewhere on the moderate-to-conservative side of the compositional spectrum of those decades, and certainly not on the avant-garde wing.
Diamond returned permanently to the United States in 1965. Celebrations of his fiftieth birthday that year included the premiere of his fifth symphony by the New York Philharmonic, conducted by Bernstein. Others of his symphonies (numbering eleven in all) have received premiere performances by conductors Charles Munch, Eugene Ormandy, Kurt Masur, and Gerard Schwarz. And no. 11 (1991) was commissioned by the New York Philharmonic in celebration of its 150th anniversary. His body of work also includes seven string quartets, as well as much vocal music—reflecting his lifelong interest in poetry and dramatic literature. Among Diamond's best-known vocal works are To Music (1967), a choral symphony on texts by John Masefield and Henry Wadsworth Longfellow; and The Sacred Ground, commemorating Lincoln's Gettysburg Address on its centenary. His dramatic scores include Mirandolina (1958), a musical comedy based on Goldoni's La Locandiera; and a folk play, The Golden Slippers (1965). Following a commission from the National Opera Institute in 1971, Diamond wrote The Noblest Game, to an original libretto by Katie Loucheim, for New York City Opera. An unusual story, the scenario concerns the intrigues of powerful government figures in Washington following "a recent war" (with unspecified parallels to Vietnam). The opera was completed in 1975 but abandoned by City Opera.
Interested in guiding young composers and perpetuating a continuum of American music, Diamond has always reserved time for teaching. In the mid-1960s he taught at Manhattan School of Music, in New York, and in the early 1970s he was a visiting professor at the University of Colorado at Boulder. From 1973 until 1986 he was a professor of composition at The Juilliard School, and he continued teaching after his retirement, until 1997.
Diamond's many honors and awards have included the William Shuman Lifetime Achievement Award (1986), the Gold Medal of the American Academy of Arts and Letters (1991), and the Edward MacDowell Gold Medal for Lifetime Achievement. In 1995 he was presented with the National Medal of Arts at the White House.
Diamond's personal artistic credo was encapsulated in a 1964 article in The Music Journal, which cited a statement from his diary: "Technical proficiency or skill in composition can never replace imagination or fantasy; yet, imagination run rampant can destroy musical values and reduce them to the level of exhibitionist and narcissistic futilities." Controlled imagination has remained nonetheless one of his chief criteria and has permeated all his efforts. "Without imagination," he has been quoted as asserting, "[the music] will only be notes on paper."
David Diamond died of congestive heart failure on June 13, 2005, just shy of his 90th birthday.
By: Neil W. Levin