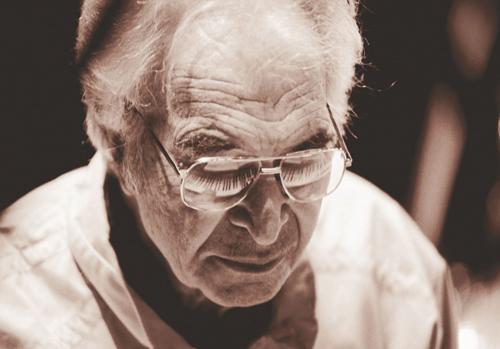 Dave Brubeck maintained an active and highly decorated career as a composer and performer for more than six decades. And while he is probably most widely known as a jazz musician, his body of work encompassed classical and choral music, as well as liturgical pieces, and often reflected his interest in working beyond the boundaries of genre and style. Of equal importance is the fact that his commitment to social justice remained a core value throughout his career and infused some of his most important works.
Brubeck was born in Concord, California and grew up on a ranch—run by his father—in the foothills of the Sierra Nevada mountains. He first learned piano from his mother, a classical pianist (and pupil of two of the century's great piano masters, Tobias Matthay and Dame Myra Hess) who favored playing music to the point that she forbade her children from listening to the radio. In spite of this, Brubeck was exposed to a wide variety of music, and was playing in local dance and jazz bands by age 13.
Though music was an integral part of his upbringing, when he entered the College of the Pacific (now University of the Pacific) in Stockton, California he was planning on a career in ranching like his father. Already playing music professionally, he switched his major to music. It was also at the College of the Pacific that he met Iola Whitlock, who in addition to later becoming his wife, was also at times his manager and artistic collaborator throughout their 70-year-long marriage.
Upon graduating from college he was drafted into the Army during World War II. But once his commanding officer heard him play music he was recruited to perform for soldiers. In an Army that was still segregated, he formed a band that included an African American trombone player. After the war, while touring the U.S. with his quartet (which included African American bassist Eugene Wright), Brubeck cancelled numerous performances in venues that refused to host a mixed-race band.
When he returned from service, he enrolled at Mills College in California where he studied composition with Darius Milhaud. Milhaud encouraged Brubeck to pursue both jazz performance and composition. His first ensemble was an octet that consisted of five of Milhaud's students and performed music influenced by Milhaud's teachings. Brubeck maintained a close relationship with Milhaud throughout his life, and even named his first son Darius in honor of the great composer.
It was in the Army band that Brubeck first met saxophonist Paul Desmond. One of the most important collaborators of Brubeck's career, Desmond wrote the quartet's most famous tune, Take Five, and in the words of The New York Times critic, Ben Ratliff, served as the "perfect foil" for Brubeck's "densely chorded" piano style. The Dave Brubeck Quartet was in high demand throughout the 1950s and achieved significant popularity through a series of college tours organized by his wife Iola. So great was their renown that Brubeck became the second jazz musician ever featured on the cover of Time magazine in 1954 (Louis Armstrong was the first in 1949). The quartet disbanded in 1967, but reformed various times and in various guises over the years—most recently with saxophonist Bobby Militello, bassist Michael Moore, and drummer Randy Jones—and maintained an active performance schedule through 2010. (The Milken Archive recorded the quartet performing Brubeck classics and jazz standards in 2007 during the recording session for The Commandments; see the Videos tab on the left.)
Dave Brubeck with activist Ralph Abernathy
His first work for orchestra was Elementals (1963), combining jazz and symphony orchestra, and his first major choral work, The Light in the Wilderness (1967), was both premiered and recorded by the Cincinnati Symphony. In 1959 his quartet premiered and recorded his brother Howard's "Dialogues for Jazz Combo and Orchestra" with the New York Philharmonic with Leonard Bernstein conducting. In 1960 he composed "Points on Jazz" for the American Ballet Theatre, and in later decades composed for and toured with the Murray Louis Dance Co. His musical theater piece "The Real Ambassadors" starring Louis Armstrong and Carmen McRae was recorded and performed to great acclaim at the 1962 Monterey Jazz Festival. Other large-scale works include the mass setting To Hope! A Celebration; several oratorios and cantatas; the Chromatic Fantasy Sonata, inspired by Bach (his favorite composer) and premiered at Washington's Kennedy Center by the classical chamber group An die Musik; and numerous piano pieces and orchestral works, as well as his 1969 oratorio The Gates of Justice and its companion piece (composed nearly 40 years later), the single-movement cantata, The Commandments, both recorded by the Milken Archive and featured in Volume 15—Swing His Praises: Jazz, Blues, and Rock in the Service of God.
Brubeck received many honors and awards, including a Lifetime Achievement Award by the National Academy of Recording Arts and Sciences, and the National Medal of the Arts, presented to him by President Clinton in 1994. In 2000, he was elected to the American Jazz Masters, a group recognized by the National Endowment for the Arts, for unparalleled achievements and contributions to  jazz. In 2008, he received a Benjamin Franklin Award for Public Diplomacy. And, in 2009, he was bestowed a Kennedy Center Honor, one of the United States' most prestigious awards recognizing outstanding achievement in the performing arts.
The Dave Brubeck Quartet's 1959 album Time Out broke new ground by incorporating uneven time signatures and polytonality into a jazz framework—at once expanding the genre toward greater complexity and, paradoxically, making it more appealing to uninitiated listeners. In a 1997 interview with Larry Blumenfeld, Blumenfeld asked Brubeck if he found it ironic that he once innovated something heretical in jazz but eventually came to represent the genre's orthodoxy. Brubeck responded: "That's what history is all about, isn't it?"
He passed away on December 5, 2012, one day before his 92nd birthday. PBS NewsHour had this remembrance.
By: Neil W. Levin and Jeff Janeczko