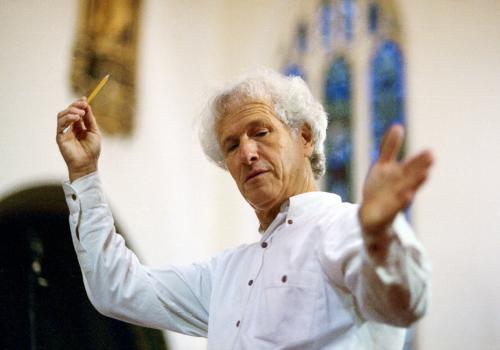 Avner Itai has been Israel's foremost choral conductor for more than four decades, a status paralleled in his long tenure at the The Buchmann-Mehta School of Music at Tel Aviv University. Born on the kibbutz Kfar Giladi in Upper Galilee, he was deeply influenced as a child by its rich musical activity, which retained a continuity with the choral traditions brought by earlier settlers from Europe and further developed on the ideological and cultural soil of Jewish Palestine and Israel.
Although he studied conducting at the Schola Cantorum in Paris, Itai began his professional life playing the oboe, becoming principal oboist of the Israel Chamber Orchestra. It was the American conductor Robert Shaw who inspired him to focus his activities on choral music and conducting. Returning to his kibbutz at twenty-five, Itai became conductor of the United Kibbutz Choir (Hakibbutz Ham'uhad), which toured and recorded an exciting repertoire of a cappella and orchestrally accompanied works.
Itai founded the Camaran Singers (the first semiprofessional Israeli choir) and was conductor of the Ihud Choir for more than thirty years. With both ensembles he toured to great acclaim throughout the world, giving nearly fifty concerts annually. His Collegium Tel-Aviv made its debut at the Musica Sacra festival in Nazareth. He is particularly dedicated to his "Songs for Peace" concerts, which tour Europe and feature sacred works of three religions as well as an Arabic choir from Israel.