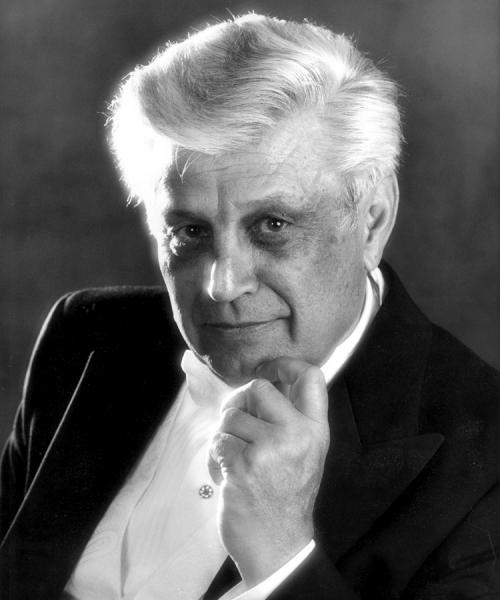 Born in Tel Aviv, Abraham Kaplan first came to wide public attention in the United States following his American debut in 1962 as a young choral director and conductor. He subsequently gained recognition as a composer as well. His father, Shlomo Kaplan—the son of an eastern European cantor and choir conductor—came to Israel from Poland in the 1920s and was a prominent choral conductor and music pedagogue in Israel. He taught at the Jerusalem Academy of Music and was head of the music department of the Histadrut (the United Federation of Labor Unions of Israel) prior to statehood and until the end of his life, in 1974.
Abraham Kaplan sang in his father's choirs as a young boy and soon became the leader of a choir at a kibbutz near the Lebanese border and a music teacher in high schools. He acquired his formal music education at the (former) Israel Academy of Music in Jerusalem, graduating in 1953, and he made his professional debut directing the Kol Yisrael (Voice of Israel radio) chorus in 1952 at concerts in Jerusalem, Haifa, and Tel Aviv. He was subsequently engaged as its permanent director, and he prepared it in 1954 for the world premiere of Darius Milhaud's opera David.
Kaplan came to America in 1954 on a scholarship to study at the Aspen Music School and for advanced studies at The Juilliard School, where he was awarded the Damrosch Prize in conducting and a postgraduate diploma in 1957. He also attended the Berkshire Music Center at Tanglewood (1956 and 1961) as both a choral and an orchestral conductor. His principal teachers were William Steinberg, Hugh Ross, and Frederick Prausnitz for conducting; and Milhaud for composition. He returned to Israel during the 1958–59 season, but soon afterward he was invited to bring an Israeli chorus to New York for an "All-Israel" show at Radio City Music Hall. His decision to remain in America was bolstered by Juilliard's invitation to join its faculty as director of choral studies, a position he held with distinction from 1961 until 1977. He also taught during that period at the Union Theological Seminary in New York.
In 1962 Kaplan prepared the Juilliard chorus for its appearance at the opening night of New York's new Lincoln Center, at Philharmonic Hall (now Avery Fisher Hall), in an inaugural concert conducted by Leonard Bernstein. Many years of collaboration with Bernstein and the New York Philharmonic followed, with Kaplan preparing choruses for numerous concerts and recordings—including the premieres of such major Bernstein works as the Kaddish Symphony and Chichester Psalms. Kaplan conducted many important premieres of choral-orchestral works, such as Robert Starer's Joseph and His Bretheren, Vincent Persichetti's Stabat Mater, and George Rochberg's third symphony. He also founded the Camerata Singers, his own professional chorus, which he conducted both in New York and on tours for many years and with which he made a number of important recordings; and he directed New York's Collegiate Chorale as well.
During the 1969–70 season—which saw the founding of the Symphonic Choral Society of New York and the debut of the Camerata Symphony Orchestra, both under his direction—Kaplan was critically praised as an orchestral maestro as well as a choral conductor. During his career he has also guest conducted numerous ensembles, including the Israel Philharmonic, the St. Louis Symphony, the Calgary Philharmonic, the San Francisco Opera, and the Seattle Symphony.
In 1968 Kaplan became the director of choral activities at New York's prestigious Park Avenue Synagogue, where, over a period of more than thirty years, he conducted premieres of many new works by major composers at the synagogue's annual new music services. He also began composing his own liturgical settings for these services. In 1977 he relocated to Seattle to begin his tenure as director of choral studies at the University of Washington, and he was also associate director for choral activities of the Seattle Symphony.
In the early 1970s Kaplan began turning his attention with increasing intensity to composition. His first major work was his oratorio, Glorious (1973). Among his subsequent major works are Arvit l'shabbat, a complete Sabbath evening service; the K'dusha Symphony, which was recorded with soprano Roberta Peters; Crystal Cathedral Psalms; and Psalms of Abraham, featured here. His college textbook, Choral Conducting, was published by W.W. Norton in 1985 (twice reprinted) and is widely used at conservatories and college music departments throughout the United States and Canada.
By: Neil W. Levin