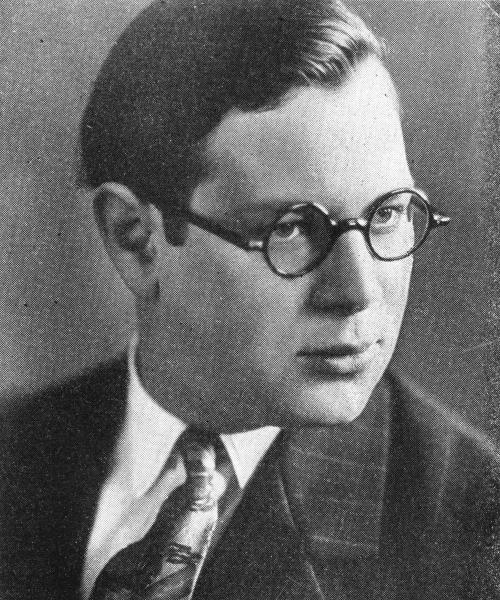 Among the major names associated with the heyday of the American Yiddish theater as songwriters, composers, orchestrators, and conductors, Abraham Ellstein was the only one born in America. He is generally considered one of the "big four of Second Avenue," along with Sholom Secunda, Joseph Rumshinsky, and Alexander Olshanetsky. Ellstein, though he may be remembered most widely for some of his theatrical "hit" songs, went further than the others in the classical realm, and he considered his theater career only part of his overall artistic contribution.
Ellstein was born on New York's Lower East Side, one of the most concentrated eastern European Jewish immigrant areas. As a boy chorister in local synagogues, he was exposed early on to the intricacies of hazzanut. He received his early musical training at the Third Street Settlement House and sang in the Metropolitan Opera Children's Chorus. He is said to have written a short opera at the age of eight. At only thirteen he conducted a boy choir in John Barrymore's Broadway production of Richard III.
Ellstein was later awarded a scholarship to The Juilliard School, and he made his debut as a theater composer with music for B. Epelboym's play Gerangl (Struggle), performed by a theater troupe from Vilna. This was the first of thirty-three scores for Yiddish theater. By the 1929–30 season he was engaged as resident composer and music director at Ludwig Satz's Folk Theater. After touring Europe as pianist for actor-singers Dave Lubritsky and Dina Goldberg, Ellstein moved to the Public Theatre as resident composer and director for the 1930–31 season.
While on tour with Molly Picon in Europe and South America, as her arranger, accompanist, and conductor, Ellstein wrote new music especially for her performances of Goldfaden's Shmendrik, and for the "operetta" that once played on Second Avenue, Oy iz dos a meydl (O, What a Girl!). Ellstein also later wrote two film scores—Mamele and Yidl mitn fidl—for Molly Picon, which became "Jewish box-office hits." Among his many other successful theater scores was A bisl mazl (A Bit of Luck), which featured Menashe Skulnick singing his famous rendition of "The Scotchman from Orchard Street."
Active for many years in Yiddish radio, Ellstein had regular programs on WEVD, where he produced and presented a variety of Yiddish folk as well as theater music and cantorial selections. Several of his best-known Yiddish theatrical-type songs were written specifically for these radio broadcasts. He directed a weekly broadcast devoted to liturgical music, The Song of the Synagogue, which featured many of the most beloved cantors with his choral ensemble. Ellstein also wrote and arranged for Broadway, general radio and television, as well as "pop" concerts and even some British and American film shorts.
He was in great demand as a pianist and conductor for cantorial concerts and recordings, and was Yosele Rosenblatt's pianist for his European and American tours. Ellstein's cantorial orchestrations in particular are considered the most stylistically classical in that genre. He conducted synagogue choirs for many years, especially for High Holy Day services, for which he wrote a good deal of traditional cantorial-choral music, most of which remains unpublished. He also wrote two modern Sabbath services, commissioned by the Metropolitan Synagogue in New York.
On a visit to Prague, Ellstein became fascinated with the Golem legend, and while there he wrote a short piece based on it that he later used as the basis for his opera The Golem.
Among Ellstein's other important classical works are two oratorios: Ode to the King of Kings—televised on CBS and sung subsequently by Jan Peerce—and Redemption, based on the Hanukka story and premiered posthumously at a Cantors Assembly Convention with a subsequent CBS telecast. Apart from his actual synagogue music, his concert cantorial settings remain popular and are frequently performed.
By: Neil W. Levin