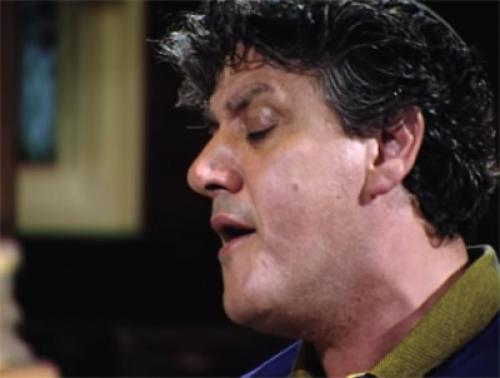 Born in Mogador (now Essaouira, near Agadir), Morocco, Cantor Aaron Bensoussan is the scion of an illustrious family in the history of Moroccan Sephardi Jewry. His paternal grandfather, Rabbi Hayyim David Bensoussan, was the Chief Dayan (rabbi and rabbinical judge) of Morocco, and his great-grandfather, Rabbi Avraham Bensoussan, also a dayan as well as a kabbalist, is thought to have been a direct descendant of the medieval rabbi Yehuda ben Soussan, who reputedly was a teacher of Moses Maimonides. Avraham Bensoussan is still remembered among Jews of Moroccan background as one of the most revered rabbis to emerge from the city of Fez.
Aaron Bensoussan displayed musical interests and gifts at an early age. He began learning liturgical modes and melodies of piyyutim (liturgical poems) from his father, and while he was still a youngster, he prevailed upon his parents to organize studies on the oud (an Arabic type of lute) with a well-known master of the instrument. In the aftermath of Israel's victory in the Six-Day War in 1967, his parents—concerned for the future of Moroccan Jewry in an Arab nation that had been nominally allied with Israel's enemies—sent him to America, where his older brother was already living.
Bensoussan attended several prestigious yeshivot (talmudic academies) of the Orthodox world in America, with the initial aim of becoming a rabbi. But he developed a fascination with traditional Ashkenazi hazzanut (cantorial art) and familiarized himself with the recordings of many of the legendary cantors. When he decided to change course and pursue cantorial studies, he was accepted by the Cantors Institute (now the H. L. Miller Cantorial School) of the Jewish Theological Seminary. There, he studied with such great masters of hazzanut as David Kusevitsky and Max Wohlberg, and he received his ordination in 1986. "They took a rough diamond and put some polish on it," he remarked ten years later. Meanwhile, in order to safeguard his precious Moroccan Sephardi musical heritage against the unavoidable forces of acculturation and exposure to the very different sounds of Ashkenazi tradition, Rabbi Morton M. Leifman, the dean of the school, organized private tutorial courses (almost as a condition for his acceptance), in which Bensoussan recorded for posterity the intricate modalities, patterns, and tunes of his family's traditions. Under the guidance of Dr. Neil Levin, who had joined the faculty the same year Bensoussan entered the school (1982), these traditions were analyzed and in some cases notated. Bensoussan is thus a unique phenomenon among today's cantors—equally versed in both traditions and able to program them in a single concert while retaining the integrity of each. "Even though I feel very comfortable with the Ashkenazi ritual and with Ashkenazi hazzanut," he remarked in a 1999 interview in London, "I still have that Moroccan in me that wants to go back to its tradition."
Bensoussan has served three important pulpits since his ordination and has been the cantor of Congregation Beth Emeth Bais Yehuda in Toronto since 1999. He has appeared as guest cantor and as a soloist in concerts throughout North and South America, Europe, Israel, and Australia. Before the fall of the Iron Curtain and the disintegration of the Soviet Union, he went to Moscow as a representative of the American Society for the Advancement of Cantorial Arts to lead services in the Moscow Choral Synagogue, and he also gave concerts in Romania and Yugoslavia. He was one of the soloists at the concert at the Mann Auditorium in Tel Aviv commemorating the twenty-fifth anniversary of the death of the cantorial giant Moshe Koussevitzky.
Bensoussan's concert repertoire comprises masterpieces of Ashkenazi cantorial tradition, Sephardi liturgical expressions and improvisations in a uniquely virtuoso style, classics from the Ladino and Judeo-Moroccan literature, and his own compositions, which lean heavily on his North African Sephardi heritage. In the early 1990s, together with Greek-born Cantor Alberto Mizrahi and Gerard Edery, he founded the trio Sons of Sefarad—an ensemble that has performed extensively in the United States and abroad, offering innovative programs of Sephardi music.
During his tenure in Toronto, Bensoussan has composed many songs to liturgical, para-liturgical, and secular Sephardi texts. Many of these combine Ashkenazi and Sephardi elements set against a tapestry of Near Eastern rhythms, flamenco, and even jazz. Among the nine recordings to his credit as of 2008 are East and West; Sepharad 92, a commemoration of the 500th anniversary of the expulsion of the Jews from Spain; Joyous Chants, an orchestrally accompanied selection of piyyutim; and Keter-Zohar, a fusion of jazz and Near Eastern music on the Knitting Factory–Jewish Alternative Movement (JAM) label, with jazz pianist Uri Caine.
In 1999 Bensoussan, as a solo artist with the New York–based Schola Hebraeica men's chorus, toured England as part of the Sacred Music Village—a multifaith international festival of liturgical music. And in 2001 he performed at London's Bevis Marks Synagogue on the occasion of its 300th anniversary.
By: Neil W. Levin