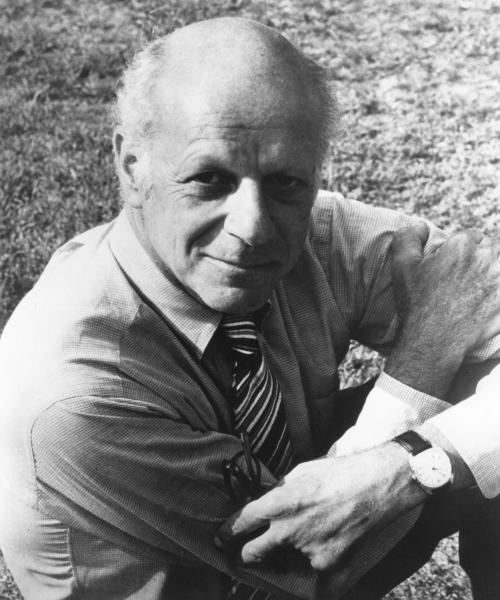 As one of the leading and most recognized American composers for more than a half century, William Howard Schuman juggled a tripartite musical life in which he made equally lasting imprints in the fields of music education and arts administration. Born in New York City's borough of the Bronx, he played violin and other instruments in childhood, but his musical pursuits in his teenage years were extracurricular, centering around jazz, popular, what was once called semi-classical, and Broadway music rather than classical genres. As a high school student, he organized a dance band, Billy Schuman and His Alamo Society Orchestra, which he directed and in which he played string bass at local festivities.
Schuman's career path seemed to lean in the direction of business. He entered the School of Commerce at New York University to work toward a business degree, and during the two years he was there, he also worked part-time for an advertising agency. While he was in high school, he started writing popular songs, and he continued that pursuit in collaboration with E. B. Marks, whom he had known from summer camp. He also wrote about forty songs with the lyricist Frank Loesser, who was just beginning his rise to stardom in the world of Broadway musical theater. "In Love with a Memory of You," Loesser's first published song, was written with Schuman, and as a team they wrote songs for radio broadcasts, vaudeville, and nightclubs—none of which ever became hits (as did, of course, songs Loesser later wrote with other songwriters). It is estimated that Schuman wrote at least 150 popular songs by the age of twenty-five.
Schuman was a relative latecomer to the world of classical concert music—a phenomenon more remarkable in his day than it would be toward the turn of the 20th century, when career changes occurred with much greater frequency. But at age twenty he experienced an epiphany at his first symphony concert—a performance by the New York Philharmonic conducted by Arturo Toscanini, after which Schuman is said immediately to have determined to become a serious composer. He left New York University to devote himself to studying music theory—harmony and counterpoint—and composition. Making up for "lost time," he became an avid concert- and operagoer, and he entered Columbia University's Teachers College in 1933, where he earned bachelor's and master's degrees, thus beginning a lifelong commitment to music education and its improvement. In that same time frame he earned a certificate of conducting at the Mozarteum Salzburg, and he assumed his first teaching post, at Sarah Lawrence College, in 1935. He also began composition studies at The Juilliard School with the eminent American composer Roy Harris, who has been credited with exerting a profound influence on his musical direction. By the late 1930s some of Schuman's works were already receiving attention. In response to his second symphony, Aaron Copland wrote in a 1938 issue of Modern Music, "Schuman is, as far as I am concerned, the musical find of the year. There is nothing puny or miniature about this young man's talent." A year later Serge Koussevitzky conducted that symphony with the Boston Symphony Orchestra and also conducted the premieres of Schuman's American Festival Overture (1939); Symphony No. 3—which received the first New York Music Critics' Circle Award; A Free Song, a cantata based on poetry by Walt Whitman that was awarded the first Pulitzer Prize in music; and Symphony for Strings, which became one of Schuman's best-known works during his lifetime. But it was probably the third symphony that solidified his reputation as an established American composer.
While still on the faculty of Sarah Lawrence, Schuman became director of publications at G. Schirmer, Inc., the most familiar American publisher of classical music, and, in 1945, he assumed the presidency of Juilliard. There, he introduced a number of watershed innovations, not least of which was the merging of the standard—but traditionally separate—theory, music history, and repertoire courses into the sequence called "literature of materials of music"—fondly (or not, depending on who is asked to recall the experience) remembered by generations of Juilliard alumni as "L & M." He explained this and other views on music education in an issue of The Juilliard Report in 1953.
Schuman made it his goal to bring prominent American composers to Juilliard's faculty, and he established the Juilliard String Quartet—an ensemble of faculty members that not only spearheaded similar resident chamber groups at other conservatories and university and college music departments, but in its own right became one of America's leading string quartets and remains so to this day. Still, despite the demands on his energies in the administration and development of Juilliard, Schuman always considered himself primarily a composer.
He used his position as Juilliard's president to good advantage when he prevailed upon those at the helm of devising the structure of New York's new performing arts complex, Lincoln Center for the Performing Arts, to include Juilliard as one of its principal constituent institutions. In 1962 he was appointed president of Lincoln Center, which opened that same year with the inauguration of Philharmonic Hall (now Avery Fisher Hall) as the new home of the New York Philharmonic. The Juilliard School and Alice Tully Hall opened their doors there in 1969, following the New York State Theater in 1964, the Vivian Beaumont Theater and the Performing Arts Division of the New York Public Library in 1965, and the new Metropolitan Opera House in 1966. The Walter Reade Theater opened in 1991.
Schuman's position as Lincoln Center's president enabled him to exert a great deal of positive influence in the performing arts world. In addition to the principal institutions with permanent facilities there, a number of other important projects and programs were initiated and established during his tenure: the Chamber Music Society of Lincoln Center; summer promenade concerts by the New York Philharmonic; summer offerings by visiting opera companies; the Film Society of Lincoln Center; and the Lincoln Center Student Program. And he promoted American music by encouraging commissions for American composers as well as performances of American works.
After suffering a heart attack in 1968, he resigned from the Lincoln Center presidency in 1969 to concentrate more fully on composition. But he remained involved as president emeritus—a title he continued to hold at Juilliard as well. He also continued on part-time bases to contribute his administrative experience to many organizations in consultative or advisory capacities, including such programs as the BMI (Broadcast Music Incorporated) Student Composer Awards.
In his own work, Schuman tended heavily toward large-scale orchestral composition. Features most commonly described in his orchestral works are his broad, sweeping gestures and large blocks of sonorities often layered upon each other—sometimes representing the distinct choirs, or sections of the orchestra (i.e., brass, woodwinds, strings, percussion, and their subdivisions and combinations). There usually are solid tonal foundations, which are exploited imaginatively and enriched—such as fused major and minor tonalities. His eight symphonies ("eight symphonies numbered three to ten," he is said to have remarked, since he withdrew the first two) form the most significant part of his orchestral opera—together with his American Festival Overture and New England Triptych, which are among his most frequently programmed works.
Also one of Schuman's best-known works—sometimes cited as his single most popular piece—is his Variations on "America"—his orchestral arrangement (later done in a band version as well) of a theme and set of variations for solo organ by the American composer Charles Ives (1874–1954). Ives's theme is the patriotic hymn "America" ("My Country, 'Tis of Thee")—originally the melody of a German patriotic song, which Samuel Francis Smith discovered and adopted for his own lyrics in 1831 while he was a seminarian in Andover, Massachusetts, and which was adopted coincidentally as the tune for the British national anthem, "God Save the King/Queen." For much of the 19th century, "America" was sung with Smith's words as a de facto American national anthem, in the absence of an official one, until "The Star Spangled Banner" eventually replaced it—although the latter was not adopted by Congress as the national anthem until 1931. Through much of the 20th century as well, even after 1931, "America" still functioned unofficially as a secondary patriotic anthem, as did "America the Beautiful."
In his orchestral works Schuman showed himself to be a dedicated contrapuntalist. Contemporary composer and music annotator Bruce Saylor has pointed aptly to his "Baroque-like ostinato and fugato procedures" and has explained that "the subjects of his fugues or passacaglias may undergo substantial change during the course of a movement." Saylor has also characterized the finales of some of Schuman's symphonies as "almost apocalyptic."
Among his stage works is his 1951–53 one-act opera in three scenes, The Mighty Casey—based on Ernest L. Thayer's Casey at the Bat and reflecting Schuman's own childhood passion for baseball. Also in the realm of Americana, or inspired by American themes, are George Washington Bridge (1950), for concert band; Credendum (1955), the first musical work ever commissioned directly by the United States government; and On Freedom's Ground (to a text by Richard Wilbur, who was named United States poet laureate in 1987), which celebrated the hundredth anniversary of the Statue of Liberty and was premiered on the date of its rededication, in 1986. His last symphony, American Muse, premiered in Washington, D.C., in 1976.
Schuman's lighter, eclectic side is revealed in works such as Newsreel, in Five Shots for band (with an alternative orchestral version); Circus Overture (Side Show), in small as well as full orchestral versions; and a choral work, Mail Order Madrigals—settings of text material found in the 1897 Sears, Roebuck and Company catalogue.
Schuman had an abiding interest in verse, especially in American poetry. For many of his choral settings—a cappella as well as accompanied pieces—he drew on such prominent American poets as Walt Whitman, Langston Hughes, Edna St. Vincent Millay, Carl Sandburg, and Archibald MacLeish.
Schuman also was known for reworking a number of his pieces into alternative versions, after the original ones had been completed. For example, the cantata Casey at the Bat and Choruses from the Mighty Casey: The Orchestra Song and The Band Song are derived from that "baseball opera." In Sweet Music and A Song of Orpheus come from his earlier song, Orpheus with His Lute. And excerpts from New England Triptych—Chester and When Jesus Wept—were reorchestrated for band.
During his lifetime, accolades came from the two most ubiquitous American composers of their respective generations. Presenting Schuman with the MacDowell Colony Medal in 1971, Aaron Copland remarked, "In Schuman's pieces you have the feeling that only an American could have written them. . . . You hear it in the kind of American optimism which is at the basis of his music." And in 1980, as an introductory note to a documentary on Schuman by Christopher Rouse, Leonard Bernstein observed:
I have rarely met a composer who is so faithfully mirrored in his music; the man is the music. We are all familiar with the attributes generally ascribed to his compositions: vitality, optimism, enthusiasm, long lyrical line, rhythmic impetuosity, bristling counterpoint, brilliant textures, dynamic tension. But . . . what I treasure most: the human qualities that flow directly from the man into his works—compassion, fidelity, insight, and total honesty.
In addition to his concert orchestral and choral catalogue, Schuman wrote more than a dozen chamber works and five ballet scores. Among the many honors and awards he received, perhaps none was so prized by him as the 1988 Kennedy Center Honor, bestowed upon him "for an extraordinary lifetime of contributions to American culture."
By: Neil W. Levin