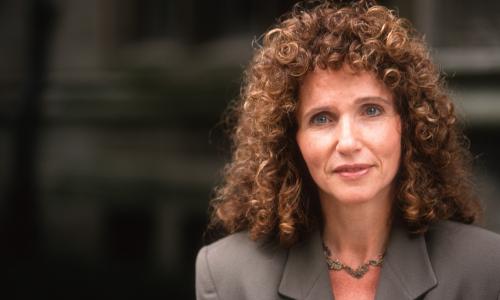 "Shulamit Ran has never forgotten that a vital essence of composition is communication," proclaimed critic John von Rhein of the Chicago Tribune following the world premiere of her work Legends by the Chicago Symphony Orchestra in 1993. Accolades on that level are by no means the exception: "gloriously human," "compelling not only for its white-hot emotional content but for its intelligence and compositional clarity," "magnificent composer," "superior quality of her musical imagination and artistic invention"—these critical assessments of her work are typical of reactions across the United States and abroad, despite her unwillingness even to consider diluting the complexity of her art for the sake of broader appeal.
Ran was born in Tel Aviv to parents who had immigrated to Mandatory Palestine from Europe before the Second World War. She commenced piano studies as a young child, almost immediately demonstrating her natural gifts, and by the age of eight she began to compose short songs and melodies. Two of her early songs were performed on an Israeli radio program, The Children's Corner, while she was still in her childhood. She studied at the Tel Aviv Conservatory for a time, but left in order to pursue serious composition studies with Paul Ben-Haim and also with Alexander Boscovich—two of the leading personalities in the Israeli composers' establishment of that time, both of whom had been instrumental in the development of a distinctive modern Israeli classical music and its so-called Mediterranean school. She continued her piano studies with Miriam Boscovich and Emma Gorochov.
At the age of fourteen Ran received a scholarship, along with further assistance from the America-Israel Cultural Foundation, to attend the Mannes School of Music in New York, where she studied composition with Norman Dello Joio and piano with Nadia Reisenberg. At that time her focus was set equally on composition and piano performance, and she acquired an outstanding reputation as a brilliant pianist on concert stages in the United States, Canada, Europe, Israel, and Argentina. She performed her own concert piano work, Capriccio, with the New York Philharmonic, conducted by Leonard Bernstein at a Young People's Concert, and she played the world premiere of her Concert Piece for piano with the Israel Philharmonic under Zubin Mehta's baton.
After a year as artist-in-residence at St. Mary's University in Halifax, Nova Scotia (1972–73), Ran decided to forgo her career as a pianist and devote herself entirely to composition. It was then that a recording of her arresting work O the Chimneys, a setting of five poems by Nobel laureate Nelly Sachs—for soprano, flute, clarinet/bass clarinet, cello, piano, percussion, and electronic tape—attracted the attention of the distinguished composer Ralph Shapey, a professor at the University of Chicago. In 1973 Shapey invited her to join its faculty as an assistant professor, where she has served ever since, eventually becoming the William H. Colvin Professor of Music. In addition to teaching and guiding doctoral candidates in composition, she has also coached chamber music and taught classes for non–music majors. In 1987 she was a visiting professor at Princeton University.
After she assumed her position at the University of Chicago, Ran, who became increasingly intrigued by Shapey's music, compositional procedures, and pedagogic techniques, asked him to teach her privately as a senior colleague. She worked with him tutorially on a postdoctoral basis for about nine months.
Among Ran's numerous awards, fellowships, grants, and commissions are those from the Martha Baird Rockefeller Fund, the Ford Foundation, the National Endowment for the Arts, the Guggenheim Foundation, the Fromm Music Foundation, Chamber Music America, the Eastman School of Music, the American Academy of Arts and Letters, the Koussevitzky Music Foundation, and many others. In 1987 the Philadelphia Orchestra commissioned her to write a symphony, which it premiered in 1990 and for which she received the Pulitzer Prize in 1991 and the first-place Kennedy Center Friedheim Award in 1992. Other major commissions have come from the Baltimore Symphony Orchestra, for Vessels of Courage and Hope, which it premiered in 1998 to commemorate the State of Israel's fiftieth anniversary; the Chamber Music Society of Lincoln Center, for Concerto da Camera II; the American Composers Orchestra, for her Concerto for Orchestra, performed subsequently by the Chicago Symphony, and then for another work for chorus and orchestra; the Taneyev String Quartet (Leningrad; now St. Petersburg), under the auspices of C. Geraldine Freund, for her second string quartet; and Lyric Opera of Chicago, where she was composer-in-residence from 1994 to 1997, for her opera, Between Two Worlds (The Dybbuk)—based on the famous Yiddish play about demonic possession written by S. An-Ski [Solomon Zainwil Rapaport] (in turn based on a Jewish folk legend from the Czarist Pale of Settlement that he had heard firsthand from an innkeeper's wife in 1912 during the Jewish Ethnographic Expedition in the Russian Empire). The opera, which premiered in Chicago in 1997, was described in Opera News as "the most powerful new music-theatre piece to emerge from Lyric's composer-in-residence program." Its European premiere was given in 1999 at the Bielefeld Opera, in a German translation.
Ran's Hyperbolae, for piano, won the competition for a set of pieces to be played by all contestants in the second Artur Rubinstein International Piano Competition in Israel in 1977. Her East Wind for solo flute was commissioned by the National Flute Association for its 1988 Young Artists Competition; and that organization also commissioned Voices, her flute concerto, for its 2000 convention.
Beginning in 1990, Ran was the composer-in-residence at the Chicago Symphony for seven seasons, as part of the Meet the Composers Orchestra Residency program. She was in charge of all the Chicago Symphony's contemporary music programming as well as its educational initiatives. In 1992 she was elected a fellow of the American Academy of Arts and Sciences. She has received honorary doctorates from Mount Holyoke College, Beloit College, Spertus Institute (Chicago), and the New School of Social Research in New York.
Ran's music is best described (to the extent that it can be described) as freely atonal or pantonal, though, as she has explained, it usually has tonal points of reference. But her musical language has been characterized frequently as growing out of the pointed, direct expressionist style—although in a 1991 interview she stated, "I don't know that I would use the word 'expressionist' in quite the same way I would have ten years ago." Certainly her approach to music expression is complex (and, by her own admission, for the most part undefinable), in stark contrast to fashions of so-called "accessibility" that have hovered over and even overtaken contemporary music since the 1990s—almost as remorse for the intellectual rigors of the 1960s and 1970s that date to the Second Viennese School—fashions that include minimalism as well as yet another round of neo-Romanticism (actually, neo-neo-Romanticism). Unlike many composers who at one time espoused nontonal expression, or at least refused to be bound by traditional or even "updated" tonality, she has stood her ground in her artistic integrity and devotion to artistic principles: "I want my music to challenge both the mind and the heart," she remarked in a 1991 interview following the announcement of her Pulitzer Prize, "and to do so in equal fashion." And she is dedicated to the multidimensional properties of serious music and the potential layer of experience it can and should generate:
I'm not interested in music that is one-dimensional, where what you heard the first time is what you get. I think music must reflect life, or at least, life as the composer sees it. I like to think that my music has been gradually evolving….
In the context of her brand of "free atonality," or nontonality, however, she has generally avoided restrictive systems, including strict serialist or other self-imposed schemes. "I'm not one for imposing an idea from 'without'—I like it to grow from within the piece itself," she has said. The corollary to this is her reliance on her auditory intuition. "On the whole," she observed in a series of interviews in the 1990s conducted by a graduate student at the University of California (Santa Cruz) in preparation for a master's thesis on Ran's music and life, "I would say that I am a very intuitive composer."
But, just as I said I am intuitive, I would also have to say that I place high demands on the inner ear of mine and at every step of my composing I always very, very closely check everything, both in terms of the most immediate, the particular cell or complex of notes, or whatever I am working with right there, but always look at how that functions within the context of the entire phrase, and always view how that phrase functions within the context of the section and the movement and the entire piece.… I work very carefully at the detail level, and very carefully at making that detail a part of the larger context.
Ran's natural propensity toward the dramatic is reflected not only in the music itself, but even in the nontraditional, nontechnical graphic indications found in some of her scores—directions such as "scream," "with breadth and passion," "get wilder," brooding," "sneaking," or "like a stuck record needle" (certain to baffle anyone under a certain age). And she often treats instruments as actors and actresses interacting on the stage:
There was a period of pieces where the thing that interested me was the potential of instruments to act like characters in a play—so that there were strong identifications between thematic materials and instruments and characters.
Indeed, it was that very quality that caught the interest of Chicago Tribune critic John Von Rhein in his comments about Ran's Concerto da Camera II: "Think of Ran's instruments as thinking characters on some vast music-theater stages of the mind, and you're halfway there!"
In some of her works from the 1990s on, she has incorporated elements and influences of Near Eastern traditional musics, evoking their modalities, cantillations, and flavors, yet subtly and liberally embedded within an overall pantonal aesthetic. One of her first such pieces is Mirage (1990), for flute, piccolo, amplified flute, clarinet, violin, cello, and piano.
As one of America's foremost composers whose gender happens to be female, Ran takes exception to the often politically overtoned label "woman composer," which she insists she is not. Rather, she thinks of herself simply as "a composer", as she once said after her introduction at an academic composers' conference. "I know what a woman is, and I know what a composer is," she remarked in a 1997 oral history interview for the Milken Archive, "and I have no idea what the two have to do with one another…. I do not think of music as being typed by gender. I find that whole topic to be not particularly interesting, actually. I'd like to write the best music that I possibly can." And she fears that the concern with gender could lead, intentionally or not, to two classes of composers—one "[on the level of] Beethoven, and on the other hand a class of composers as in 'women composers.' That, to me, is really very derogatory." If there are some composers—or writers, or painters, or any other artists—whose recognition might need the extra advantage of such labeling, Ran is not among them. Her place in 20th/21st-century music has been firmly established for more than three decades on the sole basis of her creative product.
A small sampling of her many important works in addition to those mentioned above or those in the Milken Archive includes Japanese Love Poems, for mezzo-soprano and piano (1968); Hatzvi Israel Eulogy, for mezzo-soprano, flute, string quartet, and harp (1969); Apprehensions, on poetry by Sylvia Plath, for soprano, clarinet, and piano (1979); Amichai Songs, to poetry by Yehuda Amichai, for mezzo-soprano, oboe/English horn, viola da gamba, and harpsichord (1985); Fantasy Variations, for cello (1979/1984); Excursions, for violin, cello, and piano (1980); Inscriptions, for solo violin (1991); Chicago Skyline, for brass and percussion (1991); and Invocation, for horn, timpani, and chimes (1994).
More recent works include Supplications, with a text drawn from Deuteronomy and fragments of three Psalms, for chorus and orchestra (2002); Bach-Shards, commissioned by the Brentano String Quartet as part of the quartet's Art of Fugue project (2002); Concerto da Camera III (Under the Sun's Gaze), an ensemble work  for nine players, commissioned by the Koussevitzky Foundation (2003–04); Fault Line, for chamber ensemble, commissioned by the Chicago Symphony for MusicNOW (2005–06); Ha'llel, for solo organ, commissioned by the American Guild of Organists (2006); Soliloquy II, for solo violin, string ensemble, and percussion, premiered at the Yellow Barn Festival, Amherst, Massachusetts, with Violaine Melancon, solo violin (2007); and Credo/Ani Ma'amin, part of And on Earth, Peace: A Chanticleer Mass, commissioned by the twelve-man vocal ensemble Chanticleer (2007).
By: Neil W. Levin