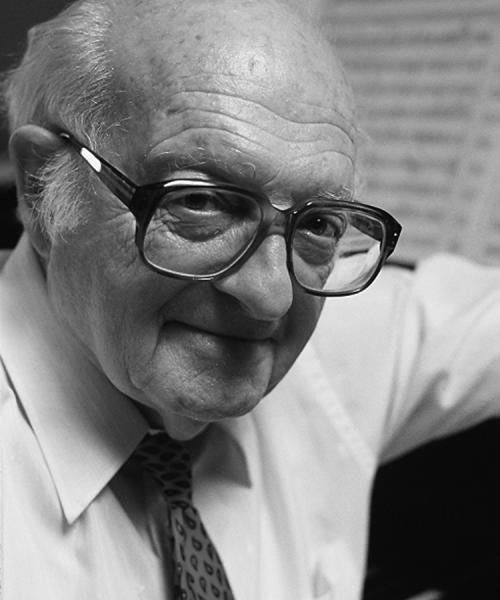 For many decades Robert Strassburg figured prominently in the general musical life and Jewish cultural circles in the Los Angeles area. Born in New York, he studied and worked with Igor Stravinsky, Walter Piston, and Paul Hindemith—with whom he studied at Tanglewood on a Boston Symphony scholarship. After bachelor studies at the New England Conservatory, he received his master's degree from Harvard, where he was the recipient of a fellowship in composition. Later, he earned a doctor of fine arts degree at the University of Judaism in Los Angeles.
Throughout his life, in addition to writing prolifically, Strassburg was dedicated to teaching. He was chairman of the composition and theory department at the Philadelphia Music Settlement School (1943–47), he lectured at Brooklyn College (1947–50), and he was on the inaugural faculty of the Brandeis Institute, directing the music program at its camp in Hendersonville, North Carolina. He was also an artist-in-residence and taught at the Brandeis Arts Institute, a subsidiary program of the Brandeis Camp, for five summers (1951–55) in Santa Susana, California. There, Strassburg was able to share his artistic experience with such future composers of distinction as Yehudi Wyner, Jack Gottlieb, and Charles Davidson. At the same time, he benefited from contact and dialogue with such esteemed fellow composers as Paul Ben-Haim, Mario Castelnuovo-Tedesco, Erich Zeisl, Julius Chajes, and many others.
In 1960, Strassburg moved to Los Angeles. He served as assistant dean of the School of Fine Arts at the University of Judaism (now American Jewish University) until 1966, when he became a professor of music at California State University (Los Angeles). There, he also established and directed the Roy Harris Archives and published a catalogue of Harris's works. Strassburg composed in nearly all principal classical media, and his own substantial catalogue includes many Judaically related works, secular as well as sacred. During his tenures as music director at various synagogues—first in Florida and then in Los Angeles—he developed a particular interest in liturgical music, and he composed numerous prayer settings. Liturgical as well as Jewish historical themes also informed a number of his instrumental pieces, including the Festival of Lights Symphony for string orchestra, for Hanukka; a Torah Sonata for piano (with a version for string quartet, Tropal Suite); Tercentenary Suite, for viola and piano; Patriarchs, four biblical portraits for string orchestra; and A Gilgul fun a Nign (Migrations of a Melody), on a text by Isaac Leyb [Yitskhoh Leyb/Leybush] Peretz, for baritone, narrator, and chamber orchestra. He also wrote a number of Jewish art songs and folksong settings, all in addition to his general—viz., not Judaically related—chamber music.
Apart from Judaic subjects, Strassburg's lifelong passion for the poetry of Walt Whitman found its expression in many of his secular works. Notable among these are Walt Whitman Cycle, for tenor and orchestra; a ten-movement choral symphony, Leaves of Grass, premiered in Japan in 1992 during the Whitman centennial year; an opera, Congo Square, on the topic of Whitman's experience confronting slavery in New Orleans during his period as editor of The New Orleans Crescent in 1848; and various songs to Whitman poems. He was cochairman of the Walt Whitman Centennial events, held at California State University.
Strassburg composed more than forty documentary film scores and wrote incidental music for such theatrical productions as King Lear, The Rose Tattoo, Anne of a Thousand Days, and The House I Live In. He was also an active poet, and he published nearly twenty books of his own poetry during his lifetime.
By: Neil W. Levin