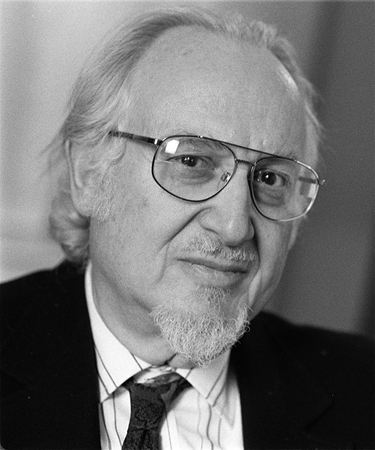 Richard Wernick "is one of those composers who is not content merely to produce his own music," stated the apt program notes to the 1990 world premiere of his piano concerto by the National Symphony Orchestra in Washington, D.C. "He has for years been an activist on behalf of contemporary music, providing example, inspiration, and direct encouragement in his roles as pedagogue, conductor, organizer, and consultant as well as in his distinguished creative work."
A Boston native, Wernick studied at Brandeis University with composers Irving Fine, Harold Shapero, and Arthur Berger. He earned his master's degree at Mills College as a pupil of Leon Kirchner and also spent two summers at the Berkshire Music Center at Tanglewood, where he benefited from classes with Aaron Copland, Ernst Toch, and Boris Blacher. He studied conducting as well at Tanglewood, with Leonard Bernstein and Seymour Lipkin. But he has always credited Fine as his "principal mentor."
Wernick was the music director and composer in residence for the Royal Winnipeg Ballet during its 1957–58 season. For the next six years his creative activities centered around writing music in New York for film, off-Broadway theater, and television, during which period he was an instructor at the Metropolitan Music School for three years. For a year he was a music coordinator for the Center for the Creative and Performing Arts in Buffalo. There followed brief stints of teaching at the State University of New York at Buffalo and at the University of Chicago before he joined the music faculty at the University of Pennsylvania in1968. He became a long-standing and valued professor, conductor of the Penn Contemporary Players, and a pillar of the university's musical life even after his retirement, in 1996. He also served as the contemporary music consultant to the Philadelphia Orchestra.
Wernick's oeuvre reflects his openness to exploring a wide range of media, styles, and techniques. He developed a nontonal—and sometimes dodecaphonic—language, lending itself well to bold, strong gestures, but with solid roots in conventional harmonic systems. "I find this mixture of old and new," he has explained, "consonant and dissonant, tonal and nontonal, a comfortable one in which to live and create." It would be misleading to attach an atonalist or serialist label to him, even though tone rows and their permutations have been among his procedures. "I've used rows when they are convenient for me," he pointed out during a Milken Archive oral history interview, "but I don't use them in a serial way; I don't use them in any kind of doctrinaire way, but as any other kind of tool one might use." But he has no illusions about the demands made on the audience for many of his works. "My music is not accessible," he acknowledged in that interview. "It's tough, it's chromatic, it's uncompromising." And he is well aware that audiences must concentrate in order to understand and follow the progression in his works: "It's not a warm bath!"
Although critics and other observers in Europe and Israel have perceived so-called American characteristics in his works, Wernick remains unconvinced. "I don't get a sense of my music being in any way prototypically American," he maintains. And he finds it interesting that the "American" label is generally avoided in his native country. Rather, he feels that his music comes out of the Western tradition. "If you want to put me in a box," he insists, "that's the only box in which you can comfortably put me—a European tradition, with European roots; there is a line that I can trace back." Yet he knows that something strikes listeners abroad as American, and he can only surmise the cause. "It may be the rhythm, or it may be a kind of astringency."
He has similar reservations about references to him in the Israeli press as a "Jewish American composer"—not because deeply felt Jewish sensibilities, as well as deliberately chosen Jewish subjects, are missing from his oeuvre, but because he sees the abstract musical content even in his Jewish or Judaically related pieces as part of, or emanating from, an internationalist school. In taking that stance, he is probably referring to the fact that even when he addresses manifestly Judaic texts, language (Hebrew), or spiritual associations in a work, he refrains from relying on any traditional Jewish melodic or other associative material.
Although works on Jewish themes constitute only a small part of Wernick's large catalogue, they are nonetheless among his most interesting efforts. And he is one of the relatively few contemporary American Jewish composers whose music has attracted serious attention in Israel. Critical response there, however, has not always been sympathetic to his aesthetic approach, although this has not precluded a continued relationship. When his Visions of Terror and Wonder—whose third movement is based on Isaiah and its vision of Jeruselem, and whose preceding movements quote from the New Testament and the Koran with reference to Jerusalem—the headline of an Israeli press review read WERNICK DESTROYS JERUSALEM THREE TIMES! Reminiscing about that incident years later, he was able to take it in stride and view it with humor. By contrast, the Denver Post critic thought the piece "destined for a wider audience," and the review in Musical America called it "undeniably music of craft, drama, and splendid invention," holding "dramatic power in using the orchestra like a dynamo."
In 1995 the Ravenna Festival dedicated its opening concert to the State of Israel and commissioned Wernick to compose a "spiritual piece" for the occasion. The result was a three-movement work, And a Time for Peace—of which the last movement is based on the Hebrew biblical Book of Ecclesiastes. It was premiered at the festival that year by the La Scala orchestra (Filarmonica della Scala) conducted by Riccardo Muti, with mezzo-soprano Freda Herseth.
Wernick made one foray into synagogue music when he accepted a commission for a Sabbath eve service from a congregation in Bridgeport, Connecticut. "It didn't turn out well," he later admitted. "It was a real experiment." The cantor who commissioned it had insisted that the service include percussion. After completing it, Wernick came to the conclusion that—except for the setting of the prayer v'shamru—it simply didn't work. So he withdrew the service and revised it, but published v'shamru separately.
That service turned out to be fruitful in an unexpected way. While working on it and examining the prayer texts of the Sabbath eve service, he happened to notice another item in the prayer book that, although unrelated to the service he was planning to set, intrigued him: a text by the 2nd-century Tannaitic rabbi Shimon Bar Yoḥai. In it, God addresses the Jewish people with a straightforward admonition: "You are My witnesses, I am Your God; and if you will not be My witnesses, then I will not be your God." Wernick found those words exceedingly powerful, and since this text could not be included in the Sabbath service, he made it a point to seek an opportunity to build a future work around it. The opportunity came when, shortly thereafter, his friend and colleague, cellist Andre Emilianoff, asked him to write a piece for soprano, cello, and piano. The work, titled The Oracle of Shimon Bar Yoḥai, is sometimes known informally—including by the composer in conversation—as Oracle I, but only to distinguish it from his subsequent companion piece for soprano, oboe, and piano, Oracle II.
Wernick's other Jewish or Judaically related works include A Prayer for Jerusalem, for mezzo-soprano and percussion; and Kaddish-Requiem, for mezzo-soprano, flute or piccolo, clarinet or bass clarinet, violin, cello or sitar, two percussion, piano, and electronic tape, which he calls a "secular service for victims in Indo-China."
Notwithstanding well-developed 20th-century musical language and procedures, as well as his expert manipulation and extension of contemporary idioms, Wernick has tended in his symphonic works toward the broad, spacious forms and textures that reflect the 19th century. And some of his best-received works have followed classic genres: concertos, sonatas, symphonies, and string quartets.
A work that drew exceptional critical acclaim is his violin concerto, written in 1984: "an orchestral craftsman who has absorbed the gamut of modernist techniques into an idiom both eclectic and communicative," wrote John von Rhein in the Chicago Tribune with reference to the concerto. "Wernick states bold lyric and dramatic oppositions and then boldly reconciles them in a big, eruptive, brilliantly scored, rhythmically agitated finale that is the musical heart of the work." The violin concerto earned first prize at the Kennedy Center Friedheim Awards.
Other major symphonic works include two symphonies; concertos for saxophone quartet and orchestra, piano and orchestra, and viola, string quintet, and orchestra (subtitled Do Not Go Gentle, after Dylan Thomas's verse); and Aevia. Among his many chamber and solo works are a concerto for cello and ten players; string quartets (the fourth of which earned another Friedheim award); Music Ptolemeica, for brass quintet; Fanfare for a Festive Occasion, for antiphonal brass choirs; Cassation: Music Tom Jefferson Knew, for horn, oboe, and piano; two piano sonatas, one of which is titled Reflections of a Dark Light; In Praise of Zephyrus, for oboe and string trio; and Formula: P——m, premiered by the Contemporary Chamber Players (University of Chicago), which was established and directed by fellow composer Ralph Shapey and was one of the finest and most prestigious contemporary music ensembles in the United States. To have a piece selected for performance in those days by the Contemporary Chamber Players—i.e., by Shapey, whose standards were nearly unapproachable—was in itself an honor of the highest order. In Wernick's large catalogue of solo vocal and choral works are such varied titles as Contemplations of the Tenth Music (Books I and II), for soprano and piano; Ball of Sun, for voice and piano; Moonsongs from the Japanese, for live soprano and two prerecorded tracks of soprano voice; Fragments of Prophecy, for four-part chorus with boy choristers on soprano and alto parts ("preferably"); Songs for Remembrance, four songs for mezzo-soprano with shawm, English horn, and oboe; and, indicative of a wry sense of humor, The Eleventh Commandment: NO Thou Shalt Not Xerox Music!—referring especially to choruses that illegally furnish choristers with photocopies in lieu of purchasing the requisite number of scores, thereby depriving both publishers and composers of their rightful income
In addition to the two Friedheim prizes, Wernick was awarded the 1977 Pulitzer Prize in music, and he has been honored by grants and awards from the Ford Foundation, the Guggenheim Foundation, the National Endowment for the Arts, and the National Institute of Arts and Letters.
By: Neil W. Levin