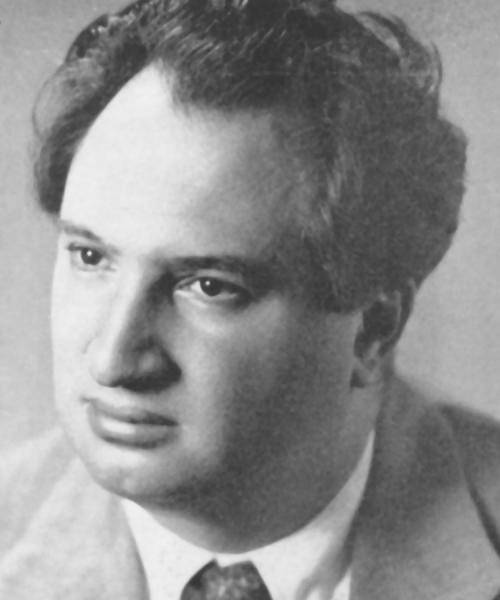 Jan Meyerowitz was born Hans Hermann M. in Breslau, Germany (now Wroclaw, Poland). His family had converted to Christianity prior to his birth, and they concealed the fact of his Jewish ancestry throughout his youth. Among certain elements and social circles (albeit a very small minority) of German-speaking or German culturally oriented Jewry during that period, an act of such total assimilation and radical disassociation from Jewish identity—whether for social or political reasons (motivations of true religious convictions would not have dictated such secrecy)—was not altogether unique. Meyerowitz did not even learn that he was in fact a Jew until he was about eighteen. Ironically, in one instance, as a result of his family's chosen path, he narrowly escaped death. At some point, according to a lifelong friend, he was on a train that was halted by German soldiers, who removed all circumcised men and shot them summarily.
Meyerowitz went to Berlin in 1927 and studied music with Walter Gmeindl and Alexander Zemlinsky. When the Nazi party assumed control of Germany in 1933 following the elections that resulted in Hitler's appointment as chancellor, Meyerowitz went to Rome, where he studied composition with Ottorino Respighi and Alfredo Casella and conducting with Bernardino Molinari. After the first concert of his music in Rome, the Italian composer-critic Mario Labroca observed that his compositions are "in a chromatic style like Berg's, but they nonetheless present an evident melodic definition that clearly excludes atonality." Meyerowitz took up residence in Belgium in 1938, but when the Second World War commenced with the German invasion of Poland, in 1939, he went to southern France, where he acquired friends in the Resistance and survived underground much of the time. In Marseilles he was hidden from the Germans with the help of the French singer Marguerite Fricker, whom he married after the war. Upon the liberation of Paris in 1944, several important French musicians—such as Jean-Pierre Rampal, Yvonne Loriod, and Yvon Le Marc' Hadour—performed his works there in radio broadcasts and concerts.
In 1946, about a year after the American and British liberation of France from German occupation, Meyerowitz immigrated to the United States, where he became an assistant to Boris Goldovsky at the Berkshire Music Festival at Tanglewood. He later joined the music faculty of Brooklyn College, after which he taught at City College of New York (C.C.N.Y.), soon establishing himself in America as a composer. His second opera, The Barrier (1949), with a libretto by Langston Hughes—based on Hughes's play about racial tensions in the South, The Mulatto—was premiered in 1950 at Columbia University. It was revived at several Italian opera houses during the 1970s and at the Darmstadt Staatsoper in 1996. In 1956 Meyerowitz was awarded the first of two Guggenheim fellowships, and that same year he completed his opera Esther, based on the biblical Book of Esther (completely unrelated to his earlier Symphony Midrash Esther, recorded here), also with a libretto by Hughes, which was commissioned by the Fromm Music Foundation for the eighth Festival of Contemporary Arts held at the University of Illinois (1957). Other collaborations with Hughes included a cantata, The Five Foolish Virgins; and The Story of Ruth, for coloratura soprano and piano. Among Meyerowitz's other operas are Eastward in Eden, with a libretto by Dorothy Gardner, about Emily Dickinson's love for a married minister; Bad Boys in School, a one-act "opera farce" after Nestroy; Simoon, with a libretto by P. J. Stephens after a Strindberg play; Godfather Death, also with a Stephens libretto; and Winterballade, apparently his last opera, after the play by Gerhart Hauptmann. His other nonoperatic vocal works include Missa Rachel Plorans, an a cappella Mass setting, which critic Howard Taubman of The New York Times described as "a mixture of archaic and modern ideas, which are fused expressively"; his Emily Dickinson Cantata; Herodiade, a setting of the dialogue by Stéphane Mallarmé; and cantatas, song cycles, and individual songs on poetry of e. e. cummings, Robert Herrick, Keats, Rimbaud, and many others. His instrumental catalogue in addition to Midrash Esther includes a flute concerto; shorter orchestral pieces; and chamber music, including a string quartet written sporadically between 1936 and 1955 that was described in Musical America as "a lyrically impassioned and subjective work colored with archaic Hebraic religious undertones."
Meyerowitz received one of the coveted annual commissions from Cantor David Putterman and New York's Park Avenue Synagogue for a complete Friday evening service (kabbalat shabbat—"welcoming the Sabbath"—and arvit). That work, titled Shir ḥadash l'shabbat (A New Song of the Sabbath), was premiered there on the synagogue's 80th anniversary, in 1962—at its 18th annual service of new liturgical music by contemporary composers.
The polarized critical reactions to his music were as eclectic and diverse as Meyerowitz's span of subjects and literary sources—which embraced American, English, French, and biblical poetry and drama and expressed both Hebraic and Christian liturgies. Some thought it overly conservative and even antiquated. Alan Rich of The New York Times spoke of Meyerowitz's stylistic identification "with the past" (a "right" he nonetheless conceded to him), and of his imitation of 19th-century operatic conventions and effects without an encompassing musical shape—although he acknowledged that some of Meyerowitz's operatic writing was the sort that could generate enthusiastic ovations. Musicologist and famously outspoken observer Paul Henry Lang thought Meyerowitz's music lacked personality and bespoke a fin de siècle mysticism that evoked a central European rather than any Hebraic melos, even in declared Judaic expressions such as Midrash Esther. Yet other, equally prestigious and respected reviewers reacted quite differently. In 1957, Felix Greissle discussed Meyerowitz's music in The Musical Quarterly, noting its special importance in an era when musical styles have appeared and changed so rapidly that they bypassed a more natural evolution of style that accompanied important musical developments of previous centuries. "He [Meyerowitz] has decided for himself," Greissle wrote, "to take up and expand where recent tradition has left us with a near vacuum . . . . His compositions reveal a full command of all the paraphernalia of the superior artisan, such as well-wrought themes, perfect interrelation between melody and harmony, consummately developed climaxes, and logically built and strongly contrasting forms." The eminent composer and critic Virgil Thomson thought Meyerowitz was "possessed of a strong dramatic talent" and, following the 1950 premiere of The Barrier, anticipated a bright future for him. The Chicago Daily News critic went further in his admiration: "It is clear that Meyerowitz is that rare phenomenon in contemporary music: a real opera composer." And following Eastward in Eden's premiere, a writer for the Musical Courier exclaimed, "We do not hesitate to call Jan Meyerowitz one of the greatest musico-dramatic talents of our day." In general, his music was perceived in both late Romantic and expressionist terms, permeated by intense emotion—often in juxtaposition with more delicate lyricism. But by the late 1960s and 1970s his music fell into neglect in America, and he returned to France after his retirement from City College.
By: Neil W. Levin