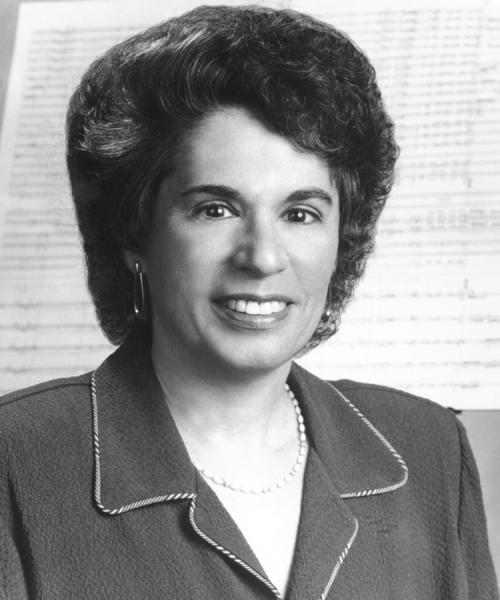 Judith Lang Zaimont was born in Memphis, Tennessee, into a musical family. She grew up in New York City, began piano studies at the age of five, and at age eleven was accepted into the preparatory division of The Juilliard School. There, as she has since recalled, she first realized that she was "born to be a composer." During her teen years she won several composition competitions, including that of the National Federation of Music Clubs; and at age eighteen she was awarded the BMI (Broadcast Music, Inc.) Young Composer Award.
Zaimont studied piano at Juilliard with Leland Thompson (1958–64), and composition at Queens College with Hugo Weisgall and at Columbia University with Otto Luening and Jack Beeson. After receiving her master's degree, she went to Paris to study orchestration with André Jolivet on a Debussy Fellowship from the Alliance Française.
While still in her teen years, before deciding to devote herself principally to composition, Zaimont formed a duo-piano team with her sister, Doris (now an accomplished opera director, Doris Kosloff). They toured the United States, recording and appearing on radio and television—including performances on Mitch Miller's popular television show, Sing Along with Mitch.
Zaimont's earlier works—written for the most part prior to 1980—are mainly vocal or for solo piano. In addition to the works recorded here, her Judaically related pieces from that period also include Man's Image and His Cry (1968), for contralto and baritone soloists, chorus, and orchestra. General vocal works from that time frame include choral and solo settings of poems by Shakespeare, Shelley, Herrick, Gay, Auden, Cummings, Byron, Baudelaire, Verlaine, Rimbaud, Blake, and others. Her piano works from those years include a concerto (1972) and numerous solo pieces, such as A Calendar Set (1972–78); Two Rags (1974); the nocturne La Fin de siecle (1978); and the four-hand Snazzy Sonata (1972).
More recent works in Zaimont's oeuvre of nearly 100 compositions—many of which have been awarded important prizes and have received performances abroad as well as in the United States—include three symphonies; a chamber opera for children, Goldilocks and the Three Bears; and oratorios and cantatas. She has also written a number of works on American Indian themes, such as The Magic World (Ritual Music for Three), as well as music for wind ensembles, vocal chamber pieces for various combinations, instrumental chamber works, and solo music for string and wind instruments, piano, organ, and voice.
Zaimont's many composition awards include a Guggenheim Fellowship (1983–84); a Maryland State Arts Council creative fellowship (1986–87); and commission grants from the National Endowment for the Arts (1982), the American Composers Forum (1993), and the international 1995 McCollin Competition for Composers—for her first symphony, which was performed by the Philadelphia Orchestra in 1996. She was "composer of the year" at Alabama University in 1994, the featured composer at the Society of Composers International American meeting in 1995, artist-in-residence for the 1996–97 academic year at Skidmore College, composer-in-residence at the University of Wisconsin (River Falls) in 1999, the honored composer in 2001 at the Eleventh Van Cliburn International Piano Competition—where the gold medalists performed her music—and the featured composer in 2002 at the annual conference of the National Federation of Music Clubs.
A distinguished teacher who has served on the faculty of Queens College, the Peabody Conservatory, and Adelphi University, Zaimont was a professor of composition from 1992 until 2005 at the University of Minnesota in Minneapolis. She is also the founder and codirector of the performing ensemble American Accent, based in New York, and the creator and editor in chief of the acclaimed series of books The Musical Woman: An International Perspective. Her music has been the subject of twelve doctoral dissertations.
Zaimont's works have been performed by the Baltimore, Jacksonville, Greenville (South Carolina), and Harrisburg symphony orchestras; the Czech Radio Orchestra; the Berlin Radio Orchestra; the Kharkov Philharmonic (Ukraine); and the Pro Arte Chamber Orchestras in New York and Boston.
By: Neil W. Levin