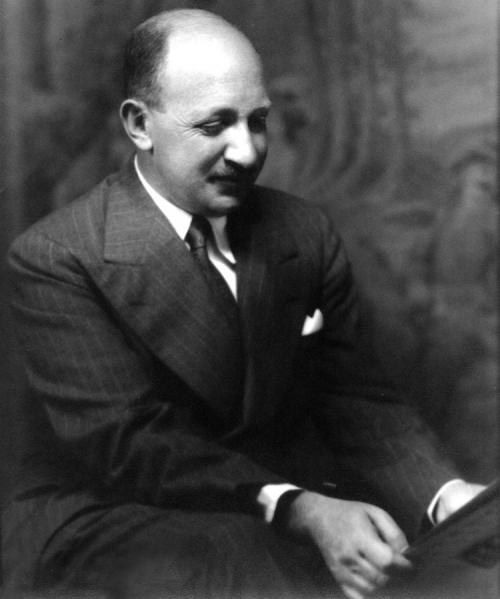 During his lifetime, and especially throughout the 1930s and 1940s, Frederick Jacobi was considered one of the most distinguished figures in American music. By all contemporaneous accounts, as well as many later recollections by composers of the succeeding generation, he was held in great collegial esteem, both as a composer and as a pedagogue. David Diamond, one of the leading American composers of the 20th century, confirmed in a 1998 interview that during his own student days, any imagined list of America's "ten most important composers" would certainly have included Jacobi. As early as 1923, a Vanity Fair magazine photo spread on successful "younger generation" American composers included Jacobi, along with Leo Sowerby, Deems Taylor, Leo Ornstein, Emerson Whithorne, Louis Gruenberg, Edward Royce, and A. Walter Kramer, over a caption that read "A group of the younger American composers—creators of music who, though of various schools, can all be classed as modernists." At the end of that decade, the journal Modern Music referred to Jacobi as "one of America's most representative composers."
Jacobi also enjoyed a respectable measure of public recognition among the concertgoing public of his day, especially in the United States. His music was played by such leading American orchestras as the Boston, Chicago, and Rochester symphony orchestras, the San Francisco Symphony, the Philadelphia Orchestra, and the New York Philharmonic—under the batons of such renowned maestros as Serge Koussevitzky, Pierre Monteux, Howard Hanson, Leopold Stokowski, and Frederick Stock—and by such prestigious ensembles as the Budapest and Pro Arte string quartets. His music also received performances in Paris, Zürich, Rome, Milan, Prague, Vienna, Warsaw, and other cities on the Continent.
Yet after his death, with the sometimes inexplicable vicissitudes of musical fashion and the legendary fickleness of audiences and programmers alike, Jacobi's reputation faded, and by the early 1960s, references to him included such descriptions as "one of America's lesser-known composers." By the last quarter of the 20th century his name and his music had become virtually obscure.
Although Jacobi was first and foremost a composer in the general classical arena, and although—ironically, in the context of 21st-century so-called multicultural sensibilities—he was one of the few composers to address indigenous American musical cultures in his works, his reputation now rests primarily on his Jewish liturgical and other Judaically related compositions.
Jacobi was born in San Francisco to children of German-Jewish immigrants from Worms. He began his musical studies in California and continued them in New York, where, at the age of about sixteen, he went to live with his older sisters and also to attend the Ethical Culture School. His principal teachers in the United States and, later, in Europe were Ernest Bloch, Rubin Goldmark, Rafael Joseffy, and, at the Hochschule für Musik in Berlin, Paul Juon. For a brief period (1916–17) he was an assistant conductor at the Metropolitan Opera in New York, after which he served in the United States Army during the First World War. He had hoped to enlist in the Medical Corps, but when the recruiting officer learned that he was a musician, the officer ordered him to play saxophone in the army band—despite Jacobi's protest that he had never played, nor knew how to play, that instrument. However, he quickly learned, and thus fulfilled his military service in the band at the army base on Alcatraz. He began his teaching career in 1924 at the Master School of United Arts in New York, and in 1936 he began his fifteen-year tenure as a teacher of composition at The Juilliard School. His pupils included such successful composers as Jack Beeson, Norman Dello Joio, Robert Starer, and Robert Ward. He also lectured at the University of California at Berkeley, Mills College, and the Hartt Musical Foundation in Hartford, Connecticut (now the Hartt School at the University of Hartford).
Jacobi was intensely interested in Americana and in some of the ethnic music that he felt contributed to an aggregate American musical tradition. The 1920s have been described as his "Indian period," for he became fascinated, even preoccupied, with American Indian culture, and he returned westward, where he visited Pueblo and Navajo tribes in New Mexico and Arizona, spending an entire winter among them in 1927 and studying their music firsthand. Immersing himself in those folk traditions, he was able to use some of their motifs, rhythms, sonorities, and other elements in a number of his works—probably his most transparently American pieces. His String Quartet no. 1 (1924) and his orchestral suite, Indian Dances (1927–28), for example, are based on authentic materials gathered during those visits. The String Quartet was chosen to represent American music at the festival of the International Society for Contemporary Music in Zürich in 1926, and it became relatively well known to American chamber music audiences and aficionados during the 1920s and 1930s. Indian Dances, which was performed by the Philadelphia Orchestra under Stokowski, was conceived as a series of impressions of ritualistic dances of the Pueblos and Navajos, but it was not intended as an ethnomusicological statement. Rather, the source materials were treated with artistic freedom. Just as Copland and many other composers of his circle and generation were attracted to manifestly American themes, folk traditions, and geographical and topographical phenomena—such as the Wild West, rodeos, cowboy scenes, and New England ceremonies—Jacobi saw native Indian traditions as an authentic cultural pool on which to draw for the creation of an American music. In addition to other Indian-related pieces, American Indian rhythmic influences also continued to inform some of his general nonprogrammatic works, although he maintained that in those pieces, such features had been employed unconsciously. Shortly before his death, however, he completed his Yebechai variations on a Navajo melody.
Jacobi's other principal ethnic-historical musical interest—one that eventually overshadowed the others—resided in his own Judaic roots and came to dominate his musical concerns both as a composer and, toward the premature end of his life, as a thinker and lecturer. That interest apparently was first ignited in 1930, when Lazare Saminsky, the music director of New York's Temple Emanu-El, commissioned him to compose a complete setting of a Sabbath eve service for that synagogue. From what we can gather about his youth, Jacobi seems to have had little or no formal Jewish education or religious background—nor, before 1930, any specifically Jewish involvements. It would appear, too, that his parents probably elected not to have Jewish or any other religious affiliation, and the young Jacobi was enrolled in the school of the Ethical Culture Society—an institution that, for many, substituted for conventional religious association, Christian or Jewish.
But the Temple Emanu-El commission, and the contact with Saminsky both before and after the premiere, had a lasting influence on Jacobi and literally changed his life, triggering his Judaic curiosity and launching a spiritual as well as cultural consciousness, which he then merged with his creative quest. Beginning with his work on the service, he became increasingly aware of the artistic possibilities inherent in Jewish tradition and history, and in Jewish religious and musical heritage, and he began to turn to biblical and rabbinic lore and to liturgical subjects for inspiration as a composer.
That spiritual self-discovery seems to have had an impact on his overall oeuvre, for the year of the Saminsky commission has been cited as a general line of demarcation in his musical direction. Critics observed that Jacobi's most mature and most important works dated from his post-1930 period, and they stressed the significance of the Temple Emanu-El commission as a prelude to that creative period in his life. Indeed, for Jacobi, the heritage and musical roots of American Jewry were also part of the totality of Americana—a composite American culture enhanced by individual and disparate traditions.
At the same time, it was often critically acknowledged that the fullest expression of Jacobi's personality was to be found in his Judaically oriented compositions. Among those pieces, in addition to the music presented here, are his Ode to Zion (1948), a setting of poetry by Yehuda Halevi for mixed chorus and two harps, written for the commencement exercises that year at the Jewish Theological Seminary of America, in New York (although no documentation has yet confirmed whether it was actually performed on that occasion); Ashrei Ha'ish (1949), an arrangement of a Zionist song by Mordecai Zeira for mixed chorus and string orchestra; Shemesh (1940), for cello and piano, based on a Palestinian folksong; Rhapsody (1940), for harp and string orchestra; Saadia—Hymn (1940), for men's chorus; From the Prophet Nehemiah: Three Excerpts for Voice and Two Pianos (1942); Nocturne in Niniveh, for flute and orchestra; and Arvit L'Shabbat, a second Sabbath eve service, which was commissioned by the Park Avenue Synagogue in New York for its annual service of new liturgical music in 1952 and premiered there by Cantor David Putterman and the synagogue choir under the direction of Max Helfman. New York Times critic Olin Downes, among others, considered the Judaic music of Jacobi's last decade his most profound, and thought that it represented the culling of emotions deep within his consciousness. "This was when the iron entered his soul," Downes wrote.
In the 1940s, and especially during the years surrounding the birth of the State of Israel, Jacobi also became concerned on an academic level with issues of Jewish cultural nationalism vis-à-vis serious composition, and he began to formulate a position on the desiderata of a delicate balance between authentic folk material and true artistic originality.
He involved himself in such organizations as the Jewish Music Forum and the National Council for Jewish Music of the Jewish Welfare Board, and he served as chairman of the panel of judges for music awards given by the Council. In 1948 he was invited to address the first conference-convention held jointly by the Department of Music of the United Synagogue of America (now the United Synagogue for Conservative Judaism) and the Cantors Assembly of America, the principal professional organization of traditionally oriented cantors affiliated with the Conservative movement. He discussed the role of nationalism in art—the natural tensions among creative individuality, ethnic or national-cultural association, and universal humanistic perspectives. He cautioned against the dangers of "leaning too heavily on the folk elements in art" at the expense of artistic freedom and imagination, yet he underscored the importance of preserving and fortifying such elements of Jewish musical tradition as biblical cantillation, prayer modes, and melodic patterns—especially in the creation of new liturgical music. Most thought-provoking were his comments on originality: "The surest way to kill whatever originality one possesses within himself is to try to be original!"
Contemporaneous commentators and critics considered his Judaic work "an integral part of an important tradition in American music which has based itself on the earnest exploration of the 'Hebraic idiom.'" By 21st-century academic and ethnomusicological standards, of course, that reference to the Hebraic idiom appears simplistic, but those innocent generalizations of the time stemmed from a common romantic perception of some single authentic set of melodic and modal features that supposedly formed a monolithic universal Jewish musical tradition, dating to some imagined musically homogenous antiquity. At most, the characterization was applicable only to some Jewish traditions, but the perception of a "Hebraic idiom" was probably reinforced if not triggered by eastern European–oriented synagogue music heard by outside observers, perhaps along with some of the imported Hebrew Palestinian folk and Zionist songs that were becoming popular in certain Jewish circles. Nonetheless, in a broader context, those observations about Jacobi's musical inspirations and source materials were not without validity. In turning to Jewish musical wellsprings and thereby extending American music to include established Jewish elements and references, Jacobi was often considered part of the lineage of such composers as Ernest Bloch and Aaron Copland (particularly with reference to Copland's Vitebsk trio), who enriched American music in part by Jewish content or allusions.
Among Jacobi's many important works outside the specifically Jewish or American Indian realms are a violin concerto (1936–37), which was played by Albert Spalding with the Chicago Symphony Orchestra under the baton of Frederick Stock; a piano concerto (1934–35); Scherzo for flute, oboe, clarinet, bassoon, and horn, premiered at the Curtis Institute in Philadelphia; a second and a third string quartet (1933 and 1945), which were both played by the Budapest String Quartet, among other quartet ensembles; Two Assyrian Prayers for voice and orchestra (1923); a symphony (1922) that received performances by the San Francisco Symphony and the Rochester Philharmonic, and another symphony (1947) that was conducted by Pierre Monteux; Ode for Orchestra (1941), conducted by Serge Koussevitzky, Howard Hanson, and Monteux; Serenade for Piano and Orchestra; numerous chamber works; pieces for solo piano; solo art songs and choral settings; and a three-act opera, The Prodigal Son, based on four early American prints and written to a libretto by Herman Voaden.
Jacobi claimed that he was intensely interested in contemporary music, but he also insisted that for art to endure, it must have "its roots firmly embedded in the past." In the context of a music world then swirling with tensions and polemics spawned by adventurous experiments with—and rejections of—tonality, extended chromaticism, and progressive quests for a so-called international school, Jacobi could be considered both a conservative and a romanticist. Yet he was also seen as a neoclassicist whose expressive language sometimes flirted with exotic and even mystical elements. And one fellow American composer, Marion Bauer (1882–1955), heard "leanings toward impressionism" in Jacobi's music, as well as "aspects of the new romanticism" in certain pieces—notably, the cello concerto. His melodies in general exhibit broad lyricism, frequently juxtaposed against or infused with a sophisticated sense of drama. But his music reflects an introspective and personal dramatic sensibility rather than mere overt theatricality. Jacobi articulated aspects of his own credo:
My conscious aim has been to write music which is clear, definite, and concise: I am an anti-obscurantist. I am a great believer in melody; a believer, too, that music should give pleasure and not try to solve philosophical problems. I believe that art and craft have music in common, and that art, to be valid, must be more than the manifestation of a passing mode: in short, that there are some eternal values which transcend period and time.
"Aesthetically, as well as morally," wrote New York Times critic Olin Downes in a substantial tribute to Jacobi following his death, "he was a man not so much of the 20th as of the 19th century." And Downes offered an interesting supposition concerning Jacobi's self-perception concerning modernism: "It is doubtful if he would have had a reply ready if anyone had asked whether he was a 'classic' or a 'modern' in his position." Indeed, Downes's own assessments echoed Jacobi's previously stated views:
As a composer he was no revolutionist, and least of all a stylistic poser in search of tonal idioms or effects that would give his productions a momentary sensational effect.... He was himself, which is the alpha and omega of becoming a creative artist.
By: Neil W. Levin